World Rowing Championships showcase tough competition expected at Paris 2024
Norway's Birgit Skarstein won the PR1 women's single sculls while Ukraine's Roman Polianskyi topped the men's event at the 2022 World Championships in Racice, Czech Republic
27 Sep 2022
Imagen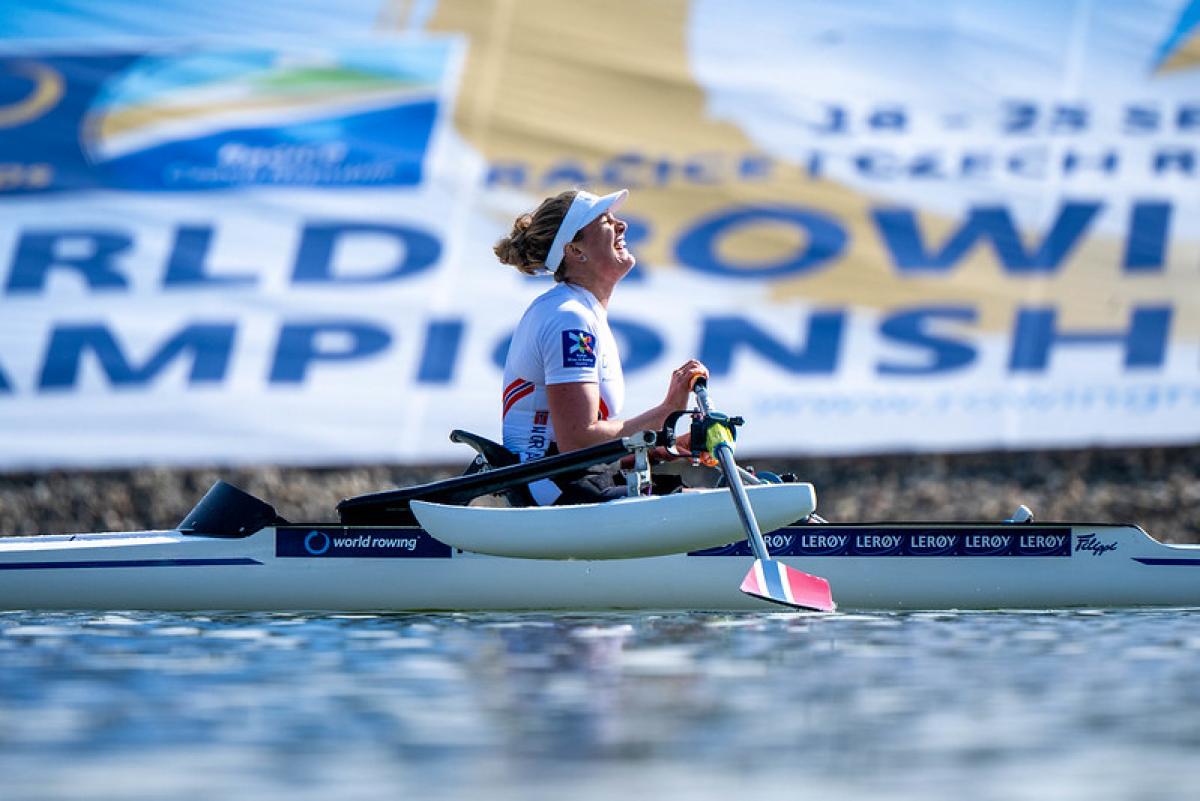 ⒸBenedict Tufnell/World Rowing
By World Rowing and IPC
The 2022 World Rowing Championships were held from 18-25 September in Racice, Czech Republic, where Para rowers gave a glimpse of the excitement and action that fans can expect at the Paris 2024 Paralympic Games.
Gold medallists from the Tokyo 2020 Paralympic Games also impressed the crowds at the world championships, held for the first time since 2019. The event featured nine medal events for Para rowers.
Tokyo 2020 gold medallists stay strong
The spotlight was on Norway's Birgit Skarstein as the reigning world champion and Paralympic champion in the PR1 women's single sculls, but it was Ukraine's Anna Sheremet who was fastest out the start.
French athlete Nathalie Benoit soon established a lead and, in the early stages, there was little between the top three with Skarstein reaching the 500m marker less than half a second ahead of Benoit with Sheremet sitting in bronze medal position.
With 500m left to go, it was looking like Skarstein would be able to defend her title as she had established a strong lead of nearly five seconds. Skarstein finished in 10:07.58, which is a world championship best time by almost six seconds.
"The ladies were very close to me and started really fast, so I was really nervous about being able to hang on there and not get stressed," Skarstein said. "I didn't know that I was that fast. Honestly, I didn't have any reference to time and space when I crossed that finish line."
Benoit had some strength left to finish in 10:13.10 for a silver medal, while Sheremet went one better than her fourth place in 2019.
Another gold medallist from Tokyo 2020, Ukraine's Roman Polianskyi, came from behind to capture the PR1 men's single sculls. 
He beat Italy's Giacomo Perini in the last 500m to wrap up the 2,000m race in 9:03.74. Perini, who led for the majority of the race, finished in 9:08.12 for silver, and Great Britain's Ben Pritchard took bronze with 9:11.90.
Pernini, the previous European champion, said he was content with his result and added that he will now focus his attention on Paris 2024.
"It was an exciting race, a battle until the end with GB and Ukraine. I had a great feeling on the water. I wanted the gold medal, but I am happy with silver," he said.
"It has been a great season. Now I want to focus on the next steps – towards Paris 2024."
GB rowers shine in Racice
Great Britain's PR3 mixed coxed four team, made up of Francesca Allen, Giedre Rakauskaite, Edward Fuller, Oliver Stanhope and Morgan Baynham-Williams, set the world best time.
All four of the British rowers in the A final had won gold medals in the PR3 pairs the previous day, and they repeated that success again.
In the early stages, Great Britain were not able to break away from the pack. However, as the race progressed, the rowers began to establish their familiar lead and soon opened up clear water.
They crossed the line in 6:48.34, breaking the previous world best time by just under a second. Germany crossed in second and France managed to hold off the challenge from Australia.
The Paris 2024 Paralympic Games will feature five medal events – men's and women's PR1 single sculls, PR2 mixed double sculls, PR3 mixed double sculls and PR3 mixed coxed four.
The events are scheduled to take place at the Vaires-sur-Marne nautical stadium, a brand-new complex that was inaugurated in 2019.