World's best return to Ostrava for International Para Hockey Cup
Nail biting contests on the cards as Paralympic and Worlds champions USA and silver medallists Canada meet again in a familiar territory
22 Sep 2022
Imagen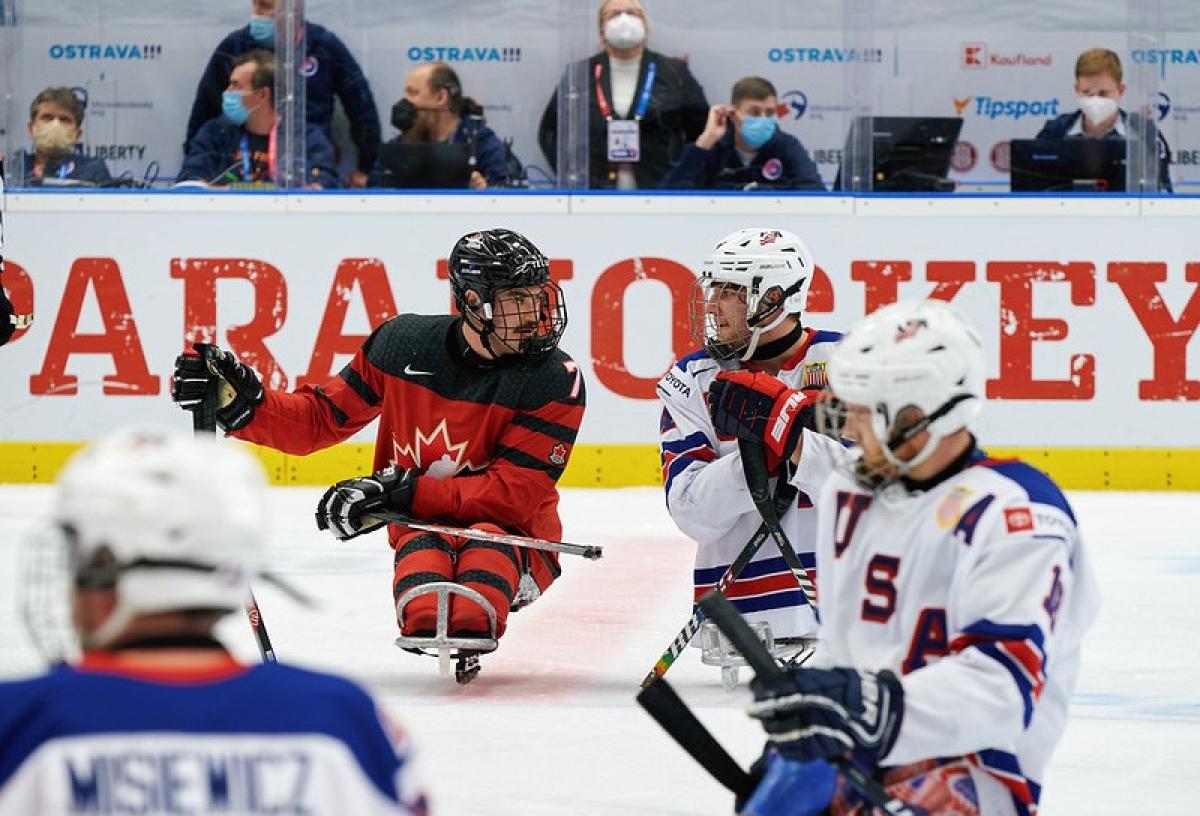 ⒸCzech Para Ice Hockey
By Stuart Lieberman | For World Para Ice Hockey
Plenty of old memories will revive when the world's best including USA and Canada, the Paralympic and Worlds finalists, return to Ostrava in the Czech Republic for the much-anticipated International Para Hockey Cup starting Saturday (24 September). 
Besides the world No. 1 and No. 2 teams, hosts Czech Republic and an International Para Hockey (IPH) team consisting of athletes from Germany, Norway and Slovakia will be seen in action. 
Reigning Paralympic and world champions USA will return to one of their favourite venues with their dynamic duo of Declan Farmer and Brody Roybal in forward, and Josh Pauls and Jack Wallace on the defence line. 
The Americans won a record-extending fifth Paralympic title earlier this year with a 5-0 victory over Canada in the final and have returned home with gold medals in their last two trips to Ostrava.
Beijing 2022 stalwarts
Canada, the current Paralympic and world silver medallists, might have lost Greg Westlake and Billy Bridges to retirement, but have nine players returning from its Beijing 2022 Paralympic team, including captain and top scorer Tyler McGregor, and dual-sport star Liam Hickey. Nearly half of its 21-member squad will wear the Maple Leaf for the first time overseas. 
Host nation the Czech Republic will be powered by fan favourite Michal Geier at forward, along with veteran forward Zdenek Krupicka and the goaltender combination of Michal Vapenka and Martin Kudela. 
Coached by Slovakia's Miroslav Drab, the IPH Team will be the one to watch out for with all-stars scorers, including Norway's Audun Bakke, Slovakia's Martin Joppa and Germany's Frank Rennhack, along with Slovakia's starting goaltender Eduard Lepacek in their line-up. 
Tournament Schedule
Saturday, 24 September
16:00 – USA vs. IPH Team
click here to watch
19:00 – Canada vs. Czech Republic 
click here to watch

Sunday, 25 September  
16:00 – Canada vs. IPH Team
click here to watch
19:00 – USA vs. Czech Republic 
click here to watch

Tuesday, 27 September 
16:00 – USA vs. Canada
click here to watch
19:00 – Czech Republic vs. IPH Team
click here to watch

Wednesday, 28 September 
16:00 – Semifinal #1
click here to watch
19:00 – Semifinal #2
click here to watch

Friday, 30 September 
16:00 – Bronze-medal game
click here to watch
19:00 – Gold-medal game
click here to watch
Team Rosters
USA 
Chris McCoy, G
Griffin LaMarre, G
Ralph DeQuebec, D
Jack Wallace, D
Josh Pauls, D
David Eustace, D
Brody Roybal, F
Travis Dodson, F
Brett Bolton, F
Joseph Woodke, F
Rob Easley, F
Ben Musselman, F
Kyle Zych, F
Declan Farmer, F
Evan Nichols, F
Malik Jones, F
Nick Witkowski, F
Noah Grove, F
Josh Misiewicz, F
Kevin McKee, F
Canada
Jean-François Huneault, G
Tyson Rietveld, G
Adam Kingsmill, G
Rod Crane, D
Tyrone Henry, D
Jacob Leblanc, D
Micah Kovacevich, D
Rob Armstrong, D
James Dunn, F
Zach Lavin, F
Tyler McGregor, F
Corbyn Smith, F
Vincent Boily, F
Dominic Cozzolino, F
Alexis Auclair, F
Liam Hickey, F
Sam Swafford, F
Saoud Messaoudi, F
Anton Jacobs-Webb, F
Auren Halbert, F
Mathieu Lelièvre, F
Czech Republic
Martin Kudela, G
Michal Vapenka, G
Pavel Kubes, D
Pavel Dolezal, D
Radek Zelinka, D
Karel Wagner, D
Jiri Raul, D
Michal Geier, F
Zdenek Habl, F
Miroslav Novotny, F
David Palat, F
Zdenek Krupicka, F
Alex Ohar, F
Patrik Sedlacek, F
Vaclav Hecko, F
Filip Vesely, F
IPH Team 
Eduard Lepacek, G (Slovakia) 
Slavomir Ferencik, D (Slovakia)
Knut Andre Nordstoga, D (Norway)
Audun Bakke, D (Norway)
Miroslav Stasak, F (Slovakia)
Marian Ligda, F (Slovakia)
Martin Joppa, F (Slovakia)
David Korman, F (Slovakia)
Morten Vaernes, F (Norway)
Ola Bye Oeiseth, F (Norway)
Alexander Lyngroth, F (Norway)
Bas Disveld, F (Germany)
Frank Rennhack, F (Germany)
Bernhard Hering, F (Germany)
Ingo Kuhli Lauenstein, F (Germany)