USA and Canada favourites for final despite China's rise
Former Canada's national team player Kevin Rempel comments on the final weekend of the Para ice hockey action in Beijing
10 Mar 2022
Imagen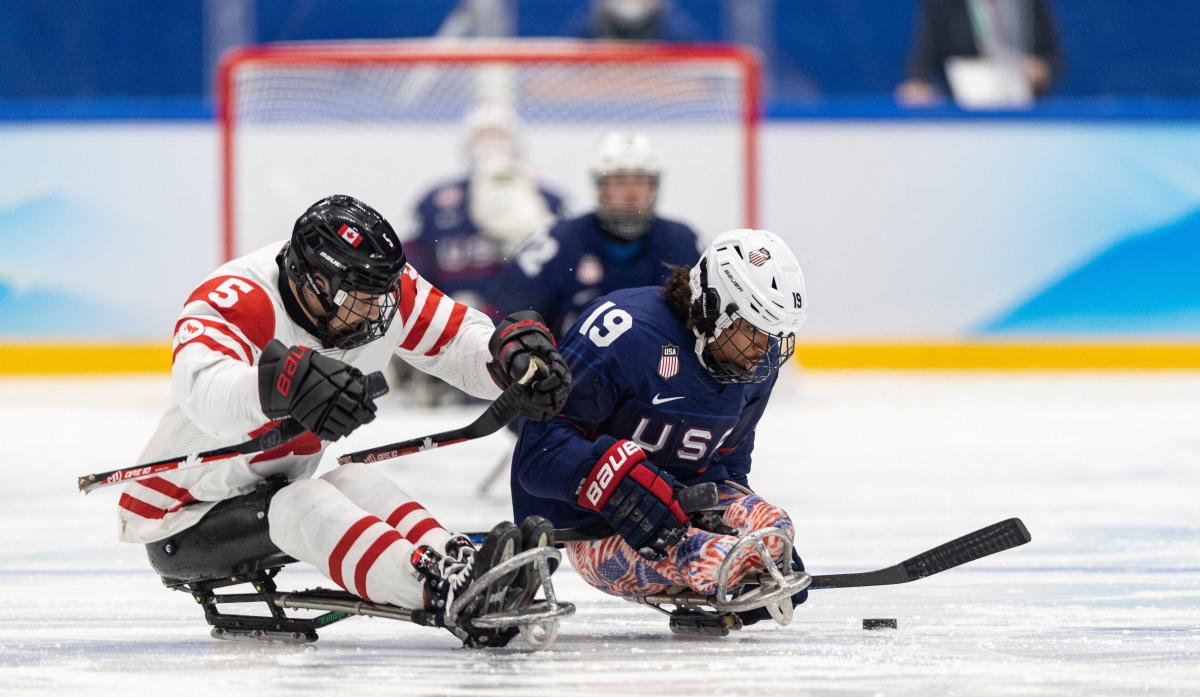 ⒸOIS/Chloe Knott
By Kevin Rempel | For World Para Ice Hockey
The Para ice hockey tournament at the Beijing 2022 Paralympic Winter Games got to its final stage, the medal round.
Canada will play against South Korea in the first semifinal on Friday (11 March) with the defending champions USA taking on hosts China in the second semifinal later in the day.
The bronze medal-game is scheduled for Saturday (12) while the grand finale will take place on Sunday (13), the closing day of the Winter Paralympics.
In the wake of the deciding matches, World Para Ice Hockey invited former Canada national team player and Para ice hockey expert Kevin Rempel to share his thoughts on the final weekend.
The 39-year old is a Paralympic bronze medallist from Sochi 2014 and a two-time world champion (2013 and 2015).
ON THE BEST TEAM IN BEIJING SO FAR
Without question, USA would still be the team to beat in this tournament. They forced Canada to battle in order to get on the scoreboard in their preliminary round game with Canada not being able to do it. When they played against South Korea, they displayed another dominant performance.
USA's programme has continued to evolve in terms of skill development. There is depth in their team and it is pretty obvious that they are doing everything possible to remain on top.
Canada has a phenomenal team to fight for a place on the podium and together with USA remain to be in a league of their own.
I think it will be a USA-Canada final, but the USA has definitely shown the most so far.
ON THE IMPROVEMENTS CANADA NEED TO MAKE
Seeing Canada lose to the USA by 5-0 was a bit of a surprise for me. I thought it would be closer.
I noticed few things in particular. First, USA does a really good job plugging the middle when Canada is trying to break through the neutral zone or check in the offensive zone. Canada did not get many shots on net and those they have been usually further out from the top of the circles which are not really a threat to score.
When USA is on the forecheck, they are extremely fast and agile and that is the key to their success, as well as a threat against South Korea and Canada. When they are forechecking, they find a way to maneuver into the slot and most of their goals, especially against Canada, are deep in the slot.
In order for Canada to hold USA off, especially Farmer and Roybal, they need to push them aside and be conscious not to let them maneuver around and get into the threatening positions.
Canada definitely has to generate some offense as well. In order for Canada to have a shot at beating USA, they need to get more shots on net and generate more offense to play more on USA's end than in their own zone.
ON CHINA'S CHANCES AGAINST THE US IN THE SEMIFINAL
China's highlights that I have seen are quite impressive in terms of their skill. I don't see them necessarily being a threat to the USA in the semifinal just by knowing the depth of the USA's squad.
When I think about the teams in Group B stacked up against the third team in the A-Pool, I see China as a contender for the bronze medal. After seeing how South Korea has played at the tournament, I think that China will be a wicked matchup against them for bronze.
ON SOUTH KOREA'S PERFORMANCES  SO FAR
I would not say that South Korea has been the bad surprise of the tournament. I do wish that we would not have seen the games score so stretched against South Korea with both Canada and USA.
It seems that there is a gap in skill level and goaltending. It is nothing against Korea's goalie because he is facing 30 or more shots in a game. I think that South Korea slowed down from PyeongChang 2018 or Sochi 2014 because of the changes in the roster and that speaks about the need for our sport to keep developing.
I don't know if South Korea was necessarily a disappointment, but it just shows how the sport continues to evolve and it is hard to compete against other teams and countries that have a greater depth of player development.
ON THE FAVOURITES FOR THE FINAL
I am biased as Canada is my favourite for the final. Without question, they are gonna come back into the next couple of games completely focused and are looking to take the gold medal away from the USA.
From an objective perspective, the USA is a team to beat in Beijing. I don't think that anyone else will interrupt the party. In my eyes, it is going to be a Canada-USA final.
As far as we talk about the quality of the tournament, I like the new format. It has been exciting to watch Canada, USA, and South Korea going toe to toe rather than put them against a team in the Group B.
Live streaming (geo-blocked in some territories) and live results from Beijing 2022 will be available on Paralympic.org. You can follow all the action, behind the scenes and news on World Para Ice Hockey social media channels on Facebook, Instagram and Twitter.