Declan Farmer takes the leadership role in another golden hunt
The 24-year-old from Nashville is playing in his third Winter Paralympics taking on more responsibility inside the US team
07 Mar 2022
Imagen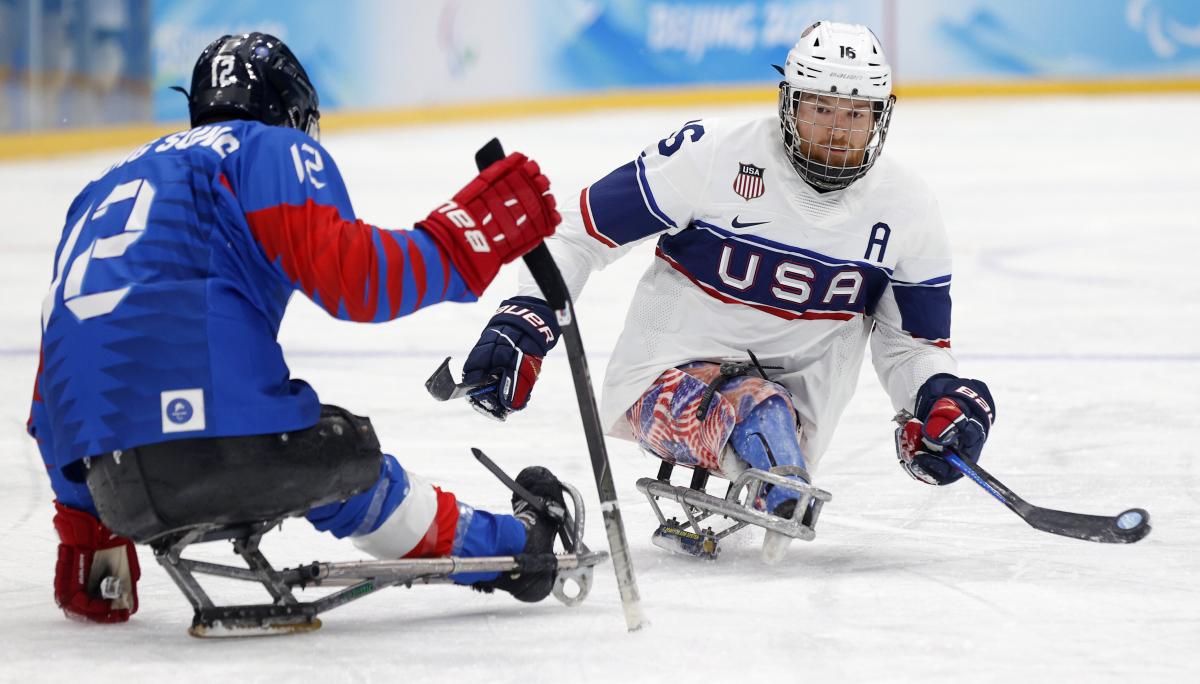 ⒸSteph Chambers/Getty Images
By Filip Ozbolt | For World Para Ice Hockey
Team USA kicked off the Para ice hockey tournament at the Beijing 2022 Paralympic Winter Games with two victories and 14 goals scored.
David Hoff's team secured the first place in Group A in front of Canada and South Korea and is now on a five-day practice regime before the semifinal game on Friday (11 March).
DREAM DEBUT VS ITALY
Playing in his third Winter Paralympics at the age of 24, forward Declan Farmer is already one of the US all-time greats. A double gold medallist from Sochi 2014 and PyeongChang 2018, he is chasing his third consecutive Paralympic title in China.
In the tournament opener against Canada, Farmer scored once and assisted three times contributing to the 5-0 routing.
He also became the first US player to score 25 points or more in the Winter Paralympic history. Only 24, Farmer should continue improving on these numbers in the near and far future.
"There has been a lot of great players on our team over the years. I first got into the sport in 2010 and Josh Pauls is the only guy left from that gold medal team," Farmer said.
"I've got closer with a lot of those guys, Taylor Lipsett, Steve Cash, Taylor Chace. I have been with a lot of them in Sochi. This record is a testament to how much better the team has gotten. You can't put up points without a good supporting cast. I am sure this record will be broken many times over the years."
Farmer's Paralympic journey started at the Sochi 2014 Winter Paralympics. Then a 16-year-old, he had a dream debut against Italy scoring for the lead.
"It was either Josh [Pauls] or Brody [Roybal] who passed it to me. I think it was against Italy and I just slapped it under the blocker," said Farmer, who then made a reference to Malik Jones scoring on his debut against Canada in Beijing.
"Malik got his first goal which was way better than when I scored my first goal. He is a really good player, his patience there was huge. Many players in their first game would not see the puck and direct it up top. That was really impressive."
TAKING CHARGE
By putting his teammate into the spotlight when talking about his own debut back in 2014, Farmer showed a great amount of maturity for a player so young.
Between Sochi 2014 and Beijing 2022, Farmer won three World Championships titles on top of his two Paralympic golds. During the time, his influence has increased and he became one of the most vital parts of Team USA.
"Brody and I were the youngest by far in Sochi and now I picked up more on the leadership role since I have been here for many years," admitted Farmer.
"I was training in Nashville with seven or eight of these guys for the last year and a half. I took charge of most of the sessions without any of the coaches being there and it gave me the confidence in being a leader on this team."
With three goals and six assists from only two games, Farmer is the overall scoring leader at the Beijing 2022 after two days of Para ice hockey action.
After a day off on Monday, Farmer and Team USA are back on training on Tuesday.
They will play their semifinal game on Friday against the winner of the qualifying finals game between the two first-placed teams in Group B.
Live results from Beijing 2022 will be available on Paralympic.org. You can follow all the action, behind the scenes and news on World Para Ice Hockey social media channels on Facebook, Instagram and Twitter.