Hosts march to the semifinal after a thriller against the Czechs
South Korea and China are two teams going to the medal round after winning in their qualifying finals on Wednesday in the National Indoor Stadium
09 Mar 2022
Imagen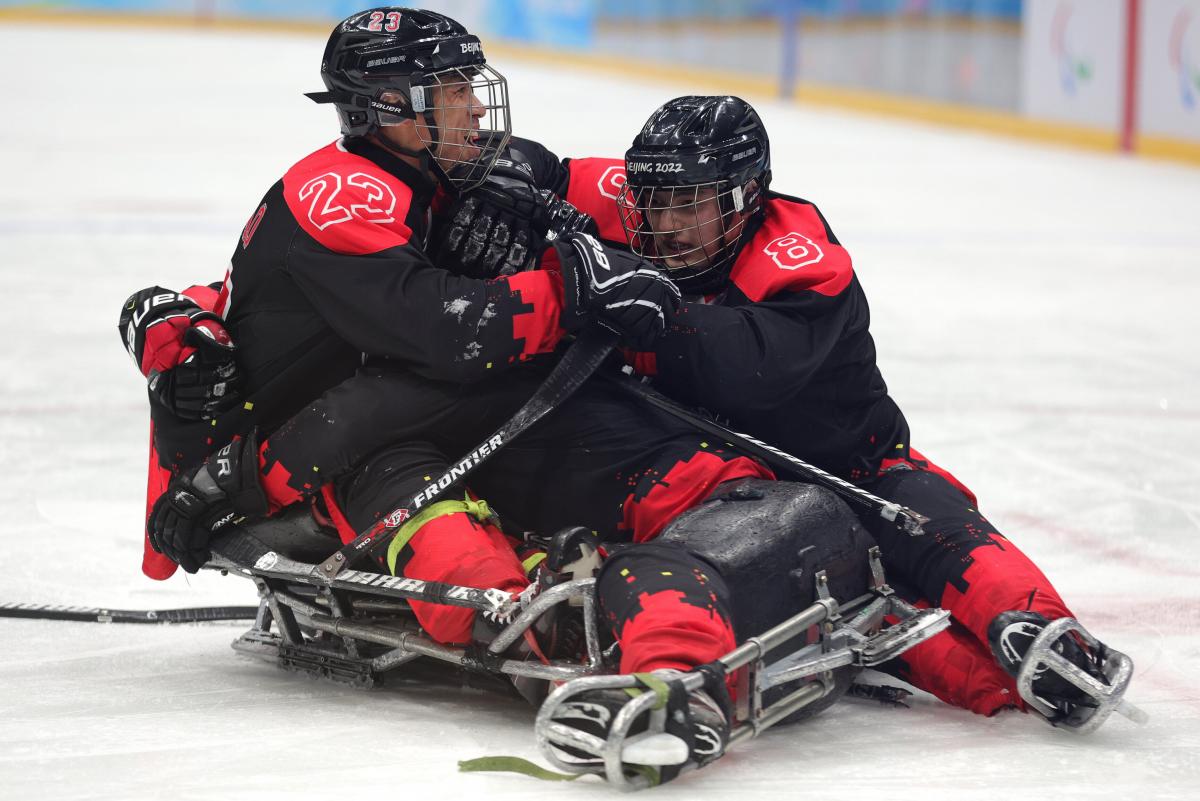 ⒸCarmen Mandato/Getty Images
By OIS and World Para Ice Hockey
The Paralympic Winter Games Para ice hockey tournament will see two Asian teams in the semifinals for the first time in history after South Korea and hosts China booked their places in the medal round on Wednesday (9 March) - but in different fashion.
As the third-placed team in Group A, South Korea took on Italy, the third-placed team in Group B, while China and the Czech Republic clashed for the second time in the Games as the first two teams in Group B.
DREAMING OF GLORY
In the best game of the tournament so far, two goals from Zhidong Wang helped China beat Czech Republic 4-3. It was a fast, furious and physical qualifying final, sending a noisy crowd off into the night dreaming of glory and a semifinal against four-time gold medallists USA.
When Yifeng Shen gave China a 3-1 lead early in the third period the game appeared safe but Czech replies from Vaclav Hecko and Miroslav Novotny tied the game to set up a tense finale, and Wang's goal with less than two minutes remaining settled it.
With a fourth victory in four matches, belief is growing among players, rivals and fans that Paralympic debutants China can do something special at the National Indoor Stadium.
No team other than USA or Canada have won Paralympic gold for 20 years, but China are quietly fancying their chances of pulling off a huge shock.
The team's relentlessly fast-paced game has caught the eye of opponents from the very start of the tournament, and before Wednesday's knockout match Czech coach Jakub Novotny was warning his players to beware China's pace of play.
"We expected that they were going to be fast," Novotny said. "We can't race with them on the ice... we are going to lose this race."
It helps that China currently boast both the tournament's top two scoring leaders in Shen (six goals, four assists) and Wang (four goals, six assists).
As far as Shen is concerned, their success is largely down to the team on the sidelines.
"We have the very best coaching team," the 23-year-old said. "The reason we have progressed so fast is that we are very diligent."
Wang agrees.
"We spent a lot of time on strategy," Wang said. "And we do everything according to plan."
CZECH TEARS
The vocal support of those able to watch China's unexpected progression has also been a real bonus.
"I didn't think we would have so many supporting us," Wang said. "It's a huge boost for us when we're on the ice and we would work harder to do better."
Focus now turns to Friday's semifinal against the USA, a team that has won every major trophy since 2017. But not even the USA's formidable record and reputation seems to worry a team that Shen happily declares to be "young and confident".
"Of course we have seen the US ice hockey team play, but the most important thing is we play the best we can," Wang said. "We established the ice hockey team in 2017 and we have taken every step to get to today."
In their qualifying final game, the Czech Republic came back from a deficit twice. First, Czech goalie Martin Kudela phenomenally saved Shen's penalty shot early in the first period.
Zhidong Wang then scored after seven minutes of play with Michal Geier setting the score straight only a minute after. With 12 saves from Kudela, the Czechs were on a verge of surprise, but could not hold on the fast-paced Chinese attack.
"I'm exhausted, but I have no regrets about the game," said Hecko. "We are very sad about the result because we had the game close to our side."
The Czech Republic was close to making the first-ever semifinal appearance at the Winter Paralympics, but that honour will go to China. Czech players could not hold off their tears after the game and it seems like this defeat might hurt for a long time coming.
On Wednesday's other qualifying final, South Korea beat a spirited Italy 4-0 and will now face Canada in the other semifinal, a team they have never beaten before.
Dong Shin Jang scored twice with Seung Hwan Jung and Jong Kyung Lee adding one goal each.
"I'm so excited that we won the game today. We always considered Italy a really strong team. At PyeongChang 2018, we played with them in the bronze-medal game. We have trained hard to be well-prepared," said Jang.
South Korea will play in their second-straight Paralympic semifinal on Friday.
Live streaming and live results from Beijing 2022 will be available on Paralympic.org. You can follow all the action, behind the scenes and news on World Para Ice Hockey social media channels on Facebook, Instagram and Twitter.