Young and experienced stars claim gold in Hamar
Olivera Nakovska-Bikova repeats European title over 20 years later while Barbara Moskal triumphs on her debut at the Euros in Norway
16 Mar 2022
Imagen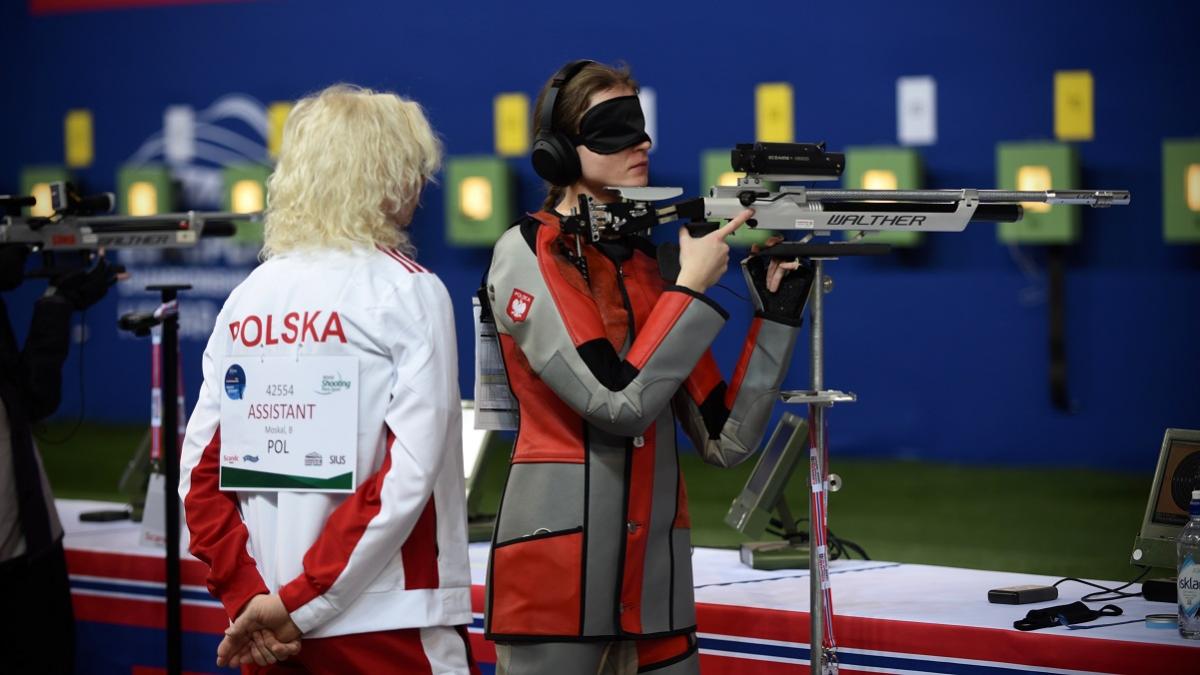 ⒸAudun Klette
By Vagner Vargas and Wiebke Langenhan | For World Shooting Para Sport
Over 20 years went by since the last time Olivera Nakovska-Bikova had won the European Championship in the P2 - 10m air pistol SH1. After doing it in Zagreb, Croatia back in 2001, the North Macedonian managed to repeat the feat in Hamar, Norway during the European 10m Championships.
Gold medallist at the London 2012 Paralympic Games, Nakovska-Bikova qualified to the finals in third place, behind Hungarian Krisztina David and Turkish Aysegul Pehlivanlar. David finished 6th in the final session, while Pehlivanlar ended up with the bronze medal.
After 22 shots it was Aysel Ozgan from Turkey who was leading the competition with 1.1 points ahead of the 2012 Paralympic champion. Using all her experience, Nakovska-Bikova shot a 10.7 and an 8.7 to take the lead and her second European title.
"I am very happy. After a long period of the COVID-19 crisis, this was one of the best events for me. Every medal is a new experience, but now I'll prepare for the World Championship, where I expect to get a quota for Paris 2024," Nakovska-Bikova said.
FAVOURITES LIVE UP TO THE HYPE
On day one of the European Championships on Tuesday (15 March), Poland was the first country to strike gold. Barbara Moskal triumphed and her compatriot Katarzyna Orzechowska took bronze in the VIS - mixed 10m air rifle standing SH-VI. Spain's Maria Sonia Rivero Fernandez finished in second. 
Moskal confirmed why she was the heavy favourite to win the competition being the reigning world champion from Sydney 2019.
"In the beginning, it was a little bit hard. Rivero Fernandez was shooting some very good shots. But after winning the gold in Sydney I really wanted to be the European champion as well", said Moskal.
In the R1 - men's 10m air rifle standing SH1, Serbia's Laslo Suranji led all the way to earn the gold medal with a score of 246.2. He left Jens Frimann from Denmark with the silver medal, and Csaba Rescsik from Hungary with bronze.
"It's a lot of work put into it. Every time I succeed I feel very happy. After 20 years of being a shooter, I don't get nervous anymore, but I'm very excited about the World Championship in Al Ain, since it'll be the first with quota placement for Paris", said Suranji.
Very experienced herself, Paralympic champion Veronika Vadovicova was given a really hard challenge from Polish Emilia Babska in the R2 - women's 10m air rifle standing SH1. Babska was leading the contest until the very last shot, but Vadovikova scored a 10.7 against her 10.4 and took the gold medal by only 0.1 points.
"I was caught a bit by surprise with how good Emilia shot during the final. I'm very excited about this win", celebrated the Slovakian.
France's Kevin Liot also had to fight until the last shot to take the gold medal home in the R4 - mixed 10m air rifle standing SH2. Liot and Great Britain's Ryan Cockbill were tied after 22 shots at 231.6 points. Liot shot a 10.7 and a 10.4 against a 10.4 and a 10.0 from Cockbill and took the title to the French team.
COMEBACK WIN FOR WORLD CHAMPION
World champion in the P1 - men's 10m air pistol SH1 at Sydney 2019, Czech athlete Tomas Pesek was not the front runner to earn another title when the final session began in Hamar. With 20 shots in, Szymon Sowinski and Kacper Pierzynski from Poland were both ahead of him. 
But Pesek showed why he is the world champion by taking the lead in the 21st shot and never letting it go. He finished with 229.2 points. Sowinski, a silver medallist at Tokyo 2020, took another silver medal ending with 226.2. Pierzynski was third with 208.
"I'm not entirely satisfied because there were many bad shots today, but in the end, it was a good competition and I'm happy with this title after being world champion in 2019", said Pesek.
In the last event of day two on Wednesday, Slovakia won another gold with Veronika Vadovicova and her partner Radoslav Malenovsky. They defeated Emilia Babska and Marek Dobrowolski from Poland to become the new European champions in the R10 - 10m air rifle standing mixed team SH1. In the bronze medal contest, Turkey defeated Greece to earn a place on the podium.
The Hamar 2022 WSPS European 10m Championships is being streamed live on World Shooting Para Sport Facebook and website. Live results are available here. 
You can follow all the action, results and behind the scenes on World Shooting Para Sports social media channels on Twitter and Instagram.