Hamar kicks off shooting Para sport season with European 10m Championships
Norwegian city hosts 114 athletes from 26 nations during five days of action in the first competition of an all-important year
13 Mar 2022
Imagen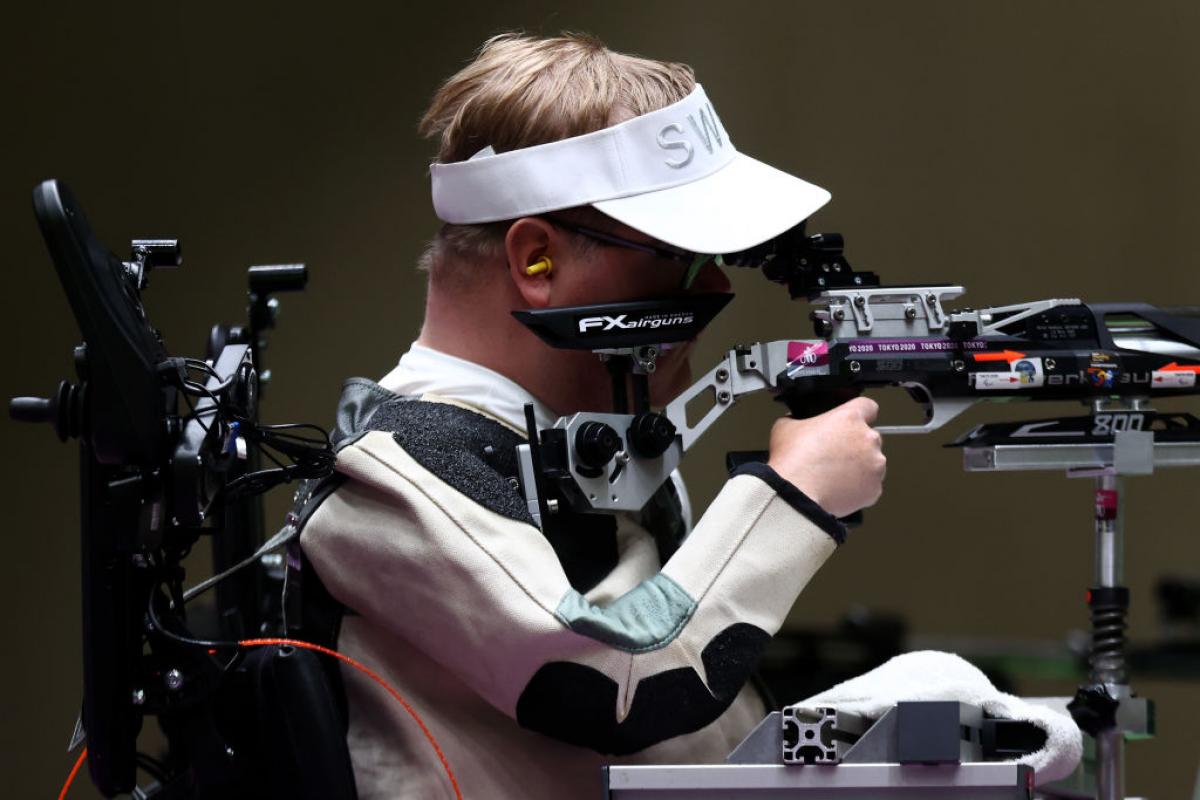 ⒸDean Mouhtaropoulos/Getty Images
By Vagner Vargas | For World Shooting Para Sport
A new Paralympic cycle begins for shooting Para sport. Hamar, Norway will host the first official competition since the Tokyo 2020 Paralympic Games last year.
From 14 to 18 March (Monday to Friday) the Hamar Olympic Hall welcomes 114 shooters from 26 countries to at the 2022 WSPS European 10m Championship.
It will be the kick-off to an all-important season which includes three World Cups and the Asian Para Games before the grand finale at the Al Ain 2022 World Championships in November in the United Arab Emirates. 
Turkey will have the biggest delegation at Hamar 2022 with 11 athletes. France and Serbia come right behind with 10 each. Hosts Norway will have eight shooters.
PARALYMPIC CHAMPIONS RETURN
European athletes took 25 out of the 39 medals up for grabs at Tokyo 2020 – five of them gold. Three Paralympic champions from Europe will be competing at Hamar 2022
Serbia's Dragan Ristic (gold medallist in the R5 - mixed 10m air rifle prone SH2 and in the R9 - mixed 50m rifle prone SH1), Slovakia's Veronika Vadovicova (gold in the R6 - mixed 50m rifle prone SH1) and Sweden's Philip Jonsson (gold in the R4 - mixed 10m air rifle standing SH2) all topped the podium in Japan.
Ristic is also the defending European champion in the R5 - mixed 10m air rifle prone SH2 while Vadovicova triumphed in the R3 – mixed 10m air rifle prone SH1 in the last edition of the championships in Belgrade, Serbia in 2018. 
Other Tokyo 2020 medallists will also try to keep the momentum going at the start of a new cycle. It is the case of Poland's Szymon Sowinski, silver medallist in the P3 - mixed 25m pistol SH1 at last year's Paralympic Games.
"I'm very happy that I'll be able to participate. Tokyo gave me self-confidence, but the European championship is a new start," Sowinski said. "I don't compare competitions, each one is a new challenge and we must be ready for everything."
POWER COUPLE
Represented by six athletes in Hamar, Great Britain will count with a couple who is used to sharing daily life and competition together: Matt Skelhon and Issy Bailey.
"It's great to be competing together, more so as we don't have to compete against each other. It's really nice to have Issy's support. We know when to be there and when to give space to each other", said Skelhon.
"There's no rivalry, only support. We know how to support each other in the good times and the bad", added Bailey.
Both of them are excited to compete in Hamar, given it has been a long time since they were able to shoot in an actual competition. For them, there is nothing like the environment of a championships.
"I'm here to enjoy it and get back into shooting under match conditions, something that we just can't recreate in training", said Skelhon.
"We've only had one opportunity to compete in the last two years. I only just started training again, so I'm looking at Hamar as a starting point for this season", said Bailey.
THE FIRST TIME IS THE CHARM?
While some athletes hope to repeat recent success, others will live the experience of competing against shooters from other countries for the first time in their careers. France's Christelle Girard is one of them.
"The European championship will be my first international competition and I'm very excited. I want to shoot according to the best of my ability in Hamar and I'm happy I will be the only French vision impaired shooter to represent my country," Girard said.
Hamar 2022 will mark the first time vision impaired events are part of the European Championships competition programme.
Also from France, Richard Didier aims for a gold medal in Norway, but he is already thinking about bigger goals throughout the season.
"I look forward to a gold medal in Hamar and I'll do my best to get it. It will be my first step towards the goal of my season: the Al Ain World Championship," said the French, who bagged a gold in the R1 - men's air rifle standing SH1 at Belgrade 2018.
Lasko, Slovenia was set to host the Europeans in 2020 but the competition was cancelled due to the COVID-19 pandemic.
The Hamar 2022 WSPS European 10m Championships will be live on World Shooting Para Sport Facebook and website. Live results are available here. 
You can follow all the action, results and behind the scenes on World Shooting Para Sports social media channels on Twitter and Instagram.
Pictures from the competition will be available for editorial purposes on the Hamar 2022 Flickr page.