Zheng vows to only swim for pleasure in 2017
China's most popular swimmer speaks on successfully defending his signature title, training schedule and his rivalry with teammate Qing Xu.
28 Dec 2016
Imagen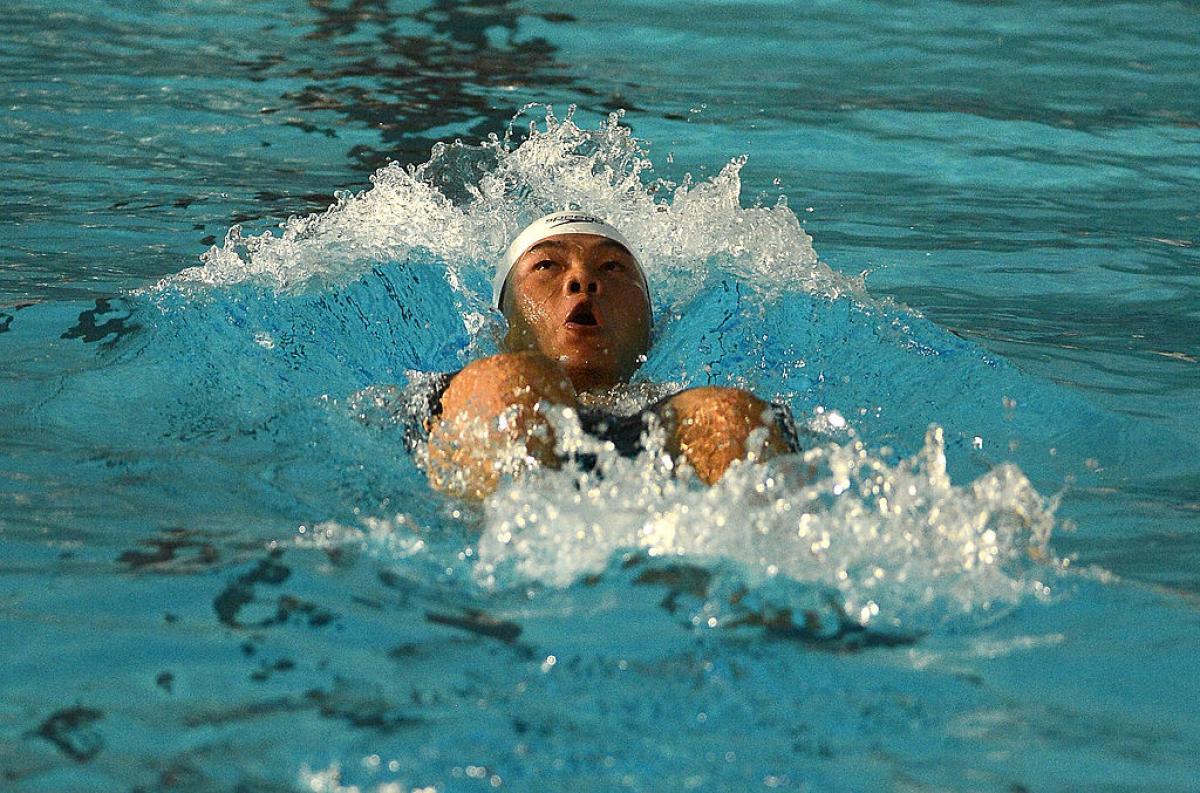 ⒸGetty Images
By Sophie Feng | For the IPC
"I don't want to ever swim and train to win again. I only want to swim for the pleasure of swimming."
Zheng Tao, well known as the "armless swimmer," wants to fall back in love with swimming after the exhausting training he underwent preparing for the Rio 2016 Paralympic Games.
First making an international splash at London 2012, Zheng repeated his iconic performance when he won the 100m backstroke S6 in 1:10:84, shaving over two seconds off the previous world record he established in 2015.
Despite grabbing gold in that famous event, Zheng did have a tumultuous experience: he not only came to Brazil with a lower-back injury, but also caught the stomach flu on the day of the 50m butterfly S6, in which he won silver.
"Winning [the 100m backstroke S6] despite my back injury was the best feeling. Having a weak stomach and not winning [the 50m butterfly S6] was probably my biggest regret," he said, evoking his disappointment after being edged out by his teammate, 10-time Paralympic champion Xu Qing.
Zheng also believes his friendly rivalry with Xu, who had briefly considered retiring after Rio 2016, pushed them both to perform better on the international circuit.
"There is no way he [Xu Qing] is retiring," he said as he laughed. "And I'm only going to retire whenever he decides he'll stop."
Depending on the Chinese Para swimming team and their National Paralympic Committee's selections, both Zheng and Xu could pick up the call to represent China at the 2017 World Para Swimming Championships from 30 September -7 October in Mexico City.
But from now until then, Zheng needs to maintain his form.
He knows how challenging that can be.
The four years leading up to Rio 2016 was perhaps Zheng's biggest challenge, as the swimmer felt disenchanted with swimming.
His coach planned a six-day, 30-hour a week training programme in preparation for Rio 2016, but Zheng could not focus on training until 2015.
"For two years [between 2013 and 2014], I was not really training," he said. "I would swim for one day, and take a week off. I hated training."
The unusual schedule has lowered his expectations, but Zheng also credits it for having restored his love for swimming.
"Lowering my expectations has only made winning all the more surprising," he added.
The 25-year-old wants to savour swimming the way he did as a child. Having grown up near a lake, he was always fascinated with water.
"I don't want to ever swim and train to win again. I only want to swim for the pleasure of swimming," he said. "So… I'm not going to regularly train next year."
Zheng trains at the Kunming Aquatic Centre in Kunming, Yunan. Some of his teammates include five-time Paralympic champion Pan Shiyun and five-time Paralympic medallist Wang Jiachao.
"We live at our training facilities' dorms and sleep in bunk beds. It is not very glamourous at all," he joked.
Most people remember Zheng as the swimmer who won the dramatic and close 100m backstroke S6 final in London 2012. The video has over six million views and propelled Zheng to the international spotlight.
"That race, my first Paralympic Games, I'll never forget it," he added.
While he has seen footage of that memorable race, up until now, Zheng had no idea how big the impact on the international community he has made.
"This is surreal. I had no idea over six million people have watched me swim. I hope I made a good first impression."
__
The 2017 World Para Swimming Championships are expected to attract around 500 swimmers from 50 countries and are the first major competition after the Rio 2016 Paralympic Games.