Rio 2016 gives Simmonds 'renewed desire'
Great Britain's multiple Paralympic and world champion reflected on her third Paralympics and has set new goals.
14 Dec 2016
Imagen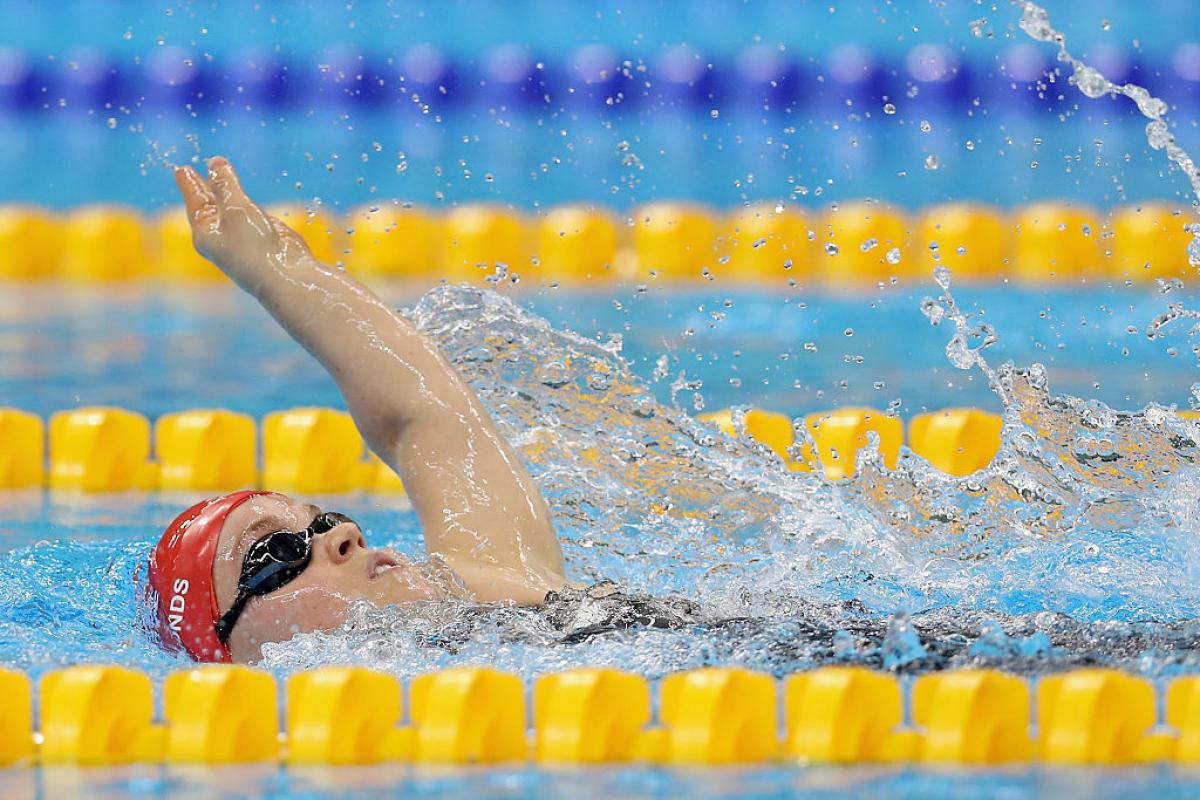 ⒸGetty Images
By Becki Ellsmore | For the IPC
"I'm definitely aiming for [Tokyo 2020], but I'm taking each year as it comes.'
Great Britain's multiple Paralympic and world champion Ellie Simmonds, now with three Paralympic Games under her belt, has spoken of a "renewed desire" to go even faster in the lead-up to Tokyo 2020.
Simmonds competed in five events at Rio 2016, winning a gold medal in the 200m individual medley SM6, with a world-record and a bronze in the 400m freestyle S6.
Prior to the Games, there was much speculation about the rivalry between Simmonds and Ukrainian newcomer Yelyzaveta Mereshko. Mereshko burst onto the scene in 2015 when she stormed to victory in the 400m freestyle S6 at the World Championships, claiming the title that Simmonds had held for several years.
In Rio, Mereshko once again claimed gold in the 400m freestyle, and put in strong performances to win a further three golds and a bronze medal.
When asked if she would have changed anything about her performance in Rio, Simmonds candidly admitted, "I wouldn't have minded winning five golds! While I was pleased I achieved another gold, I feel that I probably wasn't exactly where I needed to be and I aim to put that right next time around."
Having made her debut at the Beijing Games in 2008 as a 13-year-old, and then competed at her home Games at London 2012, 21-year-old Simmonds finally had her first opportunity to really experience the Paralympics in Brazil.
"At Beijing I was so young that it all just whizzed by," she said, "and at London, while it was a truly incredible time of my life, I did also feel a great deal of pressure to not let anyone down, so in Rio I just felt the whole thing was more relaxed. I made sure I took in every moment."
At the Games, much was also made of Simmonds and her namesake and sometime rival, 15-year-old Ellie Robinson. Robinson was inspired to swim competitively after watching Simmonds compete at the London 2012 Games. She won a bronze medal in the 100m freestyle S6, an event that Simmonds was also competing, though she placed fifth in the final. Robinson also won a gold medal in the 50m butterfly S6.
"It's a great feeling to have inspired Ellie and to see how much she's gone onto achieve is just fantastic," said Simmonds, "I was inspired by Nyree Lewis [now Kindred] when she competed at Athens in 2004, so I know how important having role models is. I'm sure Ellie will have inspired many others to start swimming and who knows, perhaps some of them may win medals in Tokyo!"
Outside of the pool, Simmonds had high praise for the Rio experience: "Rio was amazing. I went into the Games [with an open mind] as there was so much negativity in the lead-up, but when we got there it was just brilliant. Brazil put on a fantastic Games and I can honestly say it was one of the most fun Championships I've ever been to."
Looking ahead, Simmonds has a fourth Paralympic Games in sight. But, despite her youth, she now has enough experience to appreciate that anything can happen in the next four-year cycle.
"To win the 200m [individual medley] gold, and set a new world record, was absolutely fantastic, but I still feel there's so much I'm yet to achieve. The [Rio 2016] Games gave me renewed desire to go out and get quicker, which is such an exciting feeling!
"I'm definitely aiming for [Tokyo 2020], but I'm taking each year as it comes. I'd absolutely love to go to Tokyo, and even beyond, but right now I'll just focus on one year at a time and see what happens... I have no doubt it'll be an unbelievable Games and a really different experience."
For now, Simmonds is making the most of an extended break, much as she did after the London 2012 Games.
"We train so hard for the four year cycle, that I just want to get away for a bit and experience the world a little. I've just got back from visiting friends in Paris, and the week before that I got back from a trip to San Francisco, Mexico and Australia... I've been off doing some travelling, just me and my rucksack, and it's been so exciting!"