England powerchair football captain Bolding eyes World Cup success
Bolding aims to lead England to their first World Cup title this year
26 Jan 2023
Imagen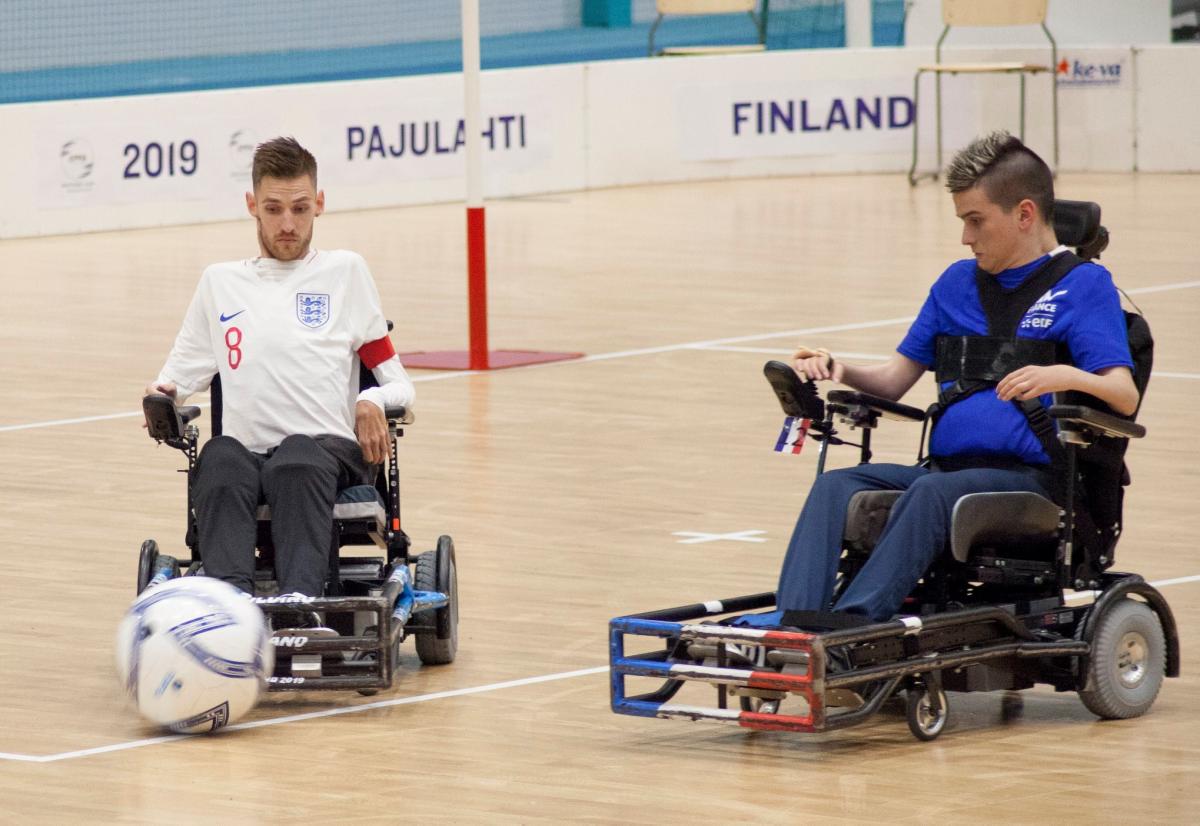 ⒸThe Wheelchair Football Association
By Ayano Shimizu | For PARA SPORT
Influenced by his late father, a huge football fan, Jon Bolding has loved the sport since he was very young. But until he took up powerchair football, he did not think he could represent his country, better yet captain England's national team at a World Cup.
Fast forward two decades since he started playing, and Boldingis preparing for the FIPFA Powerchair Football World Cup, which will take place in Sydney, Australia, between 15 and 21 October 2023.
"It's massive. It's the pinnacle of our sport," the 35-year-old athlete said. Every player wants to play for their country and playing for the World Cup is obviously the highest level you can play at for your country." 
"Doing it for dad"
While he feels the weight of playing for England at the sport's showpiece event, Bolding is playing for much more than medals. He wants to play for his late father John, who passed away in August 2022 after a battle with cancer.
Bolding's father showed him how fun football is and father and son used to watch football matches together. After Bolding took up powerchair football, John became his biggest supporter both on and off the playing field.
"He's been with me everywhere, never let me down in my life. He strived for everything I wanted in my life," Bolding said. "When it came to football, he never missed a game. He never missed training. He literary took me everywhere.
"For me, I've got the World Cup and I've got the Champions League for my club that I want to win hopefully before I retire… And yeah, I'll be doing it for my dad." 
A leaflet that changed everything
Bolding was diagnosed with a rare condition called central core myopathy at a young age. The condition meant that the muscles in his legs could not grow at the rate that an average person's do. 
Growing up, he had metal calipers attached to his legs that allowed him to walk. His parents took him to football camps every week so he could pursue his passion for the sport, long before he found out about powerchair football.
"I couldn't run, I couldn't jump, I couldn't kick the ball hard. I was just a spectator unless the ball hit me," Bolding said.
In 2002, he received a leaflet from his school about the first powerchair football tournament to be hosted by the Middlesex County Football Association, where he was based. He was due to undergo back surgery in a few months, which meant that his movement would be further limited.
So he thought about giving powerchair football a go, which turned out be a life-changing decision.
Powerchair football is played by two teams of four players using electric wheelchairs that are designed with metal foot guards to allow athletes to pass and dribble a ball on a hard court.
"Before (starting powerchair football), it was just kind of clutching at straws at whatever kind of football I can play. There was never a realistic level, but then powerchair football came and it gave me what I was looking for. Basically, a sport that I could play (where I) was on the playing field with everyone," Bolding said. 
"It gave me the feeling that I was part of the team and like every other person who plays football."
Playing on the big stage
Since taking up powerchair football, Bolding has competed at three World Cups and also led England to the European title in 2019 by beating France, currently ranked world No. 1. 
This year's World Cup will feature 10 teams, including top medal contenders France and the United States. USA won the inaugural World Cup in 2007 and the second edition in 2011, while France won the previous tournament in 2017.
"As an England team, we're in a really good place," Bolding said. "We're the current European (title) holders so we go in there with a good mentality and positivity that we can achieve the ultimate goal of winning the tournament.
A role model
Just like how his father was there for Bolding's journey in football, the athlete wants to be there and support his daughter take on new challenges.
"I want to be the best father for her. My father was a massive role model for me," he said. "My dad was behind all of my football and then some other stuff, and I want to be that dad to my daughter. 
"I want her to achieve all of her dreams and see her strive in wherever she puts her mind to."
And while finding powerchair football may seem like fate, Bolding said that people should not wait for something to "hit them in the face or be presented to them" when it comes to starting Para sports.
"The stress of being disabled can build up on you and you can end up feeling sorry for yourself and take it out on loved ones like family members and friends," he said. 
"Sports gave me that release where even when I had a hard day at work or a whole week at work, I know that on Sunday I will go training and just be myself and enjoy being around people who are disabled and go through stresses that I have, but all there to enjoy the sport we play."
For those looking to find the same joy in sports, the England powerchair football captain has a simple piece of advice: Start somewhere.
"Powerchair football might not be for them. But there's (wheelchair) tennis out there, there's (wheelchair) rugby out there, there's (Para) swimming," Bolding said.
"Not until you go out there and actually give it a go, you don't necessarily know that it's for you."