Newly launched U.S. national blind football team dreaming big for LA 2028 Games
• Ten players were named to USA's first-ever national blind football team, which was formed in November 2022
• The United States will earn an automatic spot at the 2028 Paralympic Games as the host nation
20 Nov 2022
Imagen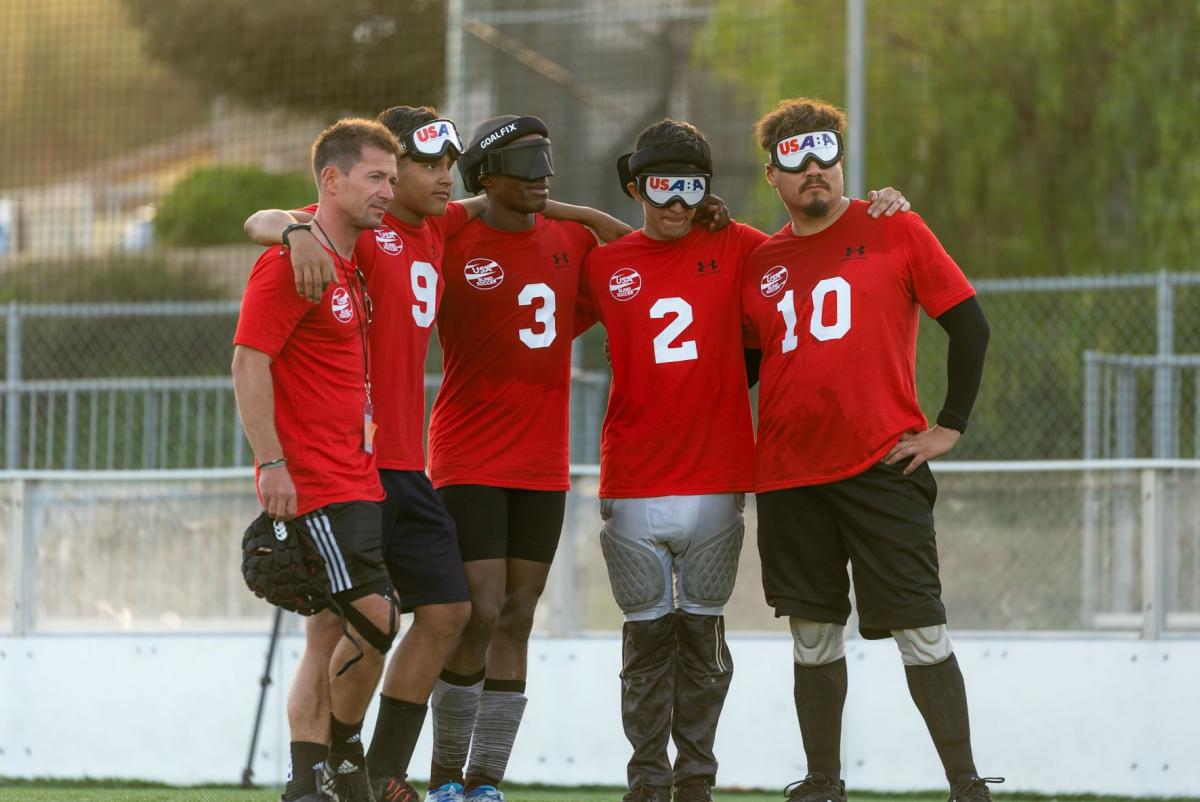 ⒸUSABA/Brian Hernendez
By Ayano Shimizu | For the IPC
David Brown immediately fell in love with blind football when he tried the sport for the first time, just two months after competing at the Tokyo 2020 Paralympic Games. 
One year later, Brown, a three-time Paralympic sprinter and a Paralympic champion, was among the 10 players named to the inaugural USA national blind football team launched ahead of the LA 2028 Paralympic Games.
While blind football has been staged at the Paralympics since Athens 2004, the United States have never fielded a team. But at the 2028 Summer Games in Los Angeles, the host nation will receive an automatic berth.
"To be named to the first-ever squad, it was truly humbling. I cried, I love it," said Brown, who won Paralympic gold in the men's 100m T11 at Rio 2016. 
"We are a team that's willing and ready to work hard. We have a long way to go in a lot of things," he added. "But as far as determination, as far as dedication, as far as being willing and ready and doing whatever it takes in order to prepare, I say that's Team USA. We are going to grind harder than any other team out there."
The big launch
With roughly six years to go until LA 2028, the U.S. Association of Blind Athletes, the governing body of the sport, held a four-day selection camp in October. Thirteen athletes took part in the camp, which featured physical drills and scrimmages, with 10 players eventually selected to wear the U.S. jersey. 
Prior to the selection, the association held several development and talent identification camps throughout the country to discover new players and introduce the sport to more people with vision impairments.
In blind football, the ball makes a jingling or rattling sound and players say "voy" when they have possession of the ball to alert other players about their position. Listening and communication are important aspects of the game.
Brown said he knew the moment he played the sport at a development camp in November 2021 that "Yes, this is it".  While he runs together with his sighted guide in track and field, communicating with his teammates is what he likes the most about blind football.
"First thing is that it is a team sport. Track and field is individualised. Even though I am in a classification where there're two of us, there's still that source of individuality there," Brown said.
"The communication aspect of everything, the fact that I'm able to run around the field untethered to somebody - where my whole career I had to run alongside somebody in order to be successful – the fact that it's not the case here, is great."
Feeling free
While Brown discovered his passion for blind football relatively recently, Ricardo Castaneda, a 22-year-old player from Fort Worth, Texas, had been waiting for years for the launch of the national team.
Castaneda, who was introduced to the sport in 2017, founded a blind football team with friends. He screamed and celebrated after he was told he made the cut to the national squad. 
"It's like a dream come true. It was something unbelievable that I've been working towards for five years," Castaneda said. 
"The sport makes me feel free. I can run without anybody holding my hand or even holding a shoulder or cane or anything. I don't have to worry about running into anything because I know where I'm at in space at the time, or at least on the pitch.
"I love soccer. I love blind soccer, especially, and I can't wait to compete with my team and fight these small wars before the big battle in LA 2028."
A rollercoaster ride
The USA team will have three week-long training camps and several international friendlies next year to kick off their LA 2028 campaign. Head coach Katie Smith noted a particular need for the players to gain the experience on the pitch as much as possible.
"It's going to be a fast, fast few years leading up to LA," Smith said. "Having more international play and being able to see, from a coach's perspective, some international play other than on YouTube will be really huge."
Smith has already noticed how much the athletes have improved since the selection camp. They are "putting in work on the sport on and off the field," she said, adding that some players have sent the coaching staff videos of their training to make sure they are doing things correctly. 
While one challenge ahead of the LA 2028 Games will be expanding the pool of talent in the sport, Smith is optimistic about the outlook for the current squad.
"They're super positive. They're energetic, they're passionate about what they want to do and passionate about the game. And I think that's of huge, huge importance," she said. "You can feel the excitement. At every camp for them, they want to grow, wanting to learn more from each of the athletes, which is incredible."
In six years
Both Castaneda and Brown are determined to be on the team in 2028 and impress the home crowds.
Brown hopes to compete in Para athletics for the final time at the Paris 2024 Paralympic Games and focus on blind football "100 percent" in the four years leading up to LA 2028. Making his Paralympic debut at London 2012, the 30-year-old is already imaging what competing at home will be like.
"(At the Rio 2016 Games), they had a Brazilian finalist there in the 100m, and the whole crowd was chanting his name. Instead of them chanting (the Brazilian athlete's) name, they can be cheering Team USA," he said. "It hits very different. It gives you chills."
Castaneda said that he wants USA to become a powerhouse in the sport, like Brazil, who won gold at all five Paralympic blind football tournaments, and four-time medallists Argentina.
"Six years, it's a long time. But I tell all of my teammates, when (other teams) hear USA, I want them to think of us as a force, just like Brazil, just like Argentina," Castaneda said.
"When (teams) hear (they are playing the United States,) they say 'Oh, we're going to have a fight. And that's what I want. I want to have a fight."