No peak out of reach for Para climber Lanfri 
The 35-year-old is close to becoming the first Italian multi-amputee to scale the world's tallest mountain
13 May 2022
Imagen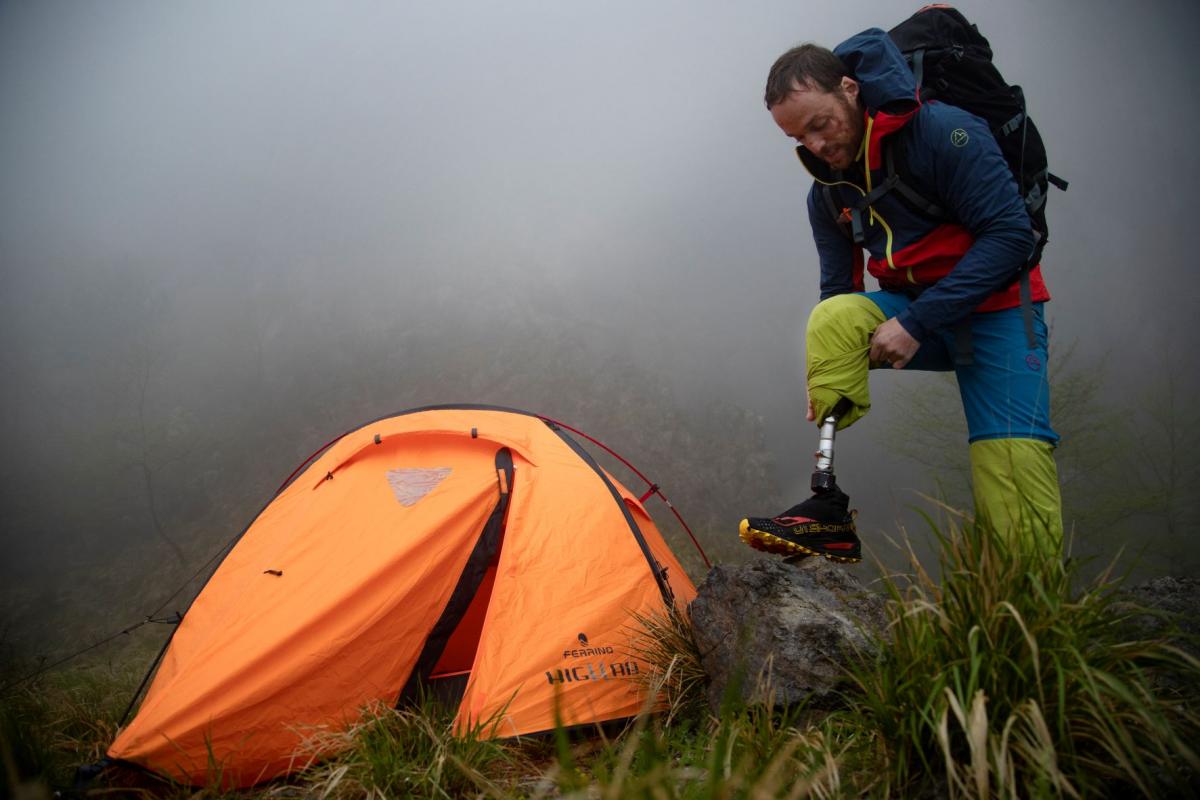 ⒸIlaria Cariello
By AMP Media I For PARA SPORT
Andrea Lanfri was never going to be defeated by meningitis. From the moment he woke up in hospital in 2015 having lost both legs and seven fingers to the disease – all after a month spent in a coma – the Italian had just one thought on his mind. 
"The disease tried to remove my passion but I have always shown him that he cannot succeed," Lanfri said. "He has always failed. Instead he succeeded only to increase my passion." 
Despite always being in love with the mountains, not many people could, however, have predicted quite where this inextinguishable "passion" would end up taking the 35 year old. 
"I want to scale Everest for a personal challenge," Lanfri told the IPC in early May from Namche Bazaar, a Nepalese village located just below Mount Everest Base Camp. 
On 24 March Lanfri and his guide, fellow Italian Luca Montanari, began a seven-day trek from the small Nepalese town of Lukla to Mount Everest Base Camp, found at 5,300m altitude. The pair and the rest of their team then began the acclimatisation process, which included first an ascent of the 6,100m Mount Lobuche and subsequently an initial effort up to Everest Camp 3, 7,200m up, before they returned to Namche Bazaar to refuel. 
"The challenge is not against the mountain, but it is against myself," Lanfri explained. "I want to overcome my limits and show that if one wants it, one can always follow one's dreams and find, as I have, new solutions." 
Lanfri has found answers to every challenge in his quest en route to becoming the first Italian multi-amputee to scale the world's tallest mountain. Although, unsurprisingly, the journey has not been straightforward. 
Rocky road
When he first got out of his hospital bed climbing proved too difficult to re-master. Frustrated but not defeated, he turned to Para athletics. Within two years he was a world championship medallist, grabbing silver as part of Italy's 2017 men's 4x100m T42-47 relay team. But the itch to return to his first love would not leave him. 
The big difficulty was getting the right prostheses. Not only were they expensive, but also, the type he needed did not really exist. Crowdfunding sorted the first issue and his unstoppable drive, the second. 
"With lots of time I tried solutions to the problems, adapting and looking for prostheses that could work," Lanfri said. "My climbing prostheses are very unique, particular and personal. The main changes (we made) were to lower my real height and change the number of (prongs) in the foot, in addition to adding a double sealing system (to protect his stumps).
"And in the end we succeeded, by trying and trying again, despite many, many failures." 
Preparation has been all-consuming, with two pairs of prostheses – one specifically for trekking and one for mountaineering – and two pairs of feet part of his mountain luggage.
Like all climbers, looking after the health and wellbeing of his extremities has been paramount. Lanfri is confident he has developed a sixth sense when it comes to spotting and treating possible stump inflammation and infection long before either becomes visible to the normal eye. 
He is also quick to point out that there are some advantages to climbing without legs. 
"Even at 8000m and at -40 degrees Celsius I don't feel the cold on my feet, even while wearing light shoes," he said with a loud laugh. 
Top of the world and beyond
The loved ones watching Lanfri's remarkable efforts from afar – perhaps the hardest job of all – are understandably beset by differing emotions. 
"My mother has always seen the mountain and climbing like a fearful thing and it's not much on my side," Lanfri admitted, the rueful smile evident in his voice. 
"But my father is the opposite. He always encouraged and helped me, especially in the hardest moments. And my girlfriend is also a climber and obviously is on my side and has participated in some of my adventures." 
One thing is certain from hearing Lanfri talk: nothing and nobody will ever stop him following his passion. 
"For me, climbing has always been a pure sense of freedom and a unique contact with myself in symbiosis with nature," he said. 
Once you hear that it is no surprise that standing on the roof of the world is not the end. Next up, climbs to the highest peaks in the other six continents, starting with Mount Kilimanjaro in late August.