Para athlete, Hollywood actress, runway model Kanya Sesser is an unstoppable force
Found on the side of a road and now shredding mountain slopes, skateboarding and appearing in Hollywood films: Athlete, actress and model Kanya Sesser shows how to have it all
11 Jan 2023
Imagen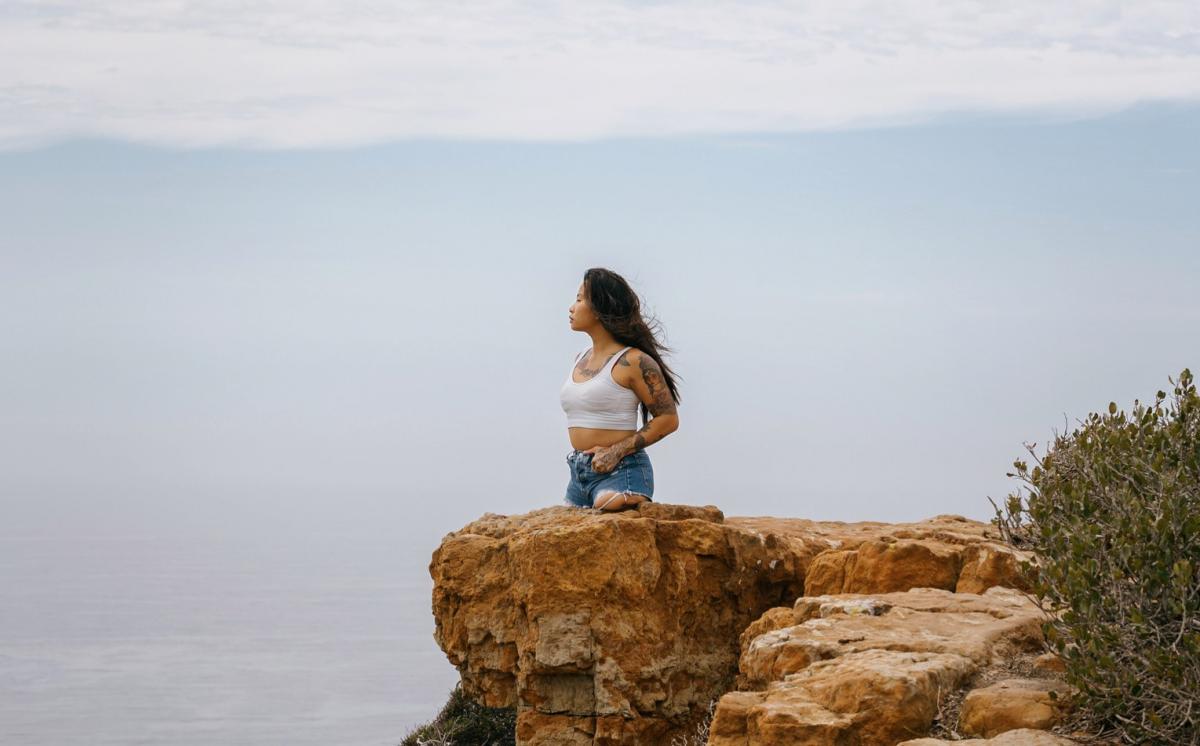 ⒸKanya Sesser
By Lena Smirnova | For PARA SPORT
A woman passing by a Buddhist temple school stopped abruptly as a shrill cry pierced the early morning hours.
It was 5 a.m. on September 13, 1992 in Pak Chong, Thailand. Struggling to see the source of the cries, the woman got out a flashlight and cautiously approached the side of the road. As the light flickered, searching, through the blades of tall grass, it fell on a pink blanket with something writhing inside. A baby.
"I had debris and mosquito bites all over me. She took me and something felt off, so she brought me into her home and she opened up the blanket to wash all the debris off," Kanya Sesser, now 30 years old, recalled. "She was searching all over me and she was like, 'Oh, wow, she doesn't have legs'. And she was looking to see if there's any amputation and there's no amputation whatsoever. I was born without legs."
The woman then called the city police who took the infant, several months old at the time, to the hospital. 
That is where Sesser spent the next few years. Nurse Mae Chan, who Sesser calls her second mother, and other hospital staff took turns taking care of her while searching for her birth family. That search was unsuccessful, but Sesser ultimately found a permanent home when a family from the United States came to adopt her in May 1998.
Fast-forward 25 years and the lights shining on Sesser are no longer flashlight beams scanning through the grass, but the floodlights of skateparks and snowboard tracks, as well as the flashes of cameras on red carpets and at fashion photoshoots. 
A skateboarder, snowboarder, actress and runway model, Kanya Sesser has proven that even the humblest beginnings cannot hold one back from enjoying a full life.
Crossing an ocean
Whether it is a movie or photo camera pointed at her, Sesser is a natural in front of a lens. It is fitting then that her journey into the spotlight began with a picture in a magazine.
"My adopted mom saw me in Holt Magazine - it's from Thailand - and she was like, 'Oh wow'," Sesser said. "Her and my dad had been talking about adopting a daughter and they came all the way to Thailand to pick me up, and she didn't even think about it. She saw all the other kids, but she was like, 'You know what, she's going to be a part of our family'."
Coming to the Pacific Northwest and integrating into society was not easy for the five-year-old girl. Language was one of the biggest barriers.
"I felt like I was on my own because I came to America and I was like, 'Why are the people I'm with not the nurses? And they talk in a different language'. And then imagine you being disabled, without legs, and you come to America where you do not know anything, but your own language and you want something so bad and you want people to understand you, but they can't understand you," Sesser said. 
"I didn't speak English until I was nine years old and trying to understand English was really difficult. There were times when I cried because I just didn't understand the grammar, the context. School in general was so hard and difficult."
Sesser's response to these challenges was to become as independent as she could from early on.
"I was very independent since day one. I taught myself to walk on my hands because growing up with what you have, you have to tap into what you know," she said. "I never really felt like I was different, to be honest. I was just like, 'OK, this is who I am. This is me and I'm going to go for it'."
Her first years in the United States also included multiple surgeries on her hands. Sesser was born with webbed fingers on one hand and had an extra finger on the other.
While going through these surgeries, she got connected to adaptive sports, trying out wheelchair basketball, racing, tennis and rugby. It was also around this time that she started skateboarding.
Life on a board
Sesser was involved in wheelchair racing for 16 years. She picked up the sport in middle school and went on to win gold medals at the National Junior Disability Challenge as well as bronze medals at the national championships.
Retiring from athletics in 2015, her focus then switched to action sports. 
Sesser first tried skateboarding as a kid when she borrowed a friend's skateboard. The first thing she did once on the board was to skate down a steep hill and do an ollie onto the sidewalks. From that point on, she was hooked. 
"For me, instead of using legs, I use both of my arms," Sesser said. "I just punch with both of my hands. How I do an ollie is pretty much with my torso all the way up since I don't have the use of the legs...I hop myself onto the railings. I go down bowls quite a lot. Bowls is my favourite because it feels good to just drop in."
Having mastered one board sport, Sesser was eager to take on another, this time on snow.
She first tried getting into snow sports through Para Nordic skiing and enjoyed racing on the tracks. However, the cost of a custom-made sit ski - roughly USD 8,500 - was unaffordable for the school student while the ones she borrowed were too heavy for her.
Getting her own snowboard proved easer as Sesser connected to Project ROAR, a non-profit organisation that builds and funds custom equipment and adventure experiences for adaptive athletes. 
In her set-up Sesser is attached to the snowboard with the body rather than the feet, and given her background in skateboarding, the transition to snow was almost seamless.
"I love skateboarding and snowboarding because snowboarding is like skateboarding, but you're on snow," she said. "Skateboarding, I feel like it's been part of my life ever since I was a kid. I like using my skateboard more than the wheelchair because it's me."
Passionate about both sports, Sesser now splits her time between skateparks and mountain slopes. 
In the winter she is riding slopes in Colorado, Oregon or Park City. When the warm temperatures set in, she heads home to California where she moved spontaneously in her 20s, a couple of duffle bags in tow. 
Aside from the skateboard-friendly temperatures year-round, there was an additional perk in moving to California. Now Sesser can enjoy another board sport - surfing - any day she wants.
Confidence on film
Whether cruising on a skateboard, a snowboard or a surfboard, Sesser tends to draw attention from onlookers for her unique technique. That, however, has not been an issue since body confidence is something Sesser said she always had in ample supply.
"People stared at me, but I was like, 'Hi, I'm Kanya'. I didn't shy off and be embarrassed. I never felt that way. I was just like, 'Hi, I'm Kanya. I was born without legs'," she said.
That openness was also reflected in her relationships with classmates.
Sesser fit in at school and was surrounded by a large group of friends. She was on the cheerleading squad until her first year of high school, went to homecoming, and almost got voted prom queen. Dating also came easily.
"My first kiss was first grade, so obviously I have no problem with boys," Sesser said. "When I went to school, I was never bullied, at all. People were more curious about me and when kids are curious, they want to be your friend and they want to see what's up with you because they're like, 'Wow, this girl's cool', and also because of my vibe.
"You have to give off this vibe of just being yourself. Growing up, I've always told people who were my age at the time - 12, 13, 11 years old - 'Yeah, I have no legs, but guess what? I can climb things. I can do things', and I just showed them what's up. Because I've always had this fire in me. I'm not going to let somebody's ignorance drag me down from who I really am."
Sesser started to model when she was 16 years old and has since worked with major brands such as Adidas, Sephora, Sweaty Betty, and Abercrombie and Fitch. She also modelled on the runways at New York Fashion Week in 2021 and 2022. 
In 2016, spotted for her skateboarding, Sesser was called up to play a professional surfer in Hawaii Five-0. She acted in other TV shows after that and also did stunt work in The Walking Dead and Fear of the Walking Dead. There the highlight was playing a zombie tied to a truck going 60 kilometres per hour down a dirt road - an experience Sesser describes as "dangerously fun". 
Her most recent film appearance was in Babylon, released in December 2022, where she played in a scene with Tobey Maguire. A dark romance thriller The Keeper, where Sesser plays one of the lead roles, will be released in the summer of 2023.
Never at a loss of things to do, Sesser's advice for those who want a full lifestyle like hers is simple:
"Start off by putting you first. Start off by asking what do you want? There is one lifetime because life is not guaranteed, and the thing that I would regret the most is not living my fullest life. When I die, my only regret would be not trying to live life fully how I want to and filling myself with things that I want to do."