From kitchen to Formula 1 lab, a Swift mission
Great Britain's Para snowboarder Darren 'Swifty' Swift and graphic designer Dale Rennard eager to open sport to double above-the-knee amputees
11 Jun 2021
Imagen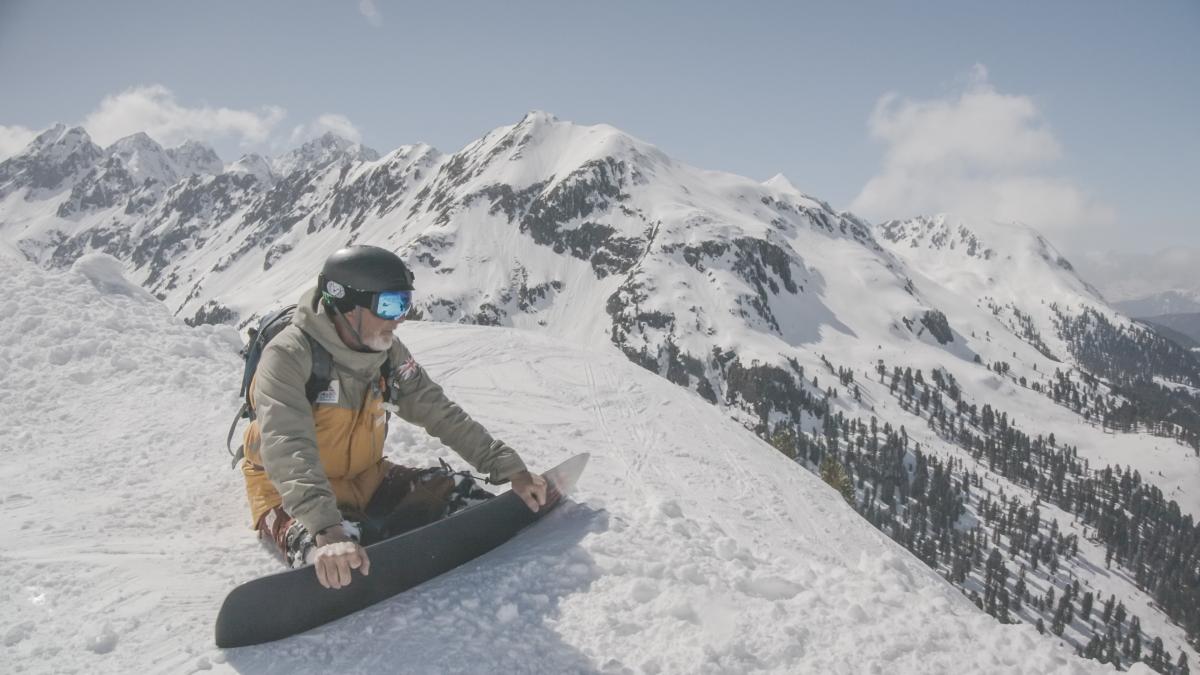 ⒸAshley Wiggins
By Lena Smirnova | For World Para Snow Sports
It was long past sunset as Darren 'Swifty' Swift and Dale Rennard crawled around the kitchen floor, using bits and scraps to put together a set of bindings that would allow Swift - a double above-the-knee amputee - to snowboard. 
Their equipment consisted of a drill, a hammer, some gaffa tape and superglue.
"We were literally, at 12 o'clock at night, smashing things together, welding and doing all sorts of stuff," Swift recalled. "Like, 'Let's stick that on there, let's twist that round there'. And we did it. I don't know how we did it."
Now 16 years later, the pair are about to take the latest design of their snowboard bindings to the lab of Formula 1 team Williams Racing. They hope to introduce them on the market as early as the 2021-22 season and thus make snowboarding accessible to people with the highest levels of amputation.
Midnights in the kitchen
Darren Swift was injured in a blast while on military duty in Northern Ireland in 1991 and practiced sit skiing on an off for 10 years. But the sight of three young snowboarders at an Italian ski resort was enough to make him swap his allegiances. 
"They rode straight up to the bar where I sat out on the front, left their snowboards and went in and grabbed a beer. I saw them and thought, 'That's what I want to do, I want to be doing that!'" Swift said.
But how to get started? While below-the-knee amputees and single-leg amputees can use specialised prosthetics to ride, there were no snowboarding tools available for double above-the-knee amputees. 
When Swift returned to Great Britain after his trip, he met his friend, graphic designer Dale Rennard for a drink and described the dilemma to him. The two friends then sketched an idea of how Swift might snowboard on the back of a beer mat.
"I had a lot of people telling me, you can't snowboard. You need to have knees," Swift said. "I personally don't like being told I can't do something and Dale, he's a great problem solver. He loves to solve a problem so I presented him with a problem and he just felt the need to solve it."
And so the friends set to work.
Turning Rennard's kitchen floor into a workshop, they welded and glued together their first prototype. The idea was to attach Swift to a snowboard by tying the carbon-fibre sockets he wears on his limbs to eight canoe load straps.
When it came time to test the prototype, there was only one man for the job.
"I went to the top, stood there for probably five, 10 minutes looking at it, thinking, 'How do I do this?'" Swift said. "Then I thought, 'Well, let's just see how it goes'. So I launched myself from the top and remarkably I stayed up for about three seconds before I face planted and I thought, 'Well, that's encouraging, I stayed up for a bit!' So I stayed three hours there, just smashing myself up and down this slope."
This was one of the many daring designs Swift and Rennard tested - and rejected - over the years.
The friends soon realised that they would need to use bindings. They first tried able-bodied bindings, but when used with Swift's sockets, they snapped under the extra pressure. 
Swift has similarly snapped five snowboards. As a solution he now tapes a kitchen chopping board to the front of his snowboard to make it stronger.
"In our early days, a lot of people we spoke to in engineering companies didn't fully appreciate how much strain the material is going to go through," Swift said. "Even the bindings themselves, if I don't go for high-end ones, they just snap. I will snap them in a morning. There's that much pressure I put on them."
After multiple tests and helpful suggestions from a local metal engineering company, they eventually settled on a design similar to what Swift uses today. The bindings are made from steel and attach to a regular snowboard. The whole set-up weighs about 12 kilograms and, as Swift says, there is still room for improvement.
"They work. I just have to be very careful because there's absolutely no suspension," he said. "And as you can appreciate, 12kgs is not great strapped to your lower half. If I take a tumble, everyone on the mountain knows about it."
Fine-tuning the formula
Swift has channeled his energy into improving the bindings. He solicited advice from snowboarders and snowboard manufacturers, including those of USA's Mike Schultz, Paralympic champion and founder of BioAdapt, a company that designs and manufactures lower limb prosthetic components for action sports.
"I've met so many great people while traveling the World Para Snowboard tour and Swifty is one of the guys at the top of the 'awesome' list!" Schultz said.
"As a bilateral above knee amputee, it would be extremely difficult and unstable to be standing atop four prosthetic joints while carving down the slopes. Swifty has created a unique set of bindings that allow him to ride and shred. By lowering the centre of the body mass, there is far better control and is much safer than it would be with a pair of prosthetic knees and ankles." 
CFMS, a Bristol-based digital engineering firm, also joined the project on a pro-bono basis. This collaboration resulted in the world's first 3D-printed snowboard bindings, which can absorb shock and adjust to different positions.
With the start of the COVID pandemic, CFMS was forced to redirect its resources. But now Williams Racing has expressed an interest in taking over the project.
"Fantastic!" Swift said about his and Rennard's leap from the kitchen floor to a Formula 1 lab. "They're at the forefront of engineering. It's a push to say we'll be a part of the Williams team, but it's nice to have a company with that kind of label on them."
The main goals are to make the bindings lighter, ergonomic, functional in a race setting and to lower their cost. At the moment they come at around 1,600 British Pound (over 1,800 Euro).
In time, Swift and Rennard's invention could open up Para snowboard to a new group of athletes with double above-the-knee amputations or above-knee dysfunction. If the numbers are high enough, Swift hopes a separate competition class will be created for them.
Swift has already taken two such athletes under his wing, war veteran Lee Lloyd and 16-year-old quadruple amputee Ellie Challis. He has also received numerous messages of interest from amputees around the world and hopes he will soon be able to give them the good news.
"Over the last 10 years I've had numerous emails, calls, people who see me on the mountain say, 'How do I get there? I want to do this, I want to do that' and I felt really bad because I've had to turn people down," Swift said.
"I'd like to contact all those who have contacted me over the years to say, 'Right, got them! Here are your bindings, go for the gold or just ride for fun'. That's my ultimate goal."