Nesic brings Serbia into Para snowboard world
'Free spirit' Para snowboarder wants to show others in her country that it is never too late to start
07 May 2021
Imagen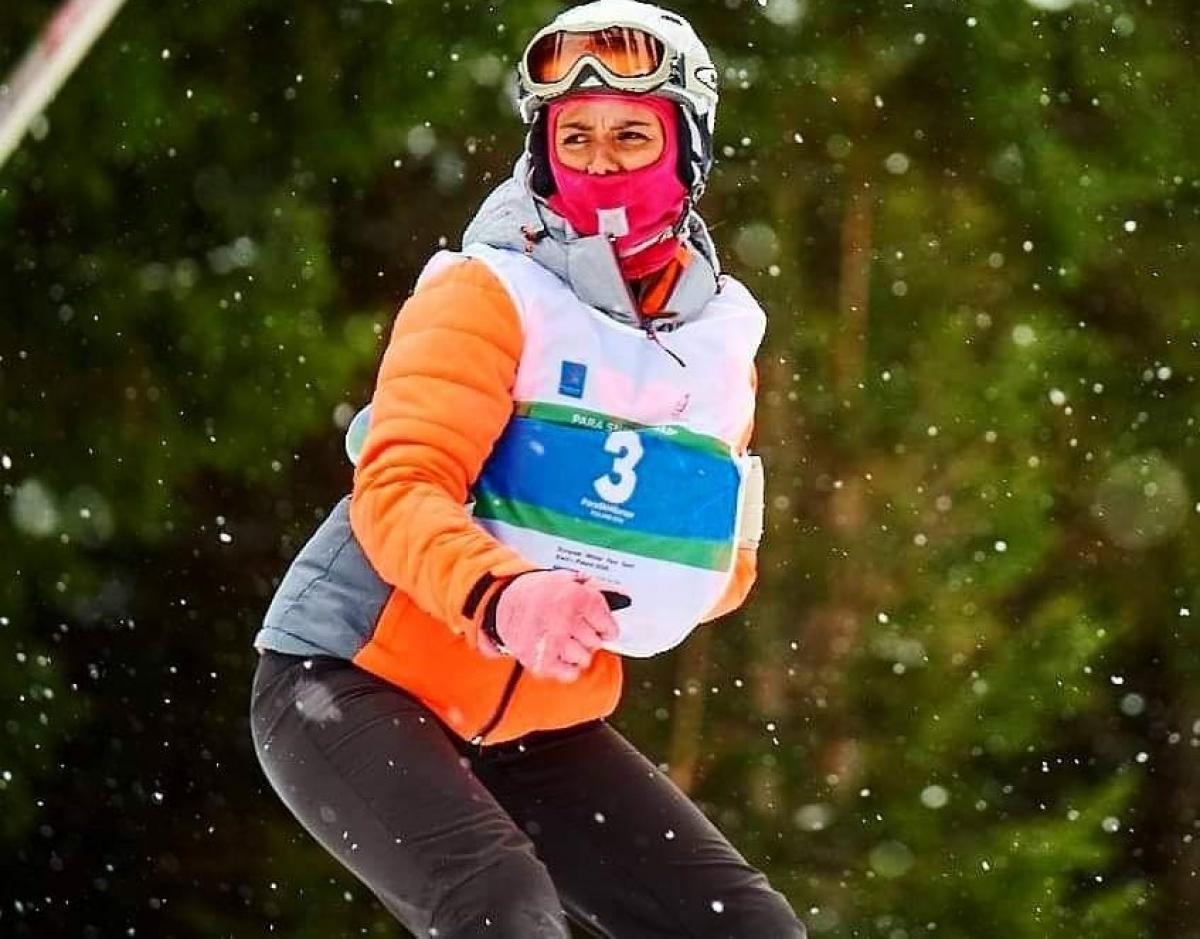 ⒸNevena Nesic
By Lena Smirnova | For World Para Snow Sports
How quickly can a person's life change for the better? For Nevena Nesic, the amount of time it took to drink a cup of coffee was enough. 
At age 33, when many athletes are retired or thinking of retiring, Nesic defied the numbers and took up Para snowboard - all thanks to a casual coffee meet-up. 
Three years after that "one coffee changed everything", Serbia's only Para snowboarder continues to enjoy her unexpected wild ride.
"I'm a free spirit. When I was young, I wanted to be an actress, dancer, everything like that. Nothing normal. All that stopped with my accident," Nesic said. "I had to find my new purpose and I found it. It took time, but it happened. It's never late."
Riding solo
Nesic was already part of the Serbian Paralympic movement through athletics when Serbia's multi world medallist in the sport, Milos Zaric, got in touch with her. 
Zaric had just come back from the PyeongChang 2018 Paralympic Winter Games where he competed in Para Nordic skiing. He invited Nesic to get a coffee in Belgrade and during their conversation, encouraged her to try Para snowboard as an athlete with an upper limb impairment.
At that point Nesic had never tried snowboarding or skiing. She has not even been on a mountain in wintertime. So, naturally, she did not think too long before giving her answer.
"When I heard the offer, it took me less than a minute to say yes," Nesic said. "I didn't know that I can do it with one hand. I didn't think about that at all and that offer really surprised me, but I really love adventure and that seemed to me very cool so why not try?
"That one coffee changed the further course of my life."
Nesic first stood on a snowboard in 2018 at an international camp organised by the International Paralympic Committee and the Play and Train organisation in Ski Dubai. 
Nesic's previous experience in skating and roller blading helped her to stay balanced on the board, and though she did fall several times, Nesic knew right away that she found her passion.
"It was so fun, and I felt so happy, like a child, because again I was falling and learning something new," she said. "It was a great experience for me and I learned very quickly and I liked it so much as if I did that all my life."
While the others camp participants came with their teams, Nesic was the only one who arrived alone. This solitude is something she has become used to as Serbia's only Para snowboarder. 
At home in Belgrade Nesic trains alone in the gym and does other sports by herself. Even when she is at Serbia's Kopaonik ski resort where her coach Andjelko Zunic is based, she often trains alone since Zunic works as a snowboard instructor and has to split his time between students.
Not that training solo stops her from enjoying the slopes.
"I love to snowboard and I feel happy when I do it and it's not difficult when I have a goal to achieve. I definitely recognise myself in this sport and lifestyle. I have that same free, wild and a little bit crazy spirit," Nesic said. "When I snowboard, I feel so happy and free and I definitely won't give up on this. I'm here to stay."
Her training efforts do not go unnoticed. Racing with her arm in a sling, Nesic has attracted the attention of fellow Kopaonik visitors and many have come up to praise her.
"It is strange for people to see someone who is snowboarding with a fixed arm and many people tell me, 'Wow, you are great, you are so brave' and take pictures with me like I'm such a strange human being," Nesic said.
"I want to show them that everything is possible. I believe that dreams come true and if you want something big and you are willing to try and work a lot, nothing is impossible. Nobody needs to quit. I think quitting is not an option in life."
Leading by example
Nesic keeps her left arm in a sling to prevent injuries. And for good reason - at her second camp in Dubai in 2019 she broke the hand of her paralysed arm and did not realise it until much later. 
"Because I didn't feel pain, I wanted to start training," Nesic said. "Despite the fact that they wanted to stop my training because of injury, I convinced them somehow to stay and train on snow with a cast on my hand. I didn't want to miss that important experience with Dubai camp."
Nesic lost the feeling in her arm after an accident 16 years ago when she was hit by a car while crossing the street. Her legs were broken and her left arm was completely paralysed.
Despite the severity of her injuries, within several weeks Nesic was exercising again.
"I started with exercises on my healthy body parts and everybody was laughing and saying, 'Oh, you are crazy! You have a car accident and you are working out already'," Nesic recalled.
"Of course I had some ups and downs, but I've always been an optimistic and strong person," she added. "I realised that this was not the worst thing that could happen to me and then I actually became grateful for everything I have in life. Now I am aware that all the situations we are facing are actually lessons."
Nesic's determination and positive attitude helped her to win a bronze medal at her first ever competition, the ParaSki4Europe in Poland, in 2020.
She is now in her usual routine of balancing snowboard training with freelance work as a numerologist, and is hoping that other Serbians will soon join her on the slopes.
"I feel very happy because I have that opportunity to represent my country. Some other boys and girls might want to do that like me, but they don't know they have a chance. I hope that will change soon. Maybe my example or some other will inspire young people with disabilities."