Kiana Clay races boys and paves way for fierce females
USA athlete becomes first adaptive snowboarder on star-studded team and hopes to attract more women to come into the sport
28 Dec 2020
Imagen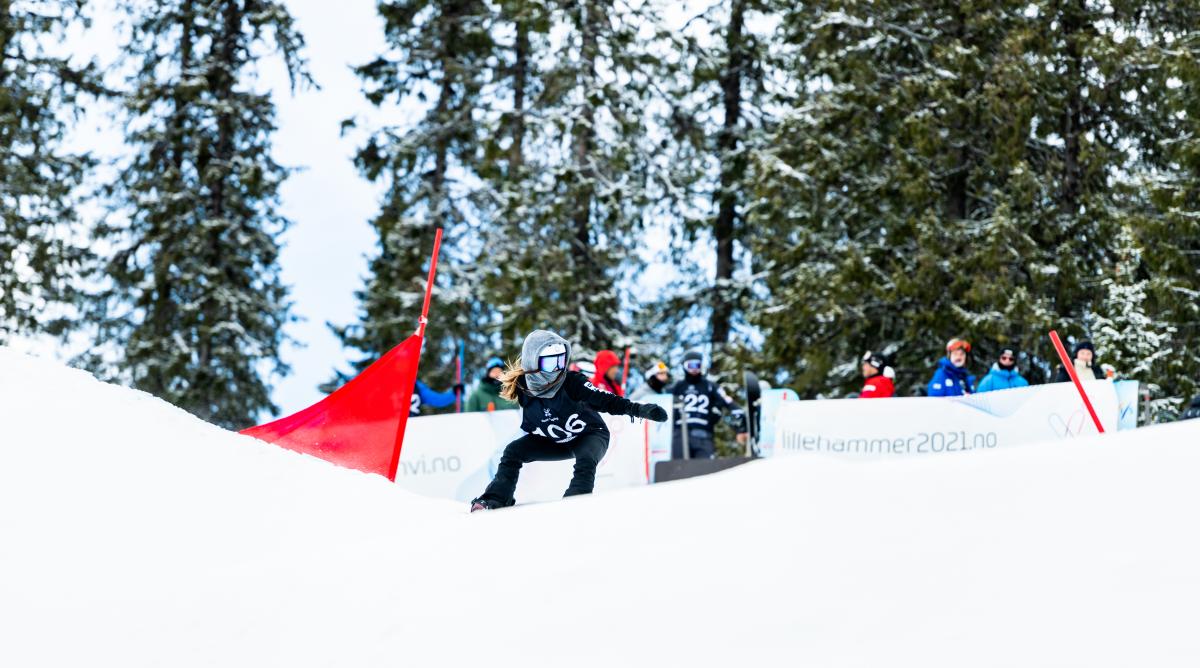 ⒸLillehammer 2021 LOC
By Lena Smirnova | For World Para Snow Sports
Kiana Clay is often rushing to be the first out of the gate and this winter she flew ahead of the pack once again, becoming the first Para snowboarder - male or female - to be signed by one of the world's most famous snowboard teams. 
The inclusion of an adaptive rider on the Burton Snowboards team, the most recognisable brand in the industry and a team that includes multiple Olympic and Winter X Games champions, is a personal triumph for the Southern California native as well as a new chapter for Para snowboard.
Born to be wild
Clay is one of the biggest adrenaline junkies on the Para snowboard circuit. In addition to the snow sport, which she first tried when she was four, the now 25-year-old competes in motocross and does surfing and skateboarding.
After a serious motocross accident at age 12, which resulted in the paralysis of her right arm, Clay took a step back from action sports. To fill the void, she tried a number of other sports, including tennis, track and field, and even cheerleading.
But nothing packed the same adrenaline punch.
"I've always had a thing for racing and once that got taken away when I lost my arm, I tried to find my identity and who I was in other sports and nothing really made me feel the way riding my dirt bike made me feel. I felt 'me'. When you do something and you have the feeling that this is what you're made for - I had that feeling when I was riding," Clay said.
It took Clay seven years to get back to motocross and nine years to get back to snowboarding. She can now be seen whipping through the dirt and snow tracks, her arm in a sling. 
"I feel like Superwoman when I'm out on the track and it's really addicting," she said. "I love the speed. I love the moment where my tire is about to lose and I have to save it, and same with snowboarding. I love going down the mountain as fast as I can."
Since motocross is a sport that is low on female riders, not to mention adaptive athletes - there are an estimated 15 competitive ones in the world - Clay takes part in able-bodied races and often her rivals are men. Not that she minds. 
"I like racing with the boys more than the women because they'll be more aggressive with me and when they're more aggressive with me, that makes me a better rider," Clay said. "If anything, they have it in their mind, 'OK, she's a girl. I can beat her and just tip her over', so I like going out there and being known as, not only is she a girl, but she's a girl with one arm and she just kicked your butt."
While Clay is passionate about motocross, snowboarding remains her priority. She picked up the Para version of the sport two years ago and is making quick progress while training with Adaptive Action Sports.
"Last season I saw a huge progression in my snowboarding, just my control of the board and being more comfortable on it," Clay said. "I've started seeing a sports psychologist and also a therapist, and doing a lot of meditations and self-care and making sure that my mind is in the right place. That's been a huge focus for me." 
Once the snow melts, Clay channels her love for board sports into surfing and skateboarding.
Juggling four sports can be a challenge, but Clay has found a way to pack them all into a powerful cross training routine - even the seemingly unrelated motocross. 
"Since I ride a dirt bike with one arm, it's a lot of balance. It's a lot of strengthening of my core to make sure that I can stay upright," Clay explained. "Riding a dirt bike, at least the way that I ride it, in a competitive sense, is a full body workout. I'm using every single muscle in my body so it definitely helps with my snowboarding."
A champion for her sport
Used to standing out from the crowd, Clay is hopeful her achievements will inspire more women to come into the sport and help promote her SB-UL class. 
This class was not included on the PyeongChang 2018 or Beijing 2022 Paralympic Winter Games sport programmes due to a lack of athletes. But on 16 December the International Paralympic Committee (IPC) Governing Board announced it will be included at Milano Cortina 2026.
"After I lost my arm, I started thinking, what am I going to do as a career? How am I going to be a mom, how am I going to be a wife, are boys going to like me? Can I be a girlfriend, can I drive? All these questions started filling my brain and I never ever want a female or anybody to feel that way," Clay said. 
"I want an Upper Limb class so that if a little girl at home with an upper limb disability sees a bunch of girls snowboarding at the Paralympics, that would give her motivation that says she can do whatever she wants to if she sets her mind to it because the possibilities are endless, regardless if she has one arm."