Last-minute loss fuels Luchini for Lillehammer
Following season cut short, Worlds medallist prepares to become first snowboard instructor with an impairment in Italy
11 Sep 2020
Imagen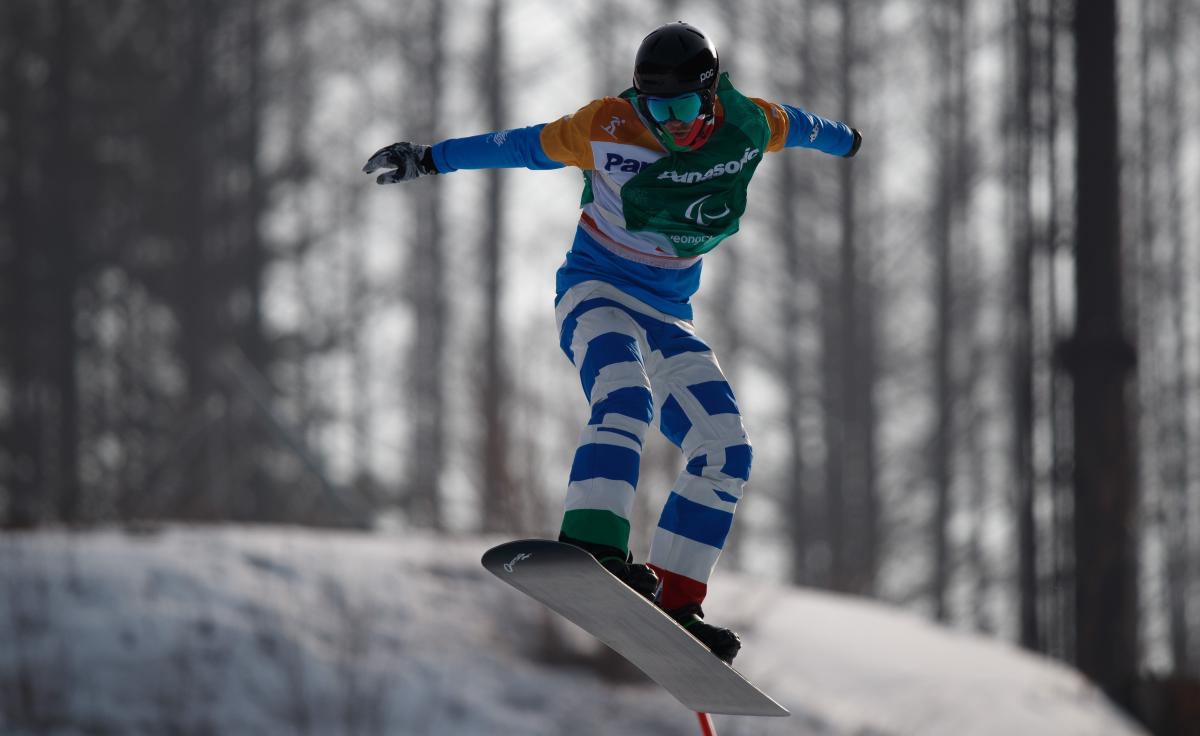 ⒸSimon Bruty for OIS/IOC
By Lena Smirnova | For World Para Snow Sports
Many winter athletes were saddened when the COVID-19 pandemic cut their race season short, but few had the outcome of their season as affected as Italy's Jacopo Luchini.
Health regulations prevented Italian athletes from participating in the World Para Snowboard World Cup finals in Hafjell, Norway in March, which cost Italy's top rider his first overall Crystal Globe in the men's SB-UL class. 
Luchini was leading the overall and banked slalom rankings when the Italian team drove more than 20 hours to Norway. But just as they arrived, the Norwegian Institute of Public Health issued an alert that required people from high-outbreak areas, including northern Italy, to stay in home quarantine for 14 days or return to their homeland. 
"I found out that I couldn't compete in Hafjell as soon as I arrived there, not a moment before," Luchini said.
"Hearing this news was like a punch in the stomach, I felt terrible. We were given only two options by the Norwegian authorities upon arriving: one was to take a voluntary quarantine for two weeks or the alternative was to return home immediately. Without the option to compete, I came away feeling helpless to the situation."
Luchini and his teammates were not allowed to race in Hafjell. Ultimately, only the first, banked slalom race took place while the following two border cross races were cancelled. But since the final races were worth double the points, missing one race was enough for Luchini to lose his top spot in the rankings. 
The Italian rider finished the season third overall, behind France's Maxime Montaggioni and Great Britain's James Barnes-Miller, and was second overall in banked slalom.
"This season has gone really well, but it could have gone better because I could've taken home two Crystal Globes. Instead, I came home without a title," Luchini said. 
"Certainly the accomplishments that I'm most proud of would be when I won two gold medals in Spain because it was my first victory in the World Cup."
After narrowly missing two Crystal Globes in the 2019-20 season, Luchini is even more determined to triumph on the Hafjell slopes when the resort co-hosts the 2021 World Para Snow Sports Championships from 7-20 February. 
The Italian is a top medal prospect in both banked slalom and snowboard cross. He won bronze medals in the events at previous World Championships - border cross in 2017 and banked slalom in 2019 - and also holds the overall Crystal Globe in boarder cross for the 2018-19 season.
"Speaking specifically of the 2021 World Championships, because I was sent home the last time I was there, I have all the more motivation to win this time," Luchini said.
"I love dual banked slalom and I love even more the four-way border cross," he added about the new race formats that will be used at Lillehammer 2021. "I think that the dual banked slalom format will be fun and offer more diversity to expand the world of snowboarding."
Stay home, get stronger
After returning home from Norway, like the rest of Italy's residents, Luchini was under strict lockdown measures for two months. 
However, the lockdown had an unexpected upside for the athlete from Tuscany.
"Aside from the race cancellations, the coronavirus affected my life in a way, surprisingly, for the better," Luchini said. "It gave me the time to reconnect with my family, to train my body a different way, and appreciate things perhaps I didn't appreciate as much before. I used this time also to reconnect with nature, practice yoga and meditation, and slow myself down."
Moreover, Luchini spent the summer learning more about his sport, to build on the studies he began in the winter months.
"I was preparing to become the first snowboard instructor with a disability in Italy. This course, which was both financially, mentally, and physically taxing due to the high standards for certification in Italy, challenged me in ways that pushed me to grow as an athlete," Luchini said.
"I felt stronger, both mentally and physically, because I spent more time on the slopes and studying the discipline of snowboarding."
When he is not on a snowboard, Luchini works full time in an Italian government agency, which allows him to take the winters off to travel and compete.
Although his schedule has been packed more than ever in recent months, he still managed to set aside time for an art project. 
In the fall, Luchini became the subject of a nude photoshoot, Naked, done by renown Italian photographer Oliviero Toscani in collaboration with the Italian Paralympic Committee.
"The idea was to take one Paralympic athlete from every sport, share their story, and draw a figurative comparison to that of ancient Greek athletes," Luchini said. 
An exhibition was held in Rome with large-sized portraits that highlighted each individual's impairment. This exhibition was also supposed to be held at the Tokyo 2020 Paralympic Games in August, but it was cancelled due to coronavirus pandemic.