Cecile Hernandez takes heroic steps to bolster women's snowboard
French rider looks back at a greater-than-medal mission during last World Cup season
29 May 2020
Imagen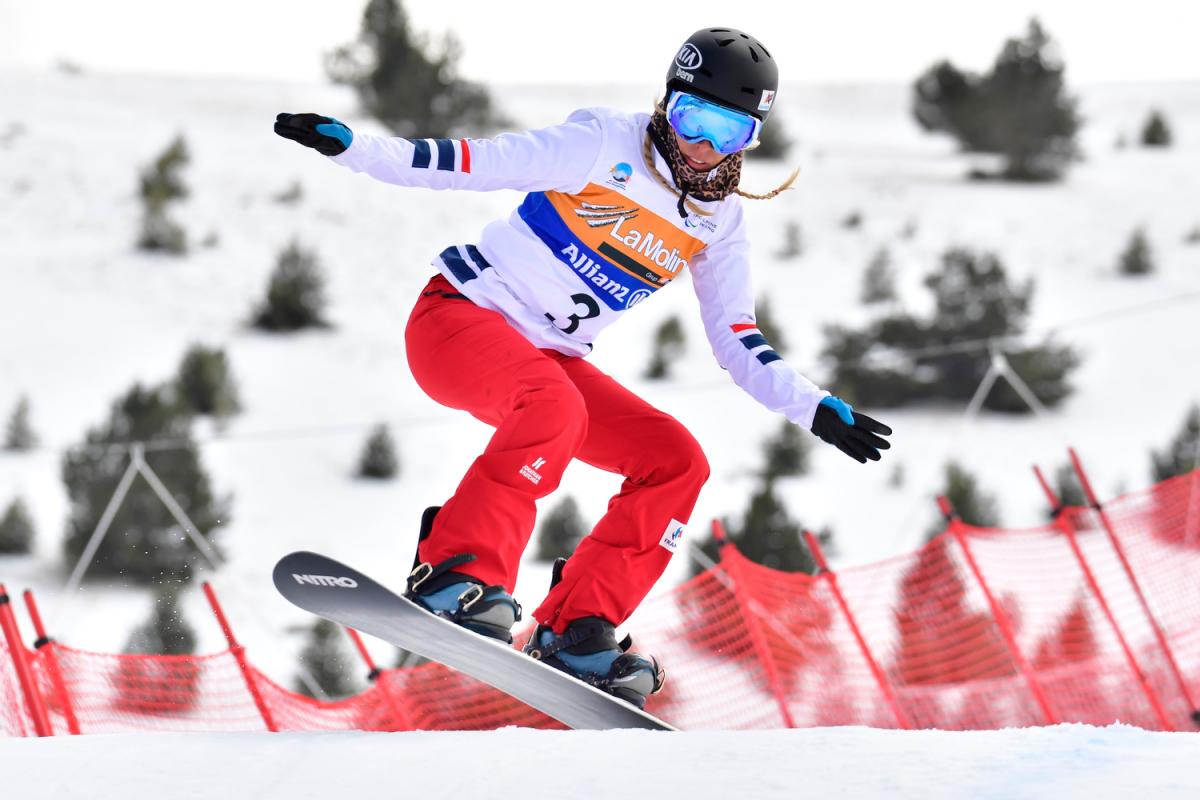 ⒸLuc Percival for World Para Snow Sports
By Lena Smirnova | For World Para Snow Sports
A spine fracture would be reason enough for most athletes to take it easy for a few months, but not for Cecile Hernandez who had a mission much greater than winning medals when she returned to racing less than two months after a painful crash. 
The French rider was the only competitor in the women's LL1 class for the majority of the 2019-20 season as injuries, retirements and a pregnancy sidelined her usual rivals.
"For me it's like a mission to stay here, to stay on course and prove that this category is still here," Hernandez said. 
Risen to the occasion
There were 13 riders in the women's lower limb classes during the first World Para Snowboard World Cup season in 2013-14, including Hernandez. The LL1 and LL2 classes were separated the following season. Four years later, at the PyeongChang 2018 Paralympic Winter Games, there were five riders competing in the women's LL1 races.
But this season, Hernandez was the lone competitor in her category at the World Cup, except for two races in Landgraaf, Netherlands where she was joined by China's Liu Yunhai. 
USA's two-time Paralympian Nicole Roundy retired from competitive sport in 2019. Her teammate, Paralympic champion Brenna Huckaby missed the season to give birth to her second daughter, while Paralympic medallist Amy Purdy has been battling health issues since February 2019.
This has thrust Hernandez into the role of being a champion not only for herself, but for her class as well. And she has risen to the occasion, showing up for every World Cup race, even when in pain.
In early January, Hernandez fell on her back when she slipped on some slushy snow during training and broke two vertebrae against rocks hidden in the snow. Less than two months later she was at the starting gates of the dual banked slalom races in La Molina, Spain, and a week later in Hafjell, Norway.
"Normally it's three months for rehab to recover totally, but I'm here," Hernandez said. "I'm not 100 percent because I still feel pain and with the disability, the pain tires me because my MS [multiple sclerosis] feels there is something wrong in my body and it takes all the energy."
Hernandez's heroics have not gone unnoticed. 
"Right now we need a push for female riders more than ever and Cecile is currently the female athlete holding the LL1 class down and inspiring other women to get involved," Purdy said. "With Nicole retiring and me out with this injury, Cecile has been the one consistent female continuing to show up, represent and inspire other women to get involved and that's what it takes to help push this movement forward." 
Racing the world
Hernandez has found a way to keep her competitive mindset intact even in the unusual circumstances.
"I check the time of the other girls, not only in the LL2, UL too, because UL girls got the legs. The goal every race, the coach tells me, is to be among the three first best times," Hernandez said. "That's my motivation"
Competition against her own times is also solid motivation for Hernandez because she is constantly competing against yesterday's stronger version of herself. 
Since multiple sclerosis is a degenerative disease, her physical condition worsens not only by months, but sometimes even in the course of a single day.
"My biggest enemy is my MS because I don't know how I will wake up tomorrow," Hernandez said. "I'm not the same at 9, at 10, at 11, and at 2 pm. It's the nerve system so it changes when I'm tired, when I'm upset, when it's cold. But it's my life.
"I have to always improve my level and I have to fight against my disability."
Through it all, Para snowboard has been both a source of pain as well as a source of mental strength for Hernandez.
"It helps my mind, my ability to stay strong, but it's also tiring for my body. Nothing for nothing," the French rider said. 
"But I'm lucky. That's why I want to inspire women or men to do what they want. What I want is that they do that with heart and passion and good vibes. Then it could be the best thing for their health and for their mind."