Small-town police captain Viacheslav Latyshev back on snowboard stage
Russian makes World Cup debut after 25 years of law enforcement service
02 May 2020
Imagen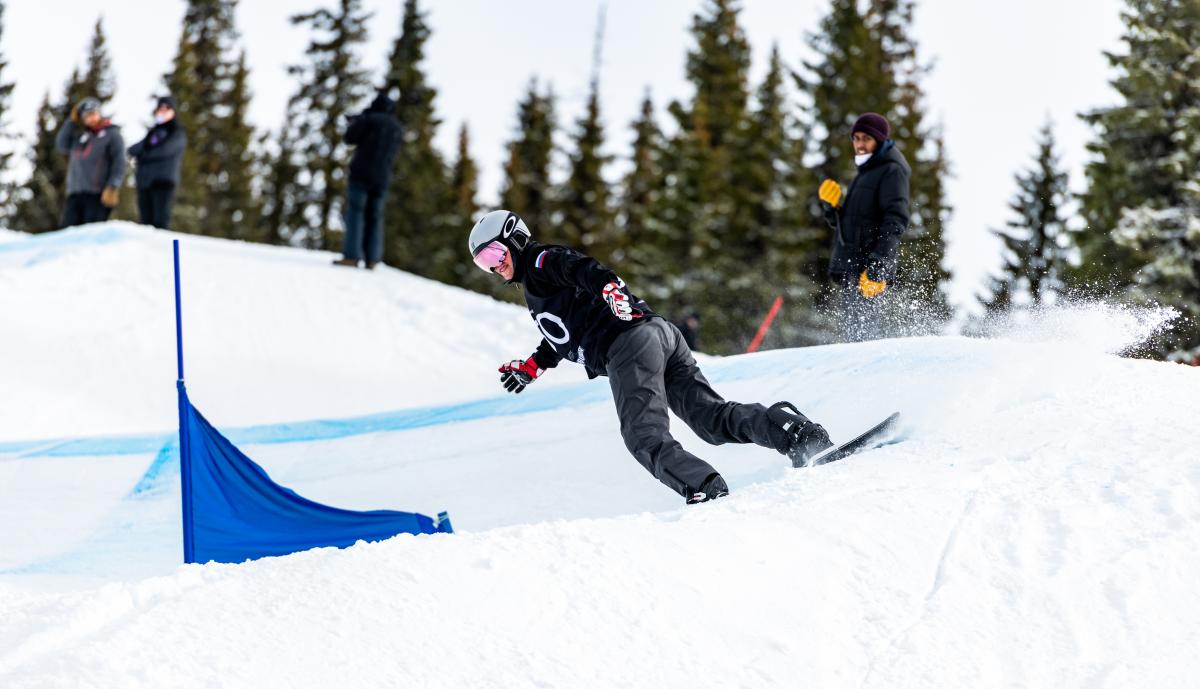 ⒸGisle Johnsen / Hafjell 2020
By Lena Smirnova | For World Para Snowsports
The poster cliche "Will Work for Food" was a very real job predicament for Russian snowboarder Viacheslav Latyshev. The harsh reality that the competitive luger, coach and university graduate faced in 1990s post-Soviet Russia was that sport just did not matter.
"Nobody needed sport," Latyshev said. "At that time coaches worked for food. We worked and for that we were fed in the ski resort's cafeteria. No money, nothing at all. We were not paid for years. All of my athlete friends became either bandits or policemen."  
Latyshev picked the second option. 
In 1995, the athlete changed uniforms and began a 25-year career in the police force. But a collision with a drunk driver four years ago turned him back toward competitive sport. 
Changing trades
Sport has a double meaning for people in Latyshev's hometown Chusovoy, situated in the Ural Mountains with a population of less than 50,000. 
"Only athletes can travel outside, if they achieve some good results first. They can travel outside to see the world. This is the only way, or you need to be some kind of businessman," Latyshev said. "The other people in the city, they just stay there and don't travel anywhere."
As others in Chusovoy, Latyshev saw sport as an opportunity to travel. He trained in sled sports since he was a child, worked his way to the top of the podium at the Russian Cup and barely missed going to the Olympic Games when his doubles partner got injured. He also completed a degree in physical education and started working as a coach.
But while his sports accolades kept adding up, money did not.
Tired of being underpaid for his efforts and thinking about starting a family, Latyshev looked for more lucrative employment. Policing was the easy winner.
"At the time, my salary was 60 rubles. When I came to work in the police, an intern who sat in the car and didn't do anything, only observed, earned 250 rubles. A policeman who had some duties got 500 rubles, and this was for the lowest-ranked sergeants," Latyshev said. "A coach with a university degree got 60 rubles while the lowest-ranked policeman got 500 rubles, so of course I went there."
Latyshev did not fully give up sports when he became a policeman. He went snowboarding on the weekends and vacationed in March or April when snow conditions at Russian ski resorts were prime.
His love for sports spread to his sons. The oldest, Anton, competes at the FIS Freestyle Ski World Cup while the youngest, Maxim, retired from competitive freestyle this season.
While looking for his next adrenaline rush, Latyshev also developed a passion for extreme sports. He tried a wide range, from diving to parachuting, and became particularly fond of motorcycles. Latyshev was on his motorcycle on 24 September 2016, going to the region's capital Perm, when he collided with a drunk driver. 
"He swerved into the opposite lane and we got 'acquainted'," he recalled. "As I lay on the road, I did a body check. I took off the helmet, check. Looked at the arms, great, all in one piece. I turned my head, damn, I don't have a foot. And that was that. I got my pension right away."
Captain Snowboard
As captain in the police force, Latyshev said he was strict. He demanded "ideal discipline" from his juniors and did not hesitate to reprimand them if they showed up unshaven or in wrinkled uniforms. These measures made him a few enemies so when he got injured, some of his colleagues were less than sympathetic.
"I laugh about it still. When I had the road accident, instead of mourning, they were dancing with gypsies and bears," Latyshev said. "They were saying, 'finally, life has crushed Latyshev and we don't have to see him again'."
Latyshev, however, did not stay "lying on the couch surrounded by cats". Instead, he stuffed socks into his snowboard boots and went riding a mere six months after the accident. 
"I did not have a prosthesis yet and my leg has not healed fully, but I really wanted to ride," Latyshev said. "I wanted to see what it would be like."
After that first ride, Latyshev continued training. In 2018, he went to the national championships - now with a prosthetic - and won gold in snowboard cross. He defended that title the following year. 
This season he made his debut at the World Para Snowboard World Cup in the SB-LL2 class. 
"It is very interesting to ride at the world level," Latyshev said. "You understand that even though you may be the best in Russia, you come here and you see athletes who are much better than you. Then you start to think about what you are missing, what you need to work on. Your level grows more and more with each competition."
Latyshev's quick rise on the Para snowboard circuit and trips around the world have not gone unnoticed back in his former police department.
"They are looking on and asking, 'how can this be? Life crushed him, but for him things only got better'," Latyshev said. "Suppose I didn't get on the motorcycle that day and I still had my foot, then I would still be sitting in the police station and supervising work assignments. And here I've had this great, life-changing turn."