Kristian Moen in 'no excuses' mode ahead of home Worlds
Norway's teenage prodigy grows up through experience with able-bodied snowboard team in the lead up to Lillehammer 2021
09 Aug 2020
Imagen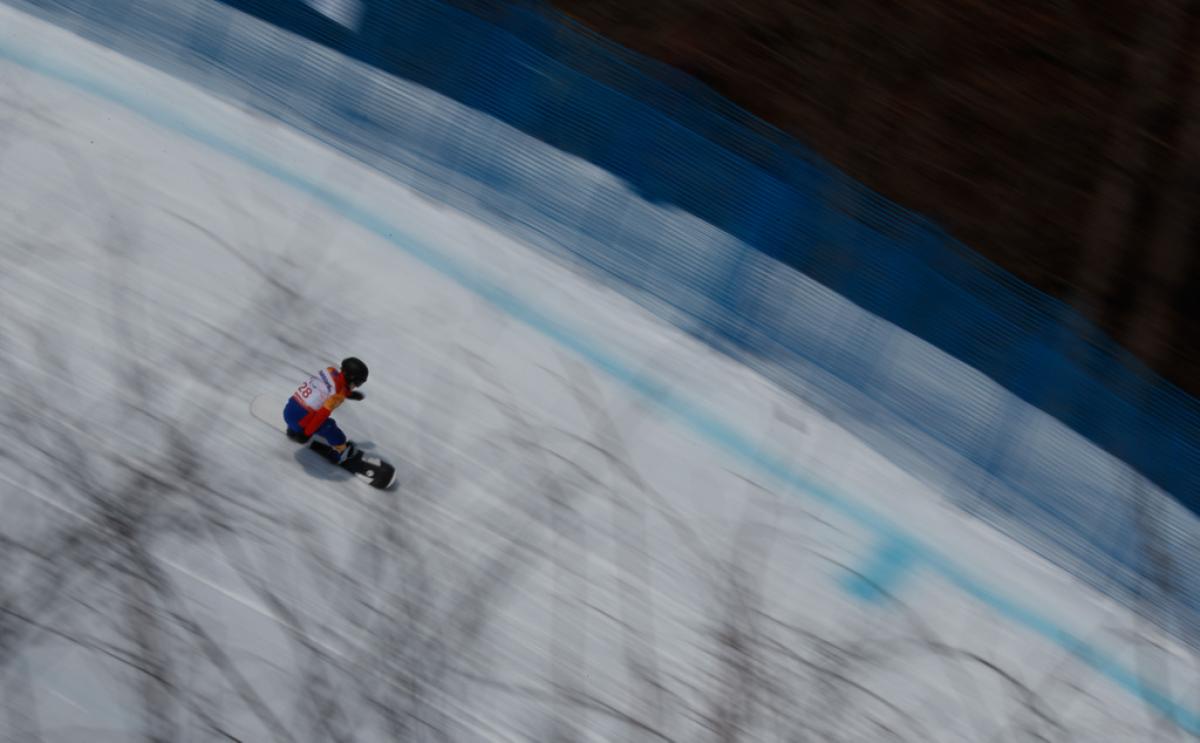 ⒸSimon Bruty for OIS/IOC
By Lena Smirnova | For World Para Snow Sports
World medallist Kristian Moen stood in the finish area of a perfectly groomed course at a home competition in Norway watching as the other snowboarders dropped in. But instead of a snowboard strapped to his feet, he held a microphone in his hands.
Injured the week before during training, the Norwegian rider was unable to race at the World Para Snowboard World Cup finals in Hafjell in March and tried his hand at announcing instead.
It was not the introduction to Hafjell that Moen wanted. Next winter he will try to make up for that when he races at the 2021 World Para Snow Sports Championships as one of the favourites in the men's SB-LL1 class. 
Announcing Lillehammer
Although Moen often trains at home in Norway, he has never been to Lillehammer and neighbouring Hafjell until March 2020.
"It's kind of in the middle of Norway so when going to glaciers and stuff, I've driven past it a bunch of times," he said. "It's one of the bigger resorts in Norway, but I have never been there before the World Cup this year, so that was kind of funny."
A torn ACL during training in La Molina, Spain ruled him out of the World Cup races in both Spain and Norway, but since Moen knew the organisers in Hafjell, he was invited to take part in the competition as an announcer.
The debut as an announcer was a "humbling experience" for Moen. And it was made all the more complicated by the fact that he was commentating on a dual banked slalom race, a new format that debuted on the World Cup stage only a week before.
"I thought I knew the rules and then people came up and corrected me and I was like, 'Oh no, that was not the rule. They did not win'," Moen said with a laugh. 
"Commentating is hard. Things happen. You're in the middle of telling a story about someone and then they fall over. And the start list, maybe you get it wrong, so you're talking about people you think are going to appear, then all of a sudden there is somebody else." 
Moen is expecting to be back in his more traditional role - on a board - at Lillehammer 2021. The snowboard cross silver medallist from the 2015 World Championships returned to gym training two months after his fall in Spain and has been spending much of his summer at Norway's first indoor ski centre, Sno, which opened in Oslo in January 2020.  
The Para Nordic races of the 2021 World Championships will take place in Lillehammer in February with the nearby Hafjell resort hosting the Para alpine and Para snowboard events.
While the coronavirus outbreak cut the World Cup finals in Hafjell short, Moen was still able to get a taste of what next year's competition will bring. He was particularly excited about the race courses, which were built by the same team that worked at the PyeongChang 2018 Paralympic Winter Games.
"The courses looked so sick. I was really sad I couldn't ride them. Having a good course is the most important thing because then everyone will have fun and enjoy it more," Moen said. "Also the fact that it's going to be an event with all the snow sports makes it pretty cool. Lillehammer has a history of hosting the Olympics so it's not the first time that they hosted big events." 
No excuses
Besides training in the brand new indoor centre, this summer's training looks different for Moen due to the COVID-19 restrictions. Whereas he would normally train in Australia or New Zealand in August with Norway's snowboard team, this year's pre-season training is limited to home turf. 
Moen, who turned 21 in July, started travelling with the able-bodied team ahead of PyeongChang 2018, and he credits the tough love he gets from his compatriots for making him one of the best riders on the Para snowboard circuit.
"They're very good at not accepting bullshit excuses, which sometimes is very annoying, but I feel like it's very good for me in the long run," Moen said.
"Even though I feel I can accomplish a lot of things, it's very easy to use my disability to get out of things I don't want to do like dancing classes and gym. People can't really call you out on it because they're not disabled so they can't know if you can do it or not, but when I travel with the Norwegian team, they get you to do it. They don't let you get away with bullshit excuses," he added.
The Norwegian team's "no excuses" mantra has put Moen on a steep learning curve, on snow and in life. This included mastering a myriad of new skills, from tying shoelaces to cleaning washrooms, not to mention acquiring world-class snowboard finesse.
"They are really helpful. If I want to learn a trick, they help me. One time Mons [X-Games medallist Mons Roisland] spent a day and a half trying to teach me a trick," Moen said. "The first trip that I did with them, a couple of years ago, I was so green, I couldn't take care of myself. It's really helpful to travel with them. You grow up really fast."
But along with the perks, there are also drawbacks. Moen discovered this the hard way on one of his first trips with the team when he made a bet with a coach that the winner of their banked slalom race will cut the other one's hair.
"I fell, so I was stuck with a crooked mohawk for the duration of the trip which wasn't ideal," Moen recalled. "But you win some, you lose some."