How to build a world-class snowboard course
If the athlete reviews of the March courses are anything to go by, Lillehammer 2021 promises to be a spectacle
03 Oct 2020
Imagen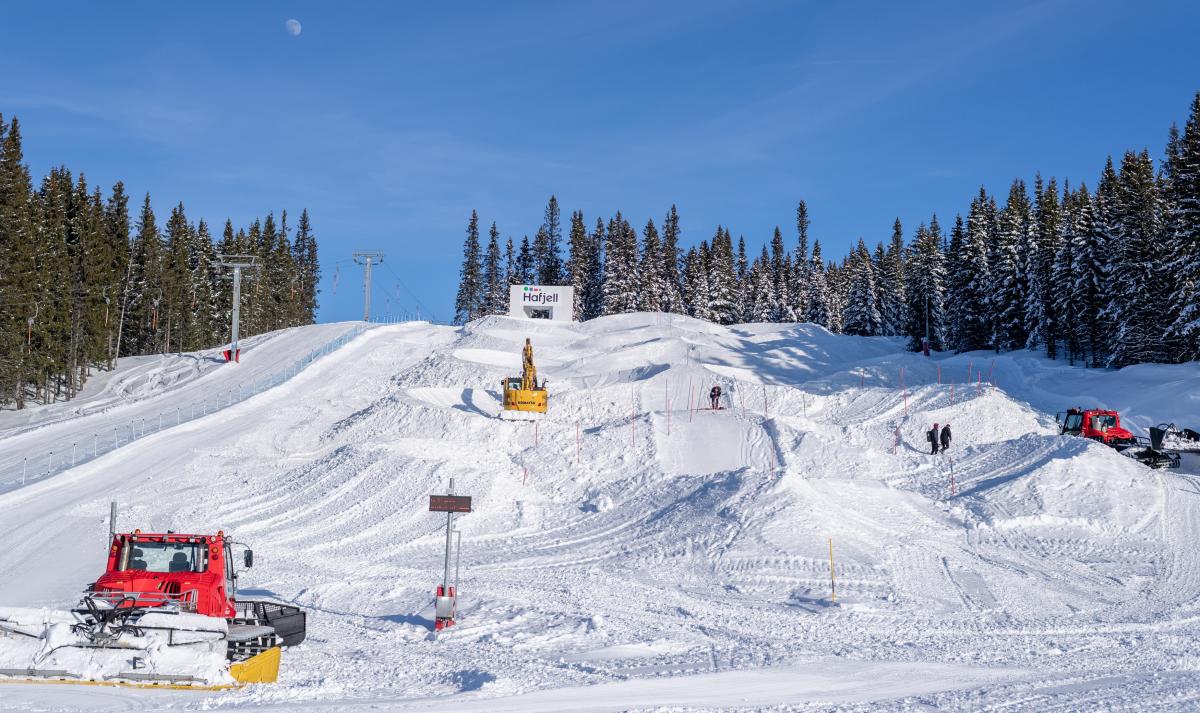 ⒸLillehammer 2021 LOC
By Lena Smirnova | For World Para Snow Sports
It's 7 am on a March morning and the slopes of Norway's Hafjell ski resort are still deserted. The only sounds are coming from two snowcats that are slowly moving up and down the rugged mountainside, transforming it into a World Cup snowboard cross course.
Lucas Ouellette is driving one of the snowcats. His colleague Steve Petrie is a few hundred metres away in the other. 
That evening the two Canadians get the news that the course they spent a week making will not be needed. The races are the latest casualty of the coronavirus pandemic. 
Their efforts were not in vain, however. In four months Ouellette and Petrie will have a second chance at building courses for a major Para snowboard competition as Hafjell co-hosts the Lillehammer 2021 World Para Snow Sports Championships.
The championships will take place from February 6 to 20, and if the athlete reviews of the March courses are anything to go by, Lillehammer 2021 promises to be a spectacle.
Drawing on snow
The course is one of the most important components of any snowboard competition. It has to be challenging and fresh, as well as safe and fair for all athletes.
When Ouellette and Petrie take a new assignment, they start with a blank, snow-covered mountainside. Some course builders first draw their design on paper, but Ouellette prefers to imagine it in his mind and then draw out a rough sketch on the terrain using machines.
A snowboarder since he was 11, the first thing Ouellette usually does when he starts building a new course is get the feeling for the slope on his snowboard. 
"I'll go up to the start area and snowboard through it a couple of times. Then you get an idea of the rough line that you want," he said. "You get an idea of it speed-wise and you draw the line with the snowcat. Then you get the general shape of it and you start building the turns, thinking of features between them." 
The length of the course depends on the hill where it is built. In the case of the border cross in Hafjell, for example, the length was enough to fit in five turns and four jumps.   
There are other factors besides the terrain to consider when building a course, such as the different snow equipment ski resorts use, and the different types of snow at each location.
Hafjell has a mix of natural and artificial snow. The natural snow is less dense and compresses easily, while artificial snow can turn icy so course builders have to break it up.
"Natural snow is nice because it's consistent. You don't have ice chunks, but generally you don't have enough natural snow for course making," Ouellette explained.
The builder's worst nightmare is pouring rain or when it snows but the temperature is mild so the snow becomes sticky. And by far the worst snow to build a course with is springtime slush.
After a course is finished, some volunteers give it a test run. While the builders cannot make major changes after the test run, smaller adjustments  - such as correcting the size of the gaps between the jumps - are possible.
"If a jump is too big, we can push it forward pretty easily or vice versa, but as far as the line of the course, the direction it goes, it's pretty much set," Ouellette said.
"Sometimes you see different lines, when you watch how it rides during the event so you think for next year, 'We could change this'. Once you see people riding it, you say, 'That's not working or this could work better'. You're always adapting."
Perks of the trade
Ouellette has been driving snowcats for 15 years. Arena Snowparks, the company he works for, is based in Whistler, Canada, but starting in December he and Petrie are often on the road.
They have built halfpipe, slopestyle and Big Air courses, while their first Para snowboard experience was the PyeongChang 2018 Paralympic Winter Games. 
Hafjell, in turn, was their first experience building a dual banked slalom course. The dual format was first introduced to the World Para Snowboard World Cup in March 2020.
"It's more calculated, getting the size of it, making sure everything is symmetrical. We measured it out three or four different times to make sure that we're exactly even," Ouellette said. "We matched both sides, got a radius for both of them."
It took Ouellette and Petrie almost two weeks to build the two World Cup courses in Hafjell.
There were only two of them on the task, working in their snowcats within each other's line of vision and occasionally checking in through two-way radios.
"The worst part is sitting down for 16 hours straight. It's not the best for your back," Ouellette said.
"Physically it's not that demanding. You're just moving your arms in the cabin, you're moving your body a little bit, but after you do a road trip, you've driven for 10 hours straight and you're absolutely exhausted even though you just sat in the car. It's like that every day," he added.
On the other hand, there are also undeniable perks to the job. 
"As a snowboarder, I can ride pretty much all of this so a lot of the time I'll test stuff," Ouellette said. "Sometimes we'll build stuff I have no desire to ride. And then other times, like the dual banked slalom, I can't wait to ride that."