Pioneer Mike Shea swaps snowflakes for sawdust
Paralympic medallist announces retirement and speaks out about the challenges of adjusting to a new lifestyle after elite sport
16 Sep 2020
Imagen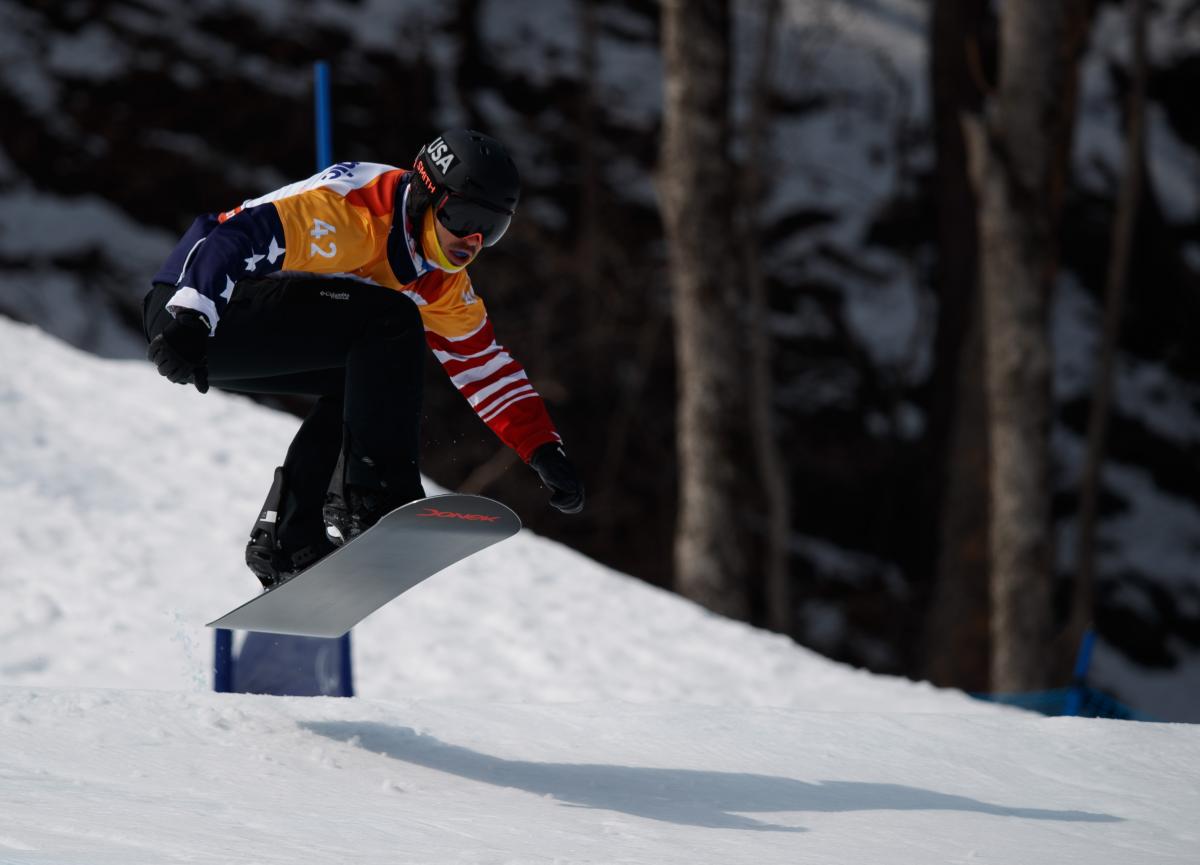 ⒸSimon Bruty for OIS/IOC
By Lena Smirnova | For World Para Snow Sports
There is a peaceful quality to Mike Shea's woodworking shop as he carves out his latest creation in the middle of a September heat wave in southern California.
The work is slow, almost meditative - a stark contrast to Shea's previous life as a competitive Para snowboarder, filled with the adrenaline of races, red carpets and media engagements.
Shea formally announced his retirement this month after a decade-long career that included a Paralympic silver medal and a world title. Now the head of a family of five, he is pursuing new goals as a business owner and learning to embrace his post-retirement lifestyle. 
A hard choice
The decision to retire was not an easy one for Shea. Since racing at the PyeongChang 2018 Paralympic Winter Games, the 37-year-old kept hoping that he would return to competition. 
But a drawn-out illness, the birth of a daughter, and the responsibilities of a new business - all within months of returning from the Games - proved too much to combine with a demanding athletic career. 
"I still had that drive and that itch to get back out there on my snowboard, but I would say 'I'm too busy with work' or 'I still need to get back into shape', and that time never came," Shea said. 
"It was haunting me because I really wanted to get back out there, but I also knew that I needed to move forward in my life."
Retirement was an even harder decision because of the special role Shea played in developing Para snowboard. 
Together with Amy Purdy, Daniel Gale, Keith Gabel and Evan Strong, Shea campaigned tirelessly for the sport to be included in the Paralympic Games.
To this day, Shea vividly remembers how he got the news that their efforts were successful. 
An official from the International Paralympic Committee (IPC) came to observe a competition in New Zealand, where the USA athletes were racing, to see if the sport could to be added to the Paralympic programme. The verdict was negative.
"We were completely deflated," Shea recalled. "We were crying afterwards for that entire evening because it was something we worked so hard for." 
But a week later, after they returned home, the athletes got a heads up that the decision might be reversed.
"We kept hitting refresh on the IPC website and it popped up on the head page and it said, 'Snowboard to be in the 2014 Paralympic Games in Sochi' and I just had tears coming down my face," Shea said. 
"It was one of the most exciting moments of my life to be able to say, we finally did it and now I'm going to be a Paralympian."
Not only is Shea now a double Paralympian, but also a Paralympic medallist. He won silver in snowboard cross at Sochi 2014 where he shared the podium with Strong and Gabel.
Shea's life has changed dramatically in the decade he spent at the top of the sport. Previously never having travelled further than Nevada, Shea's travel diary now includes close to 20 countries, including a trip to the Rio 2016 Paralympic Games as a team assistant.
"The biggest thing [sport has] given me is perspective on life and on people because you see things so much differently when you travel around the world," he said.
In addition to visiting the top ski resorts around the world, Shea has strolled the red carpet at the ESPY Award twice as a nominee for Best Male Athlete with a Disability, and even had a pillow fight at the White House with fellow USA rider Brittani Coury. 
Snowflakes to sawdust
Shea's surroundings are a lot different these days. Sawdust covers the ground where he stands instead of snow, and the sizzling California days outside his woodworking shop are far from the chilly mornings at his former training base in Colorado.
Shea's first experience with woodworking was 15 years ago when he built a doghouse for his puppy. He enjoyed the creative aspect of it so much that he started buying tools at garage sales and doing jobs in the neighbourhood.
However, when a coach called with an invitation to a snowboard training camp, Shea decided to sell the tools to buy sports equipment and moved to the mountains. 
After PyeongChang 2018, he used sponsorship money to buy some tools again and relaunched his carpentry business within a week of coming home. But as much as he enjoys his post-sports career, Shea has also admitted that retirement is a "humbling experience".
"Your mind, which used to be so focused on something, now doesn't have that thing to focus on anymore. It's almost like everything has been torn away from you and you don't know what life is," the 2015 world champion said. 
"Trying to reinvent yourself and understand that you have more purpose in your life then just being a competitive athlete is the most challenging part about retirement."
One way Shea has been able to re-adjust to his new lifestyle is by applying the skills he developed through snowboarding to his woodworking business. 
"The biggest thing is understanding how to talk to people," he said. "As an athlete, especially as a Paralympian, you're a public figure and you do a lot of motivational speaking so I'm able to use that in my business to talk to people and make deals."
Shea has not stood on a snowboard since he left PyeongChang, but he plans to make up for that this winter. Snowboard, he said, will always be a part of his life - as the two team rings on his right hand and his daughter's middle name 'Winter' will attest.
As for others struggling with the idea of retirement, Shea has these sage words of advice:
"A lot of people hang on for as long as they possibly can for fear of what's on the other end, but the other end can be just as great as your athletic career if you allow it. If you put the same amount of drive and focus and determination into what you do with your retirement as you did with your sport, then you can accomplish even more. The end of sport is not the end of life."