Shea: My first time on a snowboard
From a fun trip out, to the slopes of Sochi, Russia, snowboard has had a huge impact on the US Paralympian's life.
20 Apr 2016
Imagen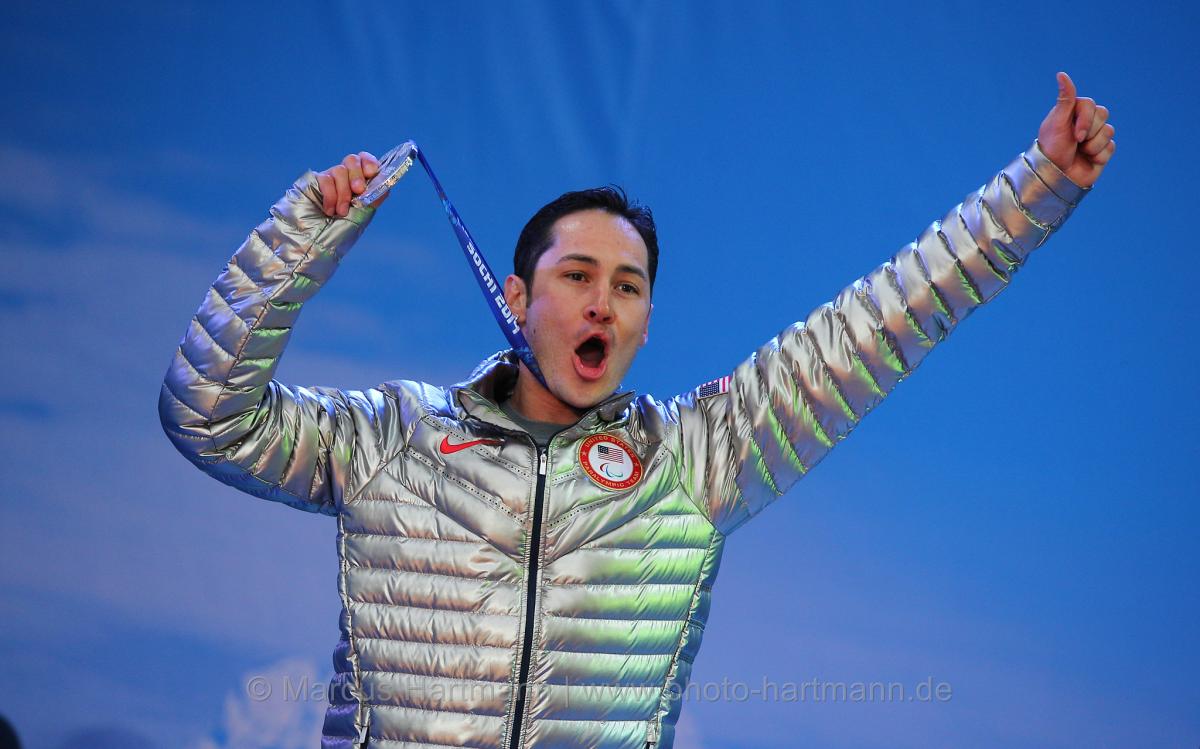 Ⓒwww.photo-hartmann.de
By By Giuseppe Di Florio | For the IPC
"Snowboarding has given me everything and I'm so grateful for it. It's taught me so many life lessons and I have grown because of it."
The USA's Mike Shea has described how he went from a teenager trying snowboard on a day trip to one of the world's best athletes, and the impact the sport has had on him and his approach to life.
Sochi 2014 Paralympic Winter Games silver medallist Shea started his career like many other high performance athletes, just trying snowboarding for fun.
"My first time snowboarding was at the age of 15. Southern California doesn't exactly provide people with opportunities to participate in winter sports. The closest mountains are at least an hour from the city and the seasons are short. I grew up racing motocross and wakeboarding so at a young age I was already exposed to extreme sports," he said.
"One spring day in 1999 my father decided to take me and some friends up to Mt. High for a day of snowboarding. After getting there I was eager to take the lift to the top. After all, how hard could it be?
"I strapped in and turned the board sideways until it took off down the hill. Using the same technique I used to wakeboard I tried to turn the snowboard. That wasn't working and so the only option left was to gracefully tumble until I came to a stop. By the end of the day I was successfully snowboarding from top to bottom without falling. Being the stubborn teenager I was back then I decided to hit jumps that were way beyond my ability level.
"Five minutes later I was in the ski patrol office with a broken wrist. Although my first snowboard trip didn't end well I knew that I was hooked."
Now also a world champion in banked slalom SB-LL2, a lot has happened since Shea's initial foray into snowboard. Just three years after he first tried the sport, he had to have his left leg amputated following a wakeboarding accident. That eventually led him to para-snowboard, and he found himself part of the campaign to include the sport on the Paralympic programme.
His career has given him focus and drive, and he plans to continue to the PyeongChang 2018 Paralympic Winter Games.
"When I snowboard it's nearly impossible to think about anything but snowboarding. That's the beauty of it," he said. "Following my accident in 2002 I lost sight of things. I began to dwell on the past and worry about my future. I forgot what it was like to live in the moment and snowboarding forced me to do that.
"You have to focus on what's in front of you if you want to be successful in life. I snowboarded a lot in the years following my accident but never really competitively. In 2009 when I was asked to try racing I had no idea what I was in for. Once I began racing I quickly realised that I had a lot left to learn from snowboarding. It taught me discipline, structure and responsibility, qualities that I was greatly lacking up until that point. In less than a few years I went from being a snowboarder to world class athlete.
"Snowboarding has given me everything and I'm so grateful for it. It's taught me so many life lessons and I have grown because of it."
Ahead of the PyeongChang 2018 Paralympic Winter Games, Shea will get the chance to compete at the 2017 IPC Snowboard World Championships.
Related Videos