Snowboarders honour Mentel-Spee with strong performances at World Cup Finals
Gabel, Hernandez and Kotzian take double gold in final snowboard-cross races
02 Apr 2021
Imagen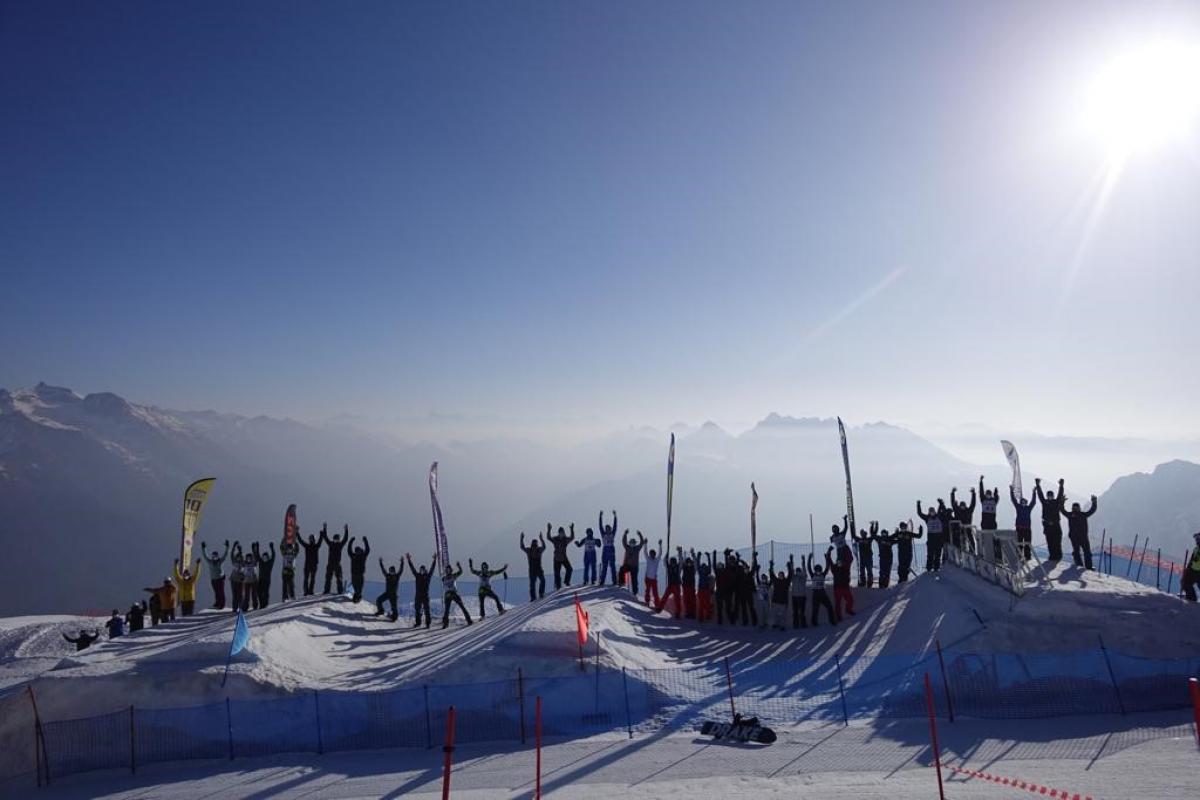 ⒸAlex Andreis
By Lena Smirnova | For World Para Snow Sports
As the sun rose on training day at the World Cup in Colere, Italy, riders of all nationalities, their coaches and team staff, lined up along the snowboard-cross course for a moving tribute to the sport's pioneer Bibian Mentel-Spee, who passed away two days before.  
Three-time Paralympic champion Mentel-Spee ended her battle with cancer, but she was on the minds of the athletes whose lives she impacted with her spirited efforts to develop Para snowboard.
"Losing Bibian this week was really tough for me," said US rider Keith Gabel, who won double gold in Colere. "We grew close over the years and I consider her and [husband] Edwin two of my dearest friends. To me it almost felt like she was waiting for us all to be together to finally let go and some ways having everyone together made it a little easier."
Riders from 16 countries came together in Colere from 1-2 April for the last two races of the 2020-21 World Cup season. Gabel swept the men's SB-LL2 snowboard-cross and dedicated his victory to the late Dutch rider.
"Before the race started, I went and took a few minutes by myself and just said a little prayer to her, thanking her for her tireless efforts for our sport and asked her to look over all the riders and keep us safe," said the PyeongChang 2018 border-cross silver medallist.
"I'd like to dedicate my win to her as I personally know how hard she worked for the athletes," he said. "My goal is to continue that legacy and advocate for the athletes and the sport as a whole. I want to help this thing we call Para snowboarding be around long after I'm gone."
These sentiments were echoed by other athletes, as they honoured the legend who helped the sport make its Paralympic debut in 2014.
"Bibian was a big inspiration," said France's Cecile Hernandez. "She made lot of things for our sport. I shared my first podium with her in Sochi [2014 Paralympic Winter Games]. I will never forget that. She was an incredible and amazing woman."
COME TOGETHER

Hernandez won two gold medals in the combined women's SB-LL1 and SB-LL2 race. 
Standing on top of the podium was a big change from her most recent World Cup experience - she watched the previous races, which were held in Finland's Pyha resort, from her hotel window. All the French athletes missed those races as they were forced into a 14-day quarantine due to a possible COVID contact case on the team.
"I was so sad to be here and in quarantine," Hernandez said. "But we have to live with this virus and accept the conditions of life. That's why I am really happy to be back on course."
Used to being the only rider in the SB-LL1 class in most races, Hernandez relished the chance to go head-to-head with other athletes in the combined race.  
"I have lots of fun and adrenaline and I'm so happy to win. The feeling is very different. It's a real race," Hernandez said of coming first ahead of Dutch SB-LL2 rider Lisa Bunschoten and USA's SB-LL1 rider Brenna Huckaby.
The Colere World Cup was the first major race for Huckaby since giving birth to her second daughter in early 2020. The double Paralympic champion took bronze in the first race and silver in the second.
"I have missed it so much," Huckaby said. "This race is for me to see where I am as a rider so I can train and make improvements for next season. I have a lot that I want to work on but I'm proud of where I am."
Like other riders, Huckaby kept Mentel-Spee's memory close to heart during the competition.
"Bibian is my idol. When I first got into the sport I wanted to be just like her, and I still do," she said. "I look up to her not only as an athlete but as an amazing human. While our interactions were small, her impact on me as an athlete, mother, and woman is massive."
USA SHINE

Huckaby was among a delegation of nine USA riders who were all racing at their first World Cup this season. Although they missed February's races in Pyha, the athletes were in top form, earning a total of nine medals, including three golds.
Paralympic champions Noah Elliott and Mike Schultz finished first and second in the first SB-LL1 boarder-cross, respectively, ahead of Dutch star Chris Vos. Canada's Tyler Turner was golden in the second race with Elliott and Vos rounding off the top three.
Joe Pleban shared the podium with teammate Gabel in the SB-LL2 events, taking bronze on both days, with Great Britain's Ollie Hill and Japan's Keiji Okamoto taking silver.
"It's been a while for me with COVID making travel and competitions difficult, so to be able to jump in there and be right in the mix was awesome," Gabel said. "The course flowed pretty well which I feel really kept the racing tight."
Great Britain's James Barnes-Miller and France's Maxime Montaggioni claimed the top spots in the men's SB-UL. Italy's Jacopo Luchini and Mirko Moro also made it on the podium with one silver and bronze, respectively.
In the women's SB-UL race, both golds went to Poland's Monika Kotzian who shared the podium with Spain's Irati Idiakez Lopez.
Full results from the World Cup races in Italy and season's rankings are available on the World Para Snowboard website.