Home gold for Finland's Matti Suur-Hamari
Luchini, Oguri and Bunschoten sweep gold on snowboard cross weekend at Finnish ski resort
15 Feb 2021
Imagen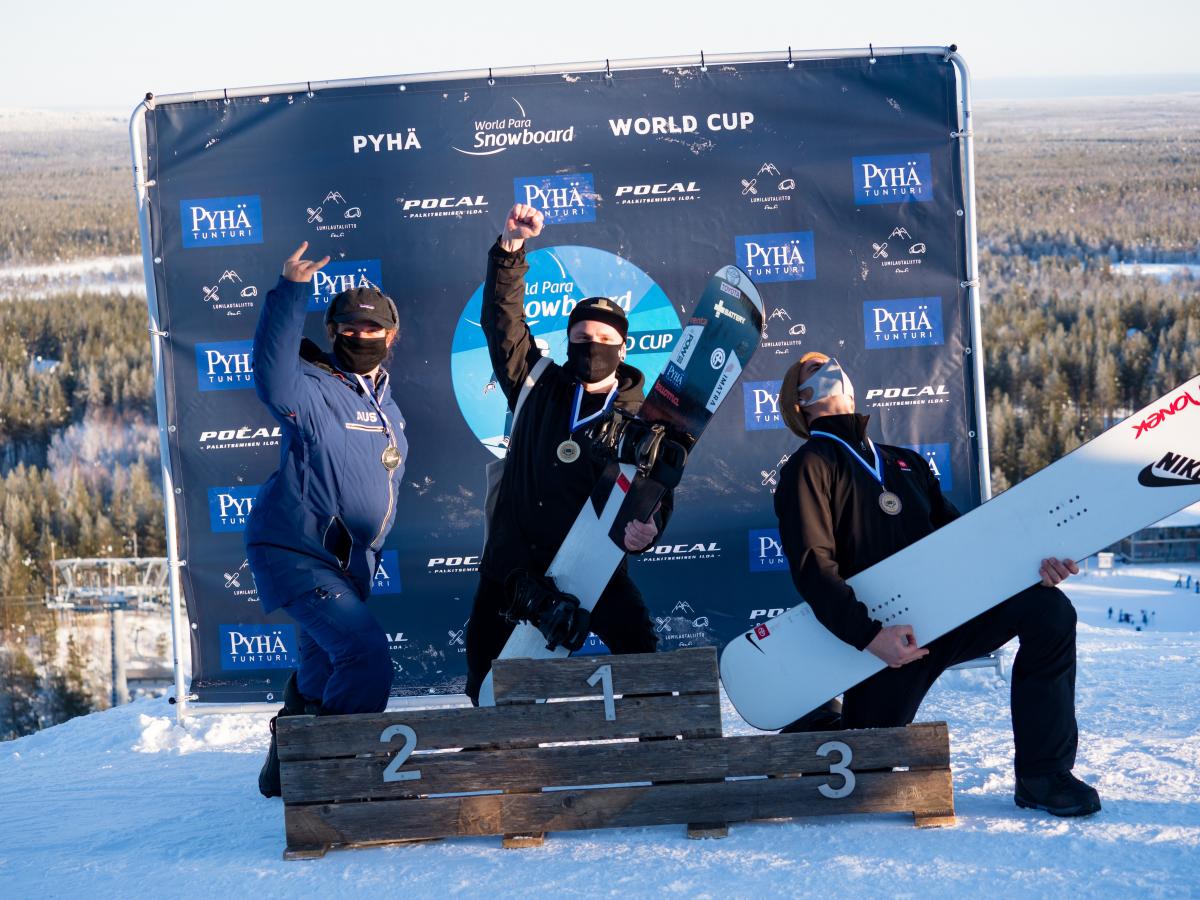 ⒸSimo Vilhunen
By Lena Smirnova | For the IPC
A gold medal from home rider Matti Suur-Hamari in the last race of an action-packed weekend was the perfect end to the World Cup in Pyha, Finland.
The Finnish ski resort hosted two Para snowboard cross races on 13-14 February.
Suur-Hamari, a Paralympic champion in the men's SB-LL2 snowboard cross, took a silver on the first day of competition in Pyha. He upgraded this result to gold on the second day when he outraced last season's overall Crystal Globe winner Ben Tudhope of Australia.
"It's been a weird year with all the changes, but super excited to finally start a season here in Finland and get on the podium," Suur-Hamari said. "It's been really good racing against my teammate Ben Tudhope here in the training camp and the race. I think we're pushing each other in the right direction."
Suur-Hamari and Tudhope are both members of Team Unicorn - an eclectic mix of international riders who train together and compete with signature unicorn stickers on their snowboards.
"For me this event was about regaining all of the feelings and experiences of competition," said Tudhope after winning gold in the first SBX race. "This season I changed my mindset to training. With only one event here in Finland and heading into a huge year next season, I'm getting all the small pieces together to be best prepared for what's to come. The medal today was a good indicator to where I'm sitting, but honestly it was a true bonus."
Tudhope had solid training with the national Olympic team and the New South Wales Institute of Sport during the Australian winter, but has been off snow ever since. 
"I wasn't too sure how I would do here as I have only had about two weeks on snow this season. It's pretty crazy seeing the progression of riding for everyone on the circuit improve from last season. It's only going to increase heading into the [Beijing 2022 Paralympic] Games," he said. "I'm going to use this time I have overseas to concentrate on small technical movements and build confidence on the course before going back home for the Aussie winter."
USA's Strong took bronze in the two SB-LL2 races.
Meanwhile, it was a celebration for Team Italy in the men's SB-UL class. Last season's third overall Jacopo Luchini was golden twice in Pyha. He outraced Great Britain's James Barnes-Miller, who suffered a shoulder injury in late December, to the finish line in both finals.
While Luchini is used to top results on the World Cup circuit, the medal in Pyha was a first for his teammate Mirko Moro. The youngster entered the competition as a wildcard and achieved his career's best result with a bronze on the second day of racing - up from sixth place in the first race.
"This is the first podium in my career. I'm feeling very happy and excited about this podium, I've never expected this result," said Moro, who started racing competitively this year. "This medal is very important to me because it shows me that I'm doing well and it gives me the strength and motivation to continue on my way to the top."
Russia's Mikhail Slinkin got the bronze in the first SBX race.
Like Luchini, Dutch rider Lisa Bunschoten finished the Pyha races with two gold medals. The snowboard cross world champion outraced her teammate and fellow Adaptive Board Chicks co-founder Renske van Beek in the women's SB-LL2 events.
Their teammate Chris Vos brought the Netherlands two medals in the men's SB-LL1 class - a silver and a bronze. Norway's rising star Kristian Moen also took silver and bronze, while Japan's Daichi Oguri won gold in both races.
Irati Idiakez Lopez won two gold medals for Spain in the women's SB-UL class.
Full results from the World Cup races in Pyha are available on the World Para Snowboard website.