Riders excited to get back to racing in Pyha
Finland hosts first and only World Para Snowboard World Cup of the 2020-21 season over the weekend
12 Feb 2021
Imagen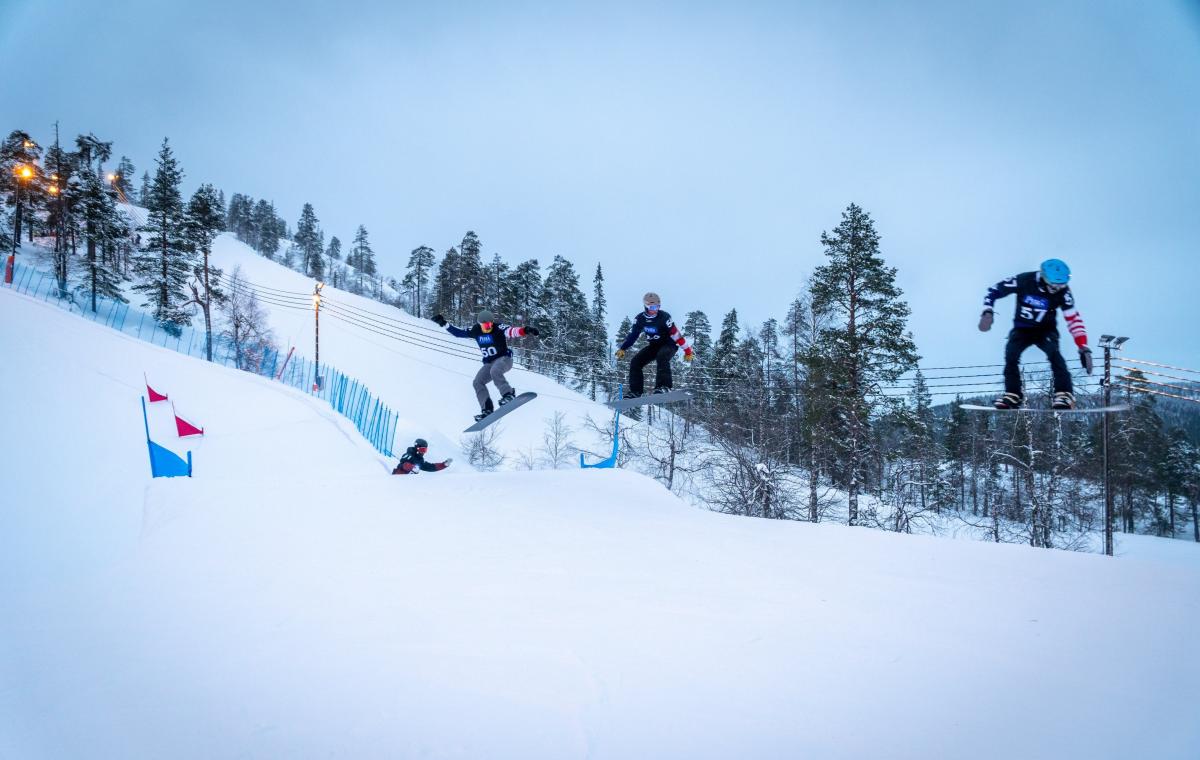 ⒸPyha LOC
By Lena Smirnova | For World Para Snow Sports
The world's best Para snowboarders have converged in Pyha, Finland this week for the first and only World Cup of the 2020-21 season over the weekend (13 and 14 February). 
For British snowboarder James Barnes-Miller, however, this trip seemed in doubt a few weeks ago. The SB-UL rider, who finished second overall in the 2019-20 season, was training at another Finnish ski resort in late December when he had a bad fall.
"We were training out in Finland just before Christmas in Ruka, which was awesome. Some nice jumps and a start section was built," Barnes-Miller said. "On the start section I managed to catch the front of my board on a step up and it flipped me onto my shoulder. I had an AC separation. So where the collarbone attaches to the shoulder, I had stretched all the ligaments."
Barnes-Miller flew straight back to Great Britain to see the team doctor. Fortunately, he did not need a surgery and could start his rehab over Christmas break. 
This left him ample time to prepare for the two snowboard cross races that will take place in Pyha. 
"It's still a bit sore every now and again but I can pull out of the start gate and I can ride the course," the British rider said.
Barnes-Miller is one of the main medal contenders in Pyha. He won two medals in the snowboard cross races in Pyha last season and finished second overall in the discipline.
All of his biggest rivals, with the exception of China's Ji Lijia and snowboard cross world champion Maxime Montaggioni of France, will also compete in Finland. This includes last season's third overall, Jacopo Luchini of Italy.
Fast course and Northern Lights
Cecile Hernandez will represent France in the women's SB-LL1 class, while Dutch riders Lisa Bunschoten and Renske van Beek will fight for the top spot in the women's SB-LL2. 
Russia's Viktoria Iakimchuk, who won the overall Crystal Globe last season, will face off against her 17-year-old teammate Alina Arutiunian and Spain's Irati Idiakez Lopez in the women's SB-UL races.
"It's a fast course, you need to work hard at the start section," Iakimchuk said of the track in Pyha. "The hardest part is the start section and the transitions from rolls to counter-rolls. We were able to improve the passes in some sections of the course, but there are still things to work on."
The Netherlands' Chris Vos looks poised to dominate the races in the men's SB-LL1 class. The Paralympic silver medallist in the discipline has kept busy in the pre-season between getting his pilot's license, training in the gym, long-distance mountain bike trips and extended snowboard camps in Austria and Finland.
"We are having a really good time here in Pyha. It's really a privilege to be here in Finland with the COVID situation and to see all the other riders again." Vos said. 
"We worked a lot on the start section, slalom, everything. The only thing we didn't work on was the race so that's going to be interesting. We didn't have any races, but for sure we'll be fine. We're going to have some fun. It's really good to be on the course so let's race," added Vos, who also enjoyed posting pictures of the Northern Lights on social media.
Norway's Kristian Moen, Japan's Daichi Oguri and Austria's Rene Eckhart will be on hand to challenge the Dutch rider for gold in Pyha.
In the men's SB-LL2 class, Australia's Ben Tudhope, last season's overall Crystal Globe winner, will face off against Great Britain's Owen Pick and USA's Evan Strong, as well as fellow Team Unicorn rider and home favourite, Matti Suur-Hamari of Finland.
Live results from the World Cup in Pyha are available on the World Para Snowboard website.