Record-breaker Hunt-Broersma will 'never stop'… unless her other leg 'falls off' 
The South African-born amputee has recently completed 104 marathons in 104 consecutive days 
21 May 2022
Imagen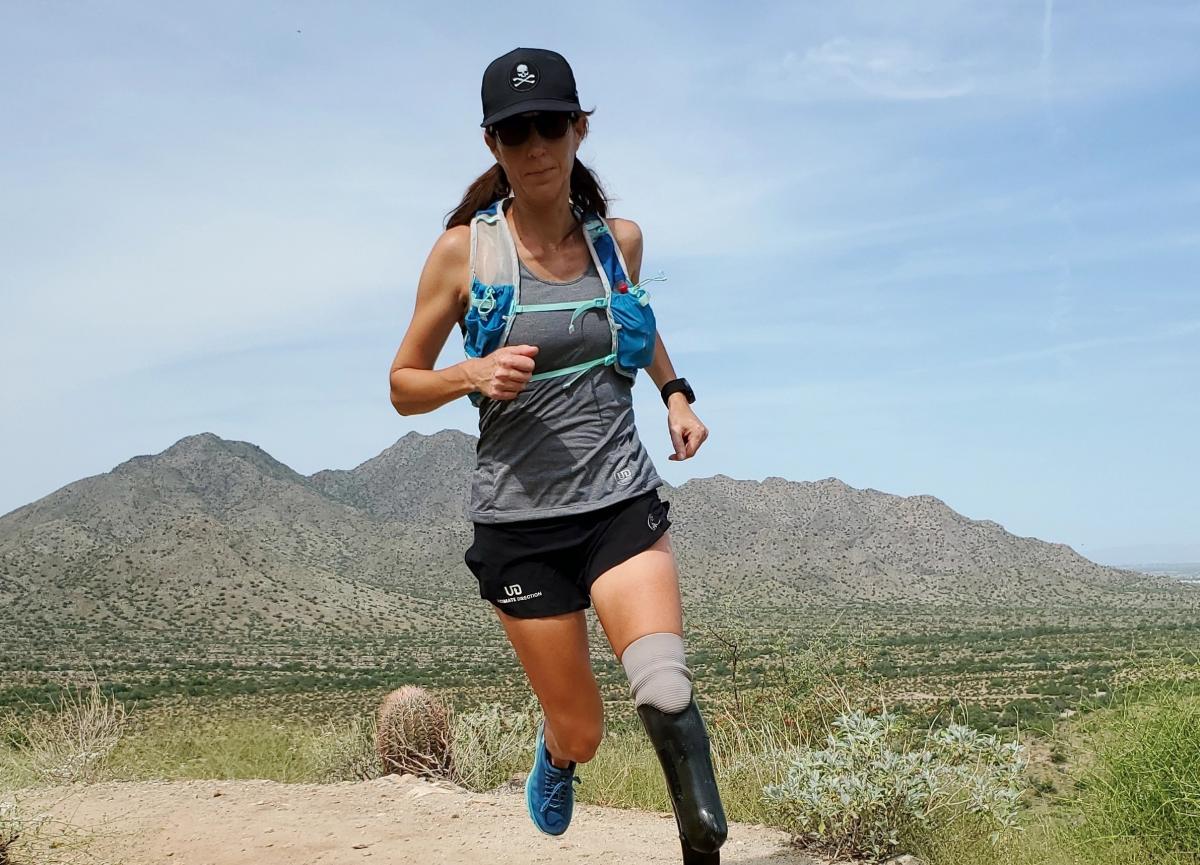 ⒸJacky Hunt-Broersma
By AMP Media I For PARA SPORT
Six days' rest is all it took for Jacky Hunt-Broersma to decide it was time to strap on her blade and start pounding the trails of Arizona once more. No matter that she had promised herself (and her husband) that she would give her body a couple of weeks' rest after running more consecutive daily marathons than anyone else ever. 
"I am missing it, isn't that just crazy?" Hunt-Broersma said with a laugh in early May, after finishing her 104th marathon in a row on 30 April. 
"I thought, when I got to 104, 'I am so done with running' and I am on, what is it, day six now? And I am like, 'Oh man, I really want to go for a run'. I am really itching. I am going to have to go at some point. I am addicted." 
Roads untravelled
The 46-year-old mother-of-two had no clue life would end up like this. A keen swimmer growing up, she always hated running. Plenty changed, especially after she contracted Ewing sarcoma, a rare type of cancer that affects bones or the tissue around them, in 2002 and subsequently had her left leg amputated. But the dislike for running did not, until, in 2016 and encouraged by her husband, she finally gave it a go. 
In an instant, everything shifted. 
"The part people don't really understand is that it's not just something you put on your leg and then off you go, you are running. You actually have to learn to run again and learn to trust it," Hunt-Broersma explained. 
"But even in the first few steps I took with it I felt like I was flying. I was doing something I didn't think I could do. It made me feel really strong." 
Remarkably, less than six years later her daily life became: give the kids breakfast and get them off to school, run 26.3 miles, pick up the kids, help with homework, cook dinner, sleep. Repeat 103 times and become one of the most famous endurance runners in the world. 
"It's amazing, isn't it? I can hardly believe it," Hunt-Broersma said. "I had so many unknown issues going into this, especially running with the blade. I wasn't sure if my stump was going to hold up." 
Considering no one, amputee or non-disabled, had ever done what Hunt-Broersma was attempting, she didn't really have anyone to ask. 
"The first two weeks my body had to adjust. I had issues with shin splints and stuff like that. That I had to work through, but the rest I was so surprised by," she said.
"My stump swelled up quite a bit. I have two running blades and one I couldn't wear any more because my stump had swollen up so much. So, I had to work around that. But you kind of know things are going to hurt and you make peace with it. It becomes your new normal. You just work with it and make sure you don't do permanent damage." 
Nightly icing sessions plus liner socks, squirrel nut butter and meticulous attention to detail meant that Hunt-Broersma managed to keep her body fit and firing. Others helped elsewhere. 
"Days were hard. You get up, you are tight, you are tired and you are like, 'Oh man, I have to run another 26 miles, how am I going to do it?'. But it was the support I was getting," said Hunt-Broersma, who is now a resident of Arizona, USA having also lived in England and the Netherlands. 
"The running community is fantastic. I kind of felt people were waiting for me to post I had done each marathon – that kept me going. I was like, I've got all these people waiting, I can't let them down, I have to do it." 
Her husband – chief water carrier – and children were of course crucial, and a treadmill offered occasional respite from the 40-plus degrees Celsius Arizona heat, the natural bounce also reducing the impact on Hunt-Broersma's stump. 
Chasing records
An unexpected bump did arrive about halfway through, however, when social media told her she was not the only runner chasing Alyssa Amos Clark's then world-record 95 marathons in 95 days. 
"When you apply for these records they don't tell you that someone else is taking it on," Hunt-Broersma said, referring to British non-disabled athlete Kate Jayden who in early April ran her 101st marathon in 101 days. 
Hunt-Broersma, with the advantage of having started later, adjusted her goal accordingly. 
"It's a record, it's there to be broken, you are going after it, you just don't know. It's a little bit of competition, it's good," she said, revealing the two were briefly in touch on social media before they neared the end of their incredible feats. 
"It's good, it's amazing to see other women taking these things on and pushing the limits."
There is clearly no real limit for Hunt-Broersma. So, it's no surprise to learn that next up is the Moab 240, a 240-mile race in Utah, USA. It has got to the stage where it is hard to know if Hunt-Broersma is joking when she says her record-breaking achievement was just "good base-building" for the Moab. 
One thing is for certain: her next sentence is no joke. 
"I am really grateful for running. I am never going to stop; my other leg has to fall off and then…"