Boston Marathon survivor Haslet marks ninth anniversary with unforgettable finish
Former ballroom dancer completes Boston Marathon nine years after losing her left leg in the terrorist bombings
02 May 2022
Imagen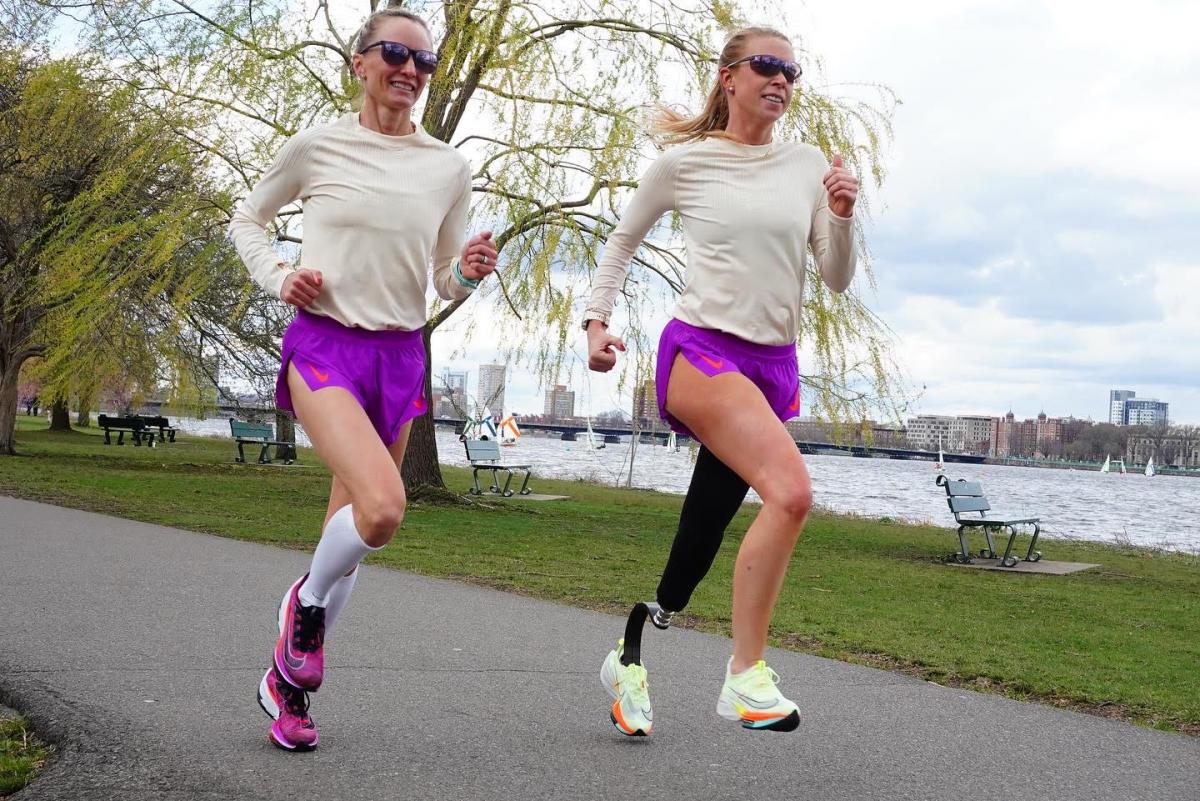 ⒸAdrianne Haslet
By Lena Smirnova | For the IPC
Running the Boston Marathon two weeks ago, a flash of posters and well-wishers shouting her name greeted Adrianne Haslet as she made her way to the finish line in Back Bay East.
Those flashing images were a lot different from the ones she saw in the same location nine years ago, then lying on the ground with her left foot gone, her hair covered in blood.
One of the survivors of the 2013 Boston Marathon bombings, which claimed three lives and injured more than 260 others, Haslet completed the race three days after the ninth anniversary of the day she almost lost her life.
As she made the final steps of the 42.195-kilometre run, Haslet slowed down to take in her accomplishment.
"When we went past the place where I lost my leg, I was looking for it and looking for it and making sure I was because there was so much to take in. And when I passed by that spot, I slowed down to two walking steps because I wanted to take just a minute," Haslet said. "I looked out onto the crowd that was right there. And I just thought, 'Holy cow, this is it. This is the moment, Adrianne'. And then I charged forward."
Boston strong
Haslet was not a runner nine years ago, but a ballroom dancer. It was a spontaneous decision that made her stop to watch the runners finish the iconic marathon race on 15 April 2013. That decision proved life changing.
One of the two bombers dropped a backpack with a homemade bomb next to her. Haslet heard the first explosion go off nearby. The second had her on the ground.
She survived the attack but had to have a third of her left leg amputated. After the surgery, the Boston resident took up running and tackled the Boston Marathon three years later. 
Haslet finished last in 2016 and has been trying to improve on her performance since, but multiple setbacks kept preventing her from accomplishing this goal. In 2018, she was forced to pull out because of extremely cold and rainy conditions. In 2020, the marathon was cancelled due to the coronavirus pandemic and in 2021 she rolled her ankle in training shortly before the race.
The worst of her attempts came in 2019 when Haslet was struck by a car during a training run in January. The collision with the car, which was going more than 60 kilometres an hour, threw her almost four lengths back and resulted in serious injuries to her left arm.
As the 2022 Boston Marathon approached, three days after the anniversary of the bombings, Haslet knew that the race would be more than a physical challenge. Similarly to the marathon itself, she spent the anniversary in the company of fellow survivors. 
"I went to the Red Sox game at Fenway on Friday, that was the anniversary, yelled 'play ball' on the grass," Haslet said. "All of us survivors are invited there often. It holds a very unique and special place for all of us because a lot of us had real reservations about being around crowds and Fenway made us feel like that was OK, that it was this real safe space. 
"Being back there and reflecting on every time I've been there was really emotional. I was standing off to the side with my service dog, Fred, and really took a deep breath there and looked around and thought, 'Wow, this is happening. You're here. After nine years, you're walking around. You have people that love you here and you're able to do this, and on Monday, you're going to run the marathon'. It makes me tear up when I talk about it now, but it was just this amazing feeling of the progress that I've made over the past nine years and I was really proud of that."
Haslet spent the rest of the weekend relaxing in "pyjamas or sweats", but was back in her race kit on Monday as she lined up at the starting line with her coach and support runner, Olympic medallist Shalane Flanagan.
"Right out of the gate, I was feeling really well," Haslet said. "We hit the halfway point and she said, 'Adrianne, oh my gosh, you're crushing it. This is way better than I thought you would do'. And I said, 'I feel really good. I can't believe we're halfway. It does not feel like halfway, it feels like mile three'. And she's like, 'Can I tell you your split? Can I tell you your split?' And I said, 'No, no, I don't want to know! It's too early to celebrate'."
Cheered by spectators along the route and stopping once on Heartbreak Hill to give a hug to a survivor and close friend, Haslet braced herself for the spots she knew would be the toughest on her mentally.
"When we went past that crosswalk where I was hit by that car and lost a lot of mobility on my left side, Shalane said, 'You're gonna go through here stronger than you were before'. And so I picked up the pace and she said, 'Chin up, chin up', and I flew through," Haslet said. "I was so overwhelmed and my legs were so tired at that point that it was almost hard for me to take it all in. But I definitely remember it, and I will remember it forever."
Projected to finish the marathon in six hours, Haslet exceeded expectations to cross the line in 5 hours 18 minutes 41 seconds. This was almost half the time of her first run in 2016 when she clocked in at 10 hours 30 minutes 23 seconds.
"The amount of messages and love and support that came before the race, without doubt, carried me through that race," Haslet said. "I also had an onslaught of messages after the race, both in email and social media and direct messages, saying, 'You did it, I can't believe it. I was tracking you all day from Iceland, to Denmark to Germany', to all of these places, and cheering me on and sending me messages and making signs in their living rooms or along the race course. It was so powerful."
The next mile
Haslet was among 34 athletes with a disability who entered in the 2022 Boston Marathon. She was also one of the key advocates for introducing the Para division to the annual event. 
The Para division has now been featured at two Boston Marathons, starting in 2021. 
"It's so important to have this division," Haslet said. "We can't be what we can't see, so when we are only featured in commercials for being the inspiring person that walks across the screen, OK, fine, but it's used to feel sorry for us. And when you see someone grinding it out for 26.2 miles that has a disability, you're going to be cheering for them. You're going to see what they are able to do and see them in a powerful way."
Haslet's next goal is to get her impairment class represented at the Paralympic Games. 
The Paralympic programme currently offers sprint distances for athletes with lower limb impairments, while Haslet is campaigning for the inclusion of the marathon and middle-distance events as well.
"I would love to represent Team USA. Being in the Paralympics and showing people what someone like me can do on that size of a stage would be incredible," Haslet said. "I would love to continue to compete in running and there's nowhere else for me to compete in running other than the Boston Marathon."
Elated with her result at that marathon, Haslet is now taking some time off from training to give her body a break.
But already she is tempted to lace up again.
"I never say never for another marathon. But boy, it would be hard to top that," Haslet said.
"I didn't want the marathon to end. I was having so much fun. I don't think I could have taken another step, but I also didn't want it to end."