Wheelchair racers 'Zoom' into Boston Marathon
Kim and Daniel Romanchuk host virtual marathon during coronavirus pandemic
21 Apr 2020
Imagen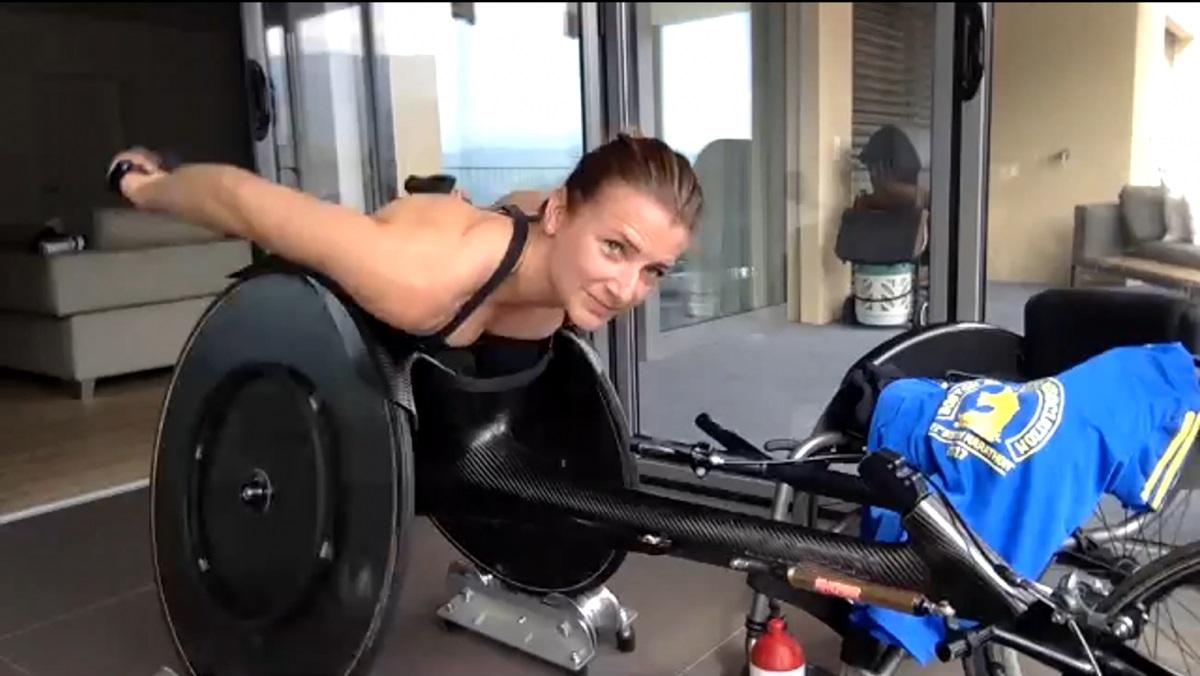 ⒸIPC
By Ros Dumlao | For the IPC
The Boston Marathon carried on in the living rooms, basements, garages and various home workout spaces of more than 60 wheelchair racers via a world-wide virtual Zoom meeting.
The legendary race initially scheduled for 20 April was postponed to September due to the coronavirus pandemic. But at 9 a.m. Eastern Time in the USA, Marathon Monday felt very much alive, thanks to technology. 
Most of the top racers expected to push through the 26.2-mile (42.2 km) course joined in through the video chat platform Zoom, all ready to go in their stationary rollers. That included the USA's 2019 male winner Daniel Romanchuk and five-time champion Tatyana McFadden; as well as Switzerland's three-time winner Marcel Hug and reigning women's champion and course record holder Manuel Schaer. 
While much of their 2020 race schedules have been deterred, including the Tokyo 2020 Paralympics, they all found reason to connect and push on.
"It's a lot of different emotions," said Romanchuk, who made history at the 2019 edition when he became the youngest male winner at 20. "But I try to keep my concentration and focus on what's today and take it one day at a time.
"One thing I learned is that you can make a plan, but you never know if that plan is going to change. So you need to stay flexible."
And "spontaneous," McFadden added. 
That is exactly what the Monday's virtual marathon was.
Three Zoom screens featured racers from all corners of the globe, such as Australia, Canada, Brazil, Great Britain, Japan and South Africa.
The extent of the event's reach impressed mother-son duo Kim and Daniel Romanchuk, who came up with the idea late. 
"On the calendar I was supposed to be flying out (to Boston) on this (particular) day," said Kim Romanchuk, Daniel's mom. "As the day was drawing nearer, it was kind of sad. I was like, 'Oh I'm not going to Boston.'"
"We were talking and said, 'Hey, this would be a great opportunity with technology to have everybody connect. It was tossed around quite a bit, but it was not until Saturday night that we got serious. It was incredible that so many of them changed their schedules.
"Yeah, I know everyone is at home," Kim laughed, "but people still have things to do."
They contacted the top wheelchair racers expected to take the start line in Boston. Word spread quickly on social media, and other racers also joined in, including non-marathoners such as the USA's Kelsey LeFevour.
"My goal was just to keep my arms moving because I'm a short distance racer," LeFevour said. "When Daniel emailed, I thought that would be a great way to get in training with other people.
"This was possibility my one and only Boston Marathon." 
Fifteen-year-old Jaden Movold checked in at 1 a.m. New Zealand time. The time all racers were pushing was based on Marcel Hug's world-best 1:18:04 at the 2017 edition.
"It's like 2:30 in the morning here, so I'm pretty tired," Movold said afterward. 
"Also this is my longest distance. My longest one before was 5 km. In the beginning I had a plan to just get to 21 km. So that was my plan the whole time was to get 21 km and to beat myself. And I did that."
Mel Nicholls dialed in from her roller in Great Britain. 
"I think it's a fantastic way to get training in," she said. "I think the whole thing about connecting is so, so important right now, especially maybe if you're isolating alone right now. It's nice to see people, even if it's just on your computer screen."
Before the Zoom meeting closed, someone quickly commented: "Let's do it again!"