31 marathons in 31 days: A Paralympian's mission to inspire
London 2012 medallist Rob Jones raising awareness and money for fellow veterans
03 Nov 2017
Imagen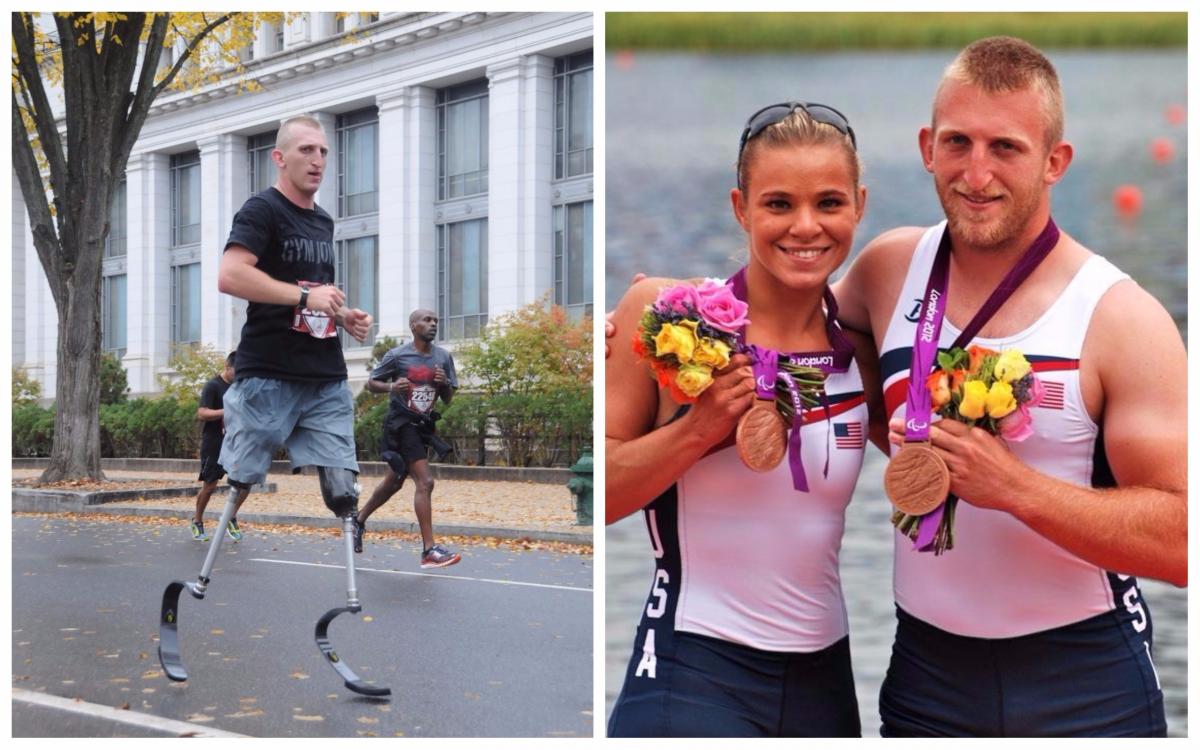 By Ros Dumlao | For the IPC
"I'm trying to do is be an example of a veteran who went to Afghanistan and had a traumatic experience and was able to come back and keep finding a way in contributing and fight for my country, and I figured out a way to use my disability as a tool for myself, to continue my mission."
From winning a Paralympic medal at London 2012 to cycling across the USA, Rob Jones is onto his latest challenge: running 31 marathons in 31 days, each in a different city.
He recently finished day 21 on 1 November in Albuquerque, New Mexico before an 11-hour drive to San Antonio, Texas, for the next marathon.
Jones said the repetitive nature of the challenge – plus the general pain of running – has been the most difficult part so far. He wakes up every morning knowing he has to run four hours, and do it again and again. But what has helped him trudge through is remembering why – or better yet who - he is running for.
"It's not an easy thing to endure. But all that [pain] is not as important to me as my goal and mission. I'm more than willing just to endure this to get my story out there, to get my mission out there, and fighting with my veteran brothers and sisters. So any pain, any repetitive boredom I feel is not bad," Jones said.
"You just have to remember why you started. That's why you have to have a really good, solid reason for doing a challenge like this."
Jones is raising money for wounded veteran charities and hopes to bring awareness of the struggles US veterans face.
A US Marine veteran, Jones himself understands those struggles.
On 22 July 2010, Jones was injured by an improvised explosive device (IED) in Afghanistan, resulting in the amputation of both his legs above the knee.
"The first year I was healing and relearning how to use the prosthetics and getting comfortable with them," Jones said. "And then after that first year I got to a point where I was strong enough and balance with the prosthetics and eventually move and do stuff on my own."
Reaching the London 2012 Paralympics was his goal.
He was researching the Paralympics and saw rowing as part of the programme. It just so happened there was a place close to the hospital he was being treated at where he could learn to row. At the same time, Oksana Masters – currently training toward PyeongChang 2018 in Nordic skiing – was looking for a rowing partner. The two trained together, and at London 2012, they won bronze in the mixed double sculls TA.
"Going to the Paralympics was my first big challenge for myself since being injured," Jones said. "When you get injured it's possible to lose a bit of confidence and be unsure of what you're capable of and what you'll be able to do and so it's important to have a good challenge for yourself to be able to figure that out even if you fall short or not," Jones said.
"[London 2012] showed me that I can still push myself physically and I can still dedicate myself to something day in and day out. It was a bit of a relief to know this."
It was also at those Games where he met his wife and fellow Para rower Pamela Relph, who won back-to-back gold medals at London 2012 and Rio 2016 in the mixed coxed four.
Relph, along with Jones' mom – a massage therapist – and their driver make up Jones' support team in his marathon journey.
Learning lessons from failure
The idea to run 31 marathons in a month actually came from his failure to qualify for Rio 2016 in triathlon.
"For every failure there's a lesson," Jones said. "So the lesson in that failure was that I have a decent talent for running. So I was able to run the 5k portion of the triathlon in 18 minutes so that was pretty fast. So I just figured OK what should I do next? I should do another challenge," Jones said.
"I picked the marathon distance [be]cause I knew that was a tough challenge because I had done it already. I knew it as a long tough distance run. But if I really wanted to prove that veterans could keep fighting no matter what, I had to take the since marathon to the next level and do a month of marathons."
He is not running in any organised marathon, unless it coincides with one of his runs. Instead, he parks up at the spot, is greeted in the morning by a group of runners who want to join him, either for the full distance, or just a section; or simply to just support and chat with him.
He began on 12 October in London, Great Britain; and will finish in Washington D.C. on 11 November, which is Veterans Day in the USA.
Supporters can buy his official T-shirt "Rob Jones' Journey," in which USD 10 will be donated. Another way to give is directly at http://www.robjonesjourney.com/ where people can chose to give to three charities that Jones said have a personal connection in helping him.
He said the amount of support he has received through this journey has been overwhelming.
"I'm trying to do is be an example of a veteran who went to Afghanistan and had a traumatic experience and was able to come back and keep finding a way in contributing and fight for my country, and I figured out a way to use my disability as a tool for myself, to continue my mission."