Whether it's the canvas or tatami for Backo, the 'girl with wings' hits the heights
Serbian Para athlete and artist Dejana Backo gave a portrait to tennis star Novak Djokovic after he congratulated her on winning the 2021 World Para Taekwondo Championships
02 Mar 2023
Imagen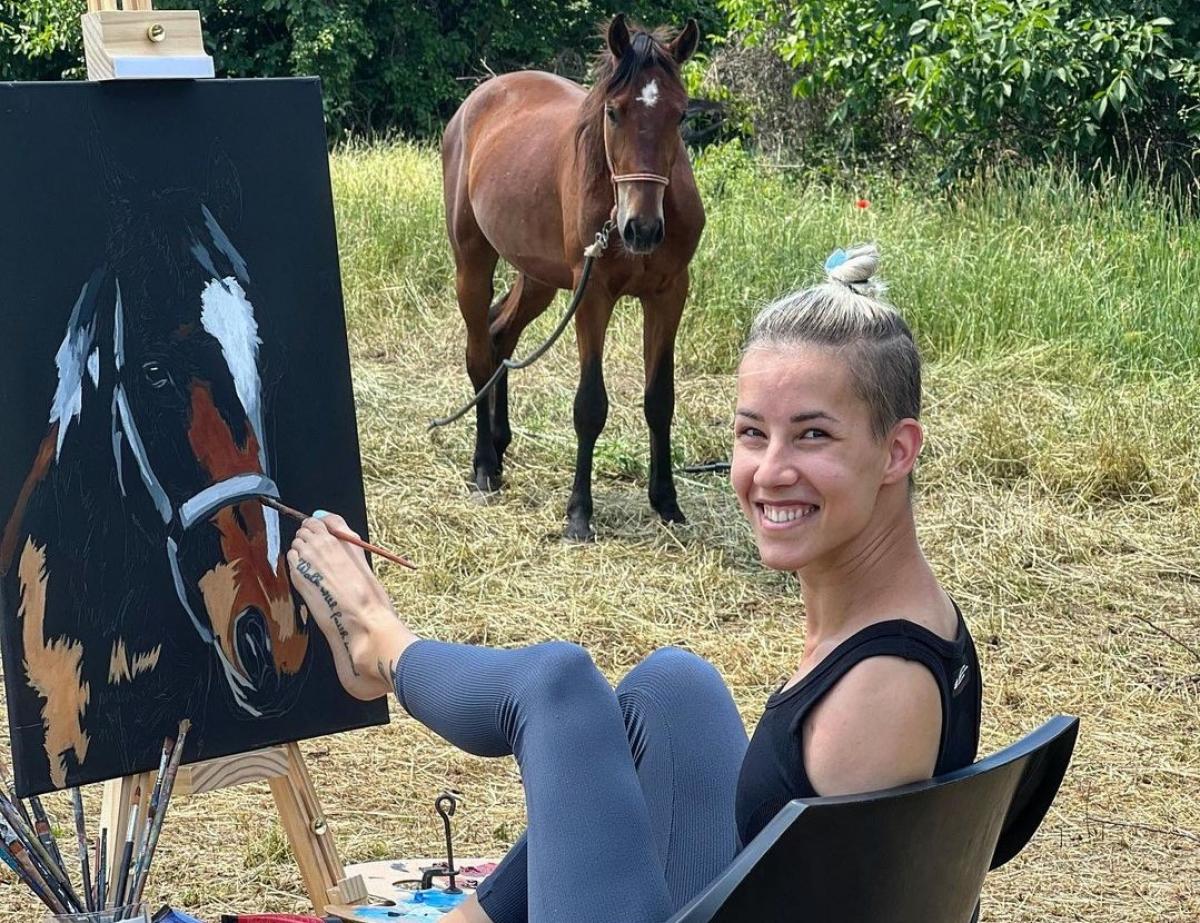 ⒸDejana Backo
By AMP Media | For PARA SPORT
When Serbia's most famous athlete sent a message of congratulations to the country's 2021 Para taekwondo world champion there was only one way to say thank you.
"I gave him a portrait that I painted a couple of years ago," said Dejana Backo, a talented mouth and foot artist, who is also an elite sportswoman in the martialart and Para archery. 
The 'him' in question was tennis great Novak Djokovic, who claimed his 22nd Grand Slam singles title with his victory in the Australian Open in January 2023.
The painting that Backo gave to Djokovic two years ago was also from the Australian Open and featured a butterfly touching down on the tennis player's arm.
"Novak congratulated me on becoming world Para taekwondo champion and it felt really good. He has been one of my idols and I had the opportunity to meet him (in person) at one of his tournaments," said Backo, who became known in Serbia as 'the girl with wings' after appearing in a national TV show.
Flying into motherhood
Sporting memories are not the only ones Backo, who was born without arms, treasures.
In February 2023 she marked another milestone in her life – giving birth to her first baby. In anticipation of the big day, she has taken time off from competitions and will miss the Paris 2024 Paralympic Games.
But while temporarily absent on the field of play, Backo is active in spreading her message on social media.
Her Instagram feed will continue to flag issues related to living with an impairment and other talking points, ranging from how to put on eyeliner with her foot to the discrimination she has faced because of her impairment.
"We all have some difficulties as people with disabilities. But if you have a good picture of yourself, if you know who you are and what your worth is and you act within that, you can pass all the negatives and focus on the positives," Backo said during her pregnancy.
"Having a baby will affect my sports career because I have to take a break before I start training again."
Painting a message
Aside from sports, painting continues to give Backo the greatest joy despite the battle to enroll at an art academy being responsible for her greatest anger.
Backo has been a member of the Association of Mouth and Foot Painting Artists of the World (VDMFK) since she was nine years old and describes herself as an artist who also excels at sport.
"That is the correct way to say it. Painting was my first love and I have been doing it for almost 20 years now," Backo said.
"I started painting from an early age, that is just what I love, what I saw my talent in and worked hard to make it better."
But Backo also recalls the anger she felt when trying to enroll and graduate from the painting academy where she hoped to pursue her passion for art.
"The moment I felt most anger was when some people said that I can't go to a painting academy (in Novi Sad, Serbia) because I can't open front doors by myself," Backo said. "Next moment was when they told me that I cannot graduate because I cannot do mosaic by myself. I proved to them that I can!
"VMDFK is unbelievable. I have really good relationships with them and through them I have met painters from other countries who are also painting with their legs or mouth. 
"I still have to do a lot of work in my painting career so I can go to the next level. I've had one exhibition with other artists in Slovenia and I plan to have them more often this year (in 2023)."
A Paralympic dream
While paint runs through Backo's veins, her switch to sport was much more recent and it was driven by the thought of competing at a Paralympic Games.
She took up Para taekwondo in 2016 and won the K41 women's -47 kg division. She started Para archery in 2019.
"I switched sports when I realised that I can't go to a Paralympic Games in taekwondo because my category is not included," Backo said. "My goal is to compete at a Games."
Now the girl with wings is out to prove that she has what it takes to fly high, no matter how tough the challenge is.