Blind tennis players striving for bright future after milestone Australian Open debut
Australian players Mick Leigh and Courtney Webeck took part in exhibition matches at the 2023 Australian Open with hopes of raising recognition of blind and low vision tennis
23 Feb 2023
Imagen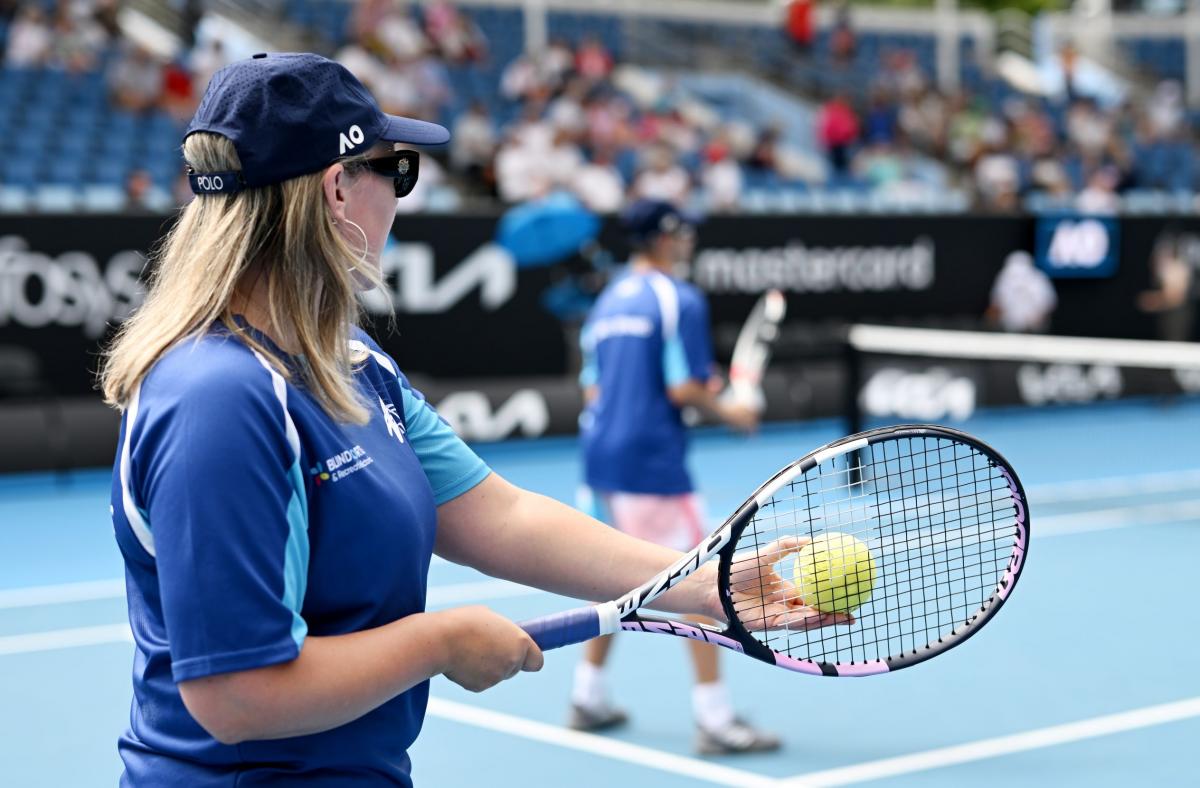 ⒸTennis Australia
By AMP Media | For PARA SPORT
For the first time in the tournament's history, the 2023 Australian Open featured blind and low vision (BLV) tennis matches, spurring players' hopes of growing competition in the sport.
Australian BLV B3 champion Mick Leigh hailed the exhibition matches that were held in Melbourne on 23 January as a milestone, not only in his career but for the growth of the sport worldwide.
"It was a dream come true," 44-year-old Leigh said.
"I never thought I would play competitive tennis ever again due to my deteriorating eyesight, let alone play at the Australian Open. It was also great to be part of the first BLV exhibition matches to showcase our wonderful game."
Showcasing the sport
Leigh grew up watching the Australian Open – a tournament which, under various names, was first contested 118 years ago.
"To be part of the very first BLV matches to be held at the AO and to showcase this wonderful game to the world is something I'll never forget," he said.
Leigh added that he was surprised how many people came to watch the games at the iconic Melbourne Park, asking questions about BLV tennis afterwards.
"They were very interested in learning a lot more about our great game," he said.
Leigh's tennis training is funded by his family and Australia's National Disability Insurance Scheme (NDIS) but his goal is to be able to play his sport full-time. He hopes the recent matches can lead to more recognition of BLV tennis.
"I think it would be huge for the sport. BLV athletes seeing and hearing about BLV tennis being played at the AO would encourage them to want to be involved," the athlete said.
"I believe more funding and education is needed for the sport to gain wider recognition."
Blind and low vision tennis
While there are many similarities between tennis and BLV tennis, one of the differences is the equipment used by athletes. A BLV tennis ball is larger and contains bearings that make a sound as it moves or bounces. Athletes use shorter racquets in BLV tennis, which is often played on a brightly lit indoor court that is smaller than the field of play in tennis.
BLV tennis is split into classifications according to the players' impairments. In the B1 category, players have no functional vision and wear a blindfold. They compete on a smaller court surrounded by tactile lines and with a lower net.
In category B2 and upwards, players have increasingly better eyesight and the court is bigger, with no tactile lines. In B1 and B2, the ball is permitted to bounce three times before each shot, while in B3 two bounces are allowed and in B4, in which players have a greater amount of sight, it may bounce only once.
"Whether it is playing BLV tennis, wheelchair tennis or tennis they are all physically, mentally and tactically challenging," said Australian BLV B2 champion Courtney Webeck.
"When playing BLV tennis we have to block out all the background noise and just focus on the ball. It can be challenging when there are several courts on either side of you playing," the 19-year-old athlete added.
Playing for recognition
Webeck, who is studying for a bachelor degree in agriculture, also plays cricket and competes in athletics at a national level. She got involved in vision impaired tennis through a Paralympic talent search in April 2022. 
Little did she know that in less than a year she would be playing at the Australian Open, the first of four Grand Slam events of the year.
"It was probably one of my biggest career milestones. It's definitely up there with winning the national title last year," Webeck said.
"To have won the national title at the same place four months earlier and then to come back and play alongside the best in the sport is something I'll never forget."
At the end of January every year she had sat at home watching the best tennis players in the world battle it out on the Melbourne courts. Last year her favourite men's and women's singles players, Rafael Nadal and Ashleigh Barty, won their respective Australian Open titles.
"I was like, 'Wow, this is absolutely incredible watching two of my favourite tennis players Rafa and Ash win'," she said.
"I remember looking at my parents and saying, 'Imagine if I got to play at the Australian Open' as a joke. I had never picked up a racquet at this time last year and to have just played there is incredible."
To top things off, the event was even bigger than she expected.
"As the Australian Open is a Grand Slam, I knew it was going to be big. However, I underestimated the size of the stadium and how many people would be attending, and the contagious atmosphere they created," Webeck said. 
Australia's former women's world No.8 Alicia Molik helped to draw attention to the event as she teamed up with Leigh and Webeck to try out BLV tennis a couple of weeks prior to the Australian Open. Molik, who retired from tennis in 2011, struggled to play the sport with blackout simulation glasses, highlighting the challenges of playing without sight.
Webeck hopes the sport can grow and attract recognition at a level similar to that of the Paralympic Games favourite, wheelchair tennis. 
"It'll be such a sensational opportunity if BLV tennis gets staged at the Australian Open and hopefully it can get staged at the other big majors too," Webeck said.
"Having more of these demonstration matches around the world is one of the first steps to get BLV tennis the recognition it deserves, and hopefully it can become a Paralympic sport one day in the near future."