Four-time Paralympian Reid swaps blades for skates to pursue big goals on ice
Reid, a medal-winning Para long jumper and sprinter, wants to nail a jump on ice
03 Feb 2023
Imagen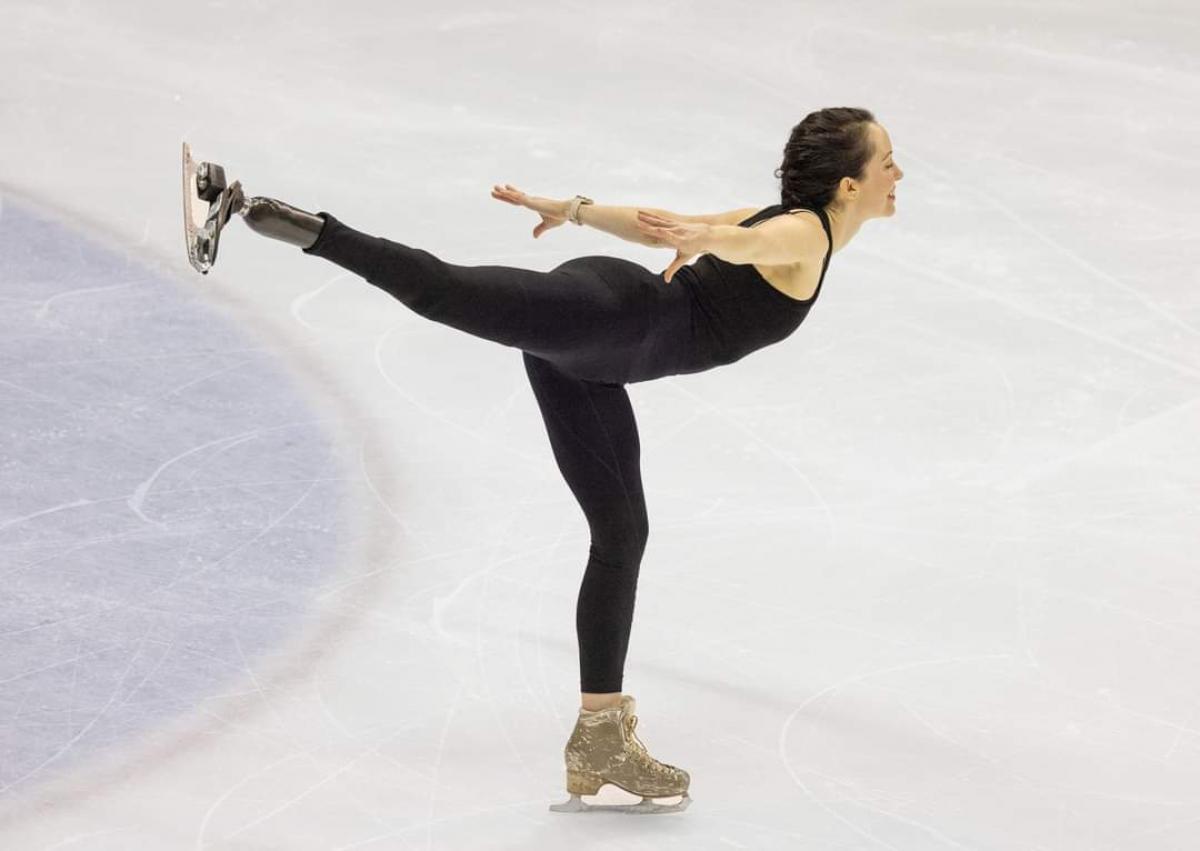 ⒸStef Reid
By Ayano Shimizu | For the IPC
Four-time Paralympian Stef Reid was hesitant to retire from Para athletics because she did not know whether she could find something as fun and exciting as competing in long jump.
But instead of sand pits and running tracks, the British Paralympian found her new passion in figure skating after appearing in the British TV show Dancing on Ice between January and March 2022.
Since then, she has swapped her running blades for skates and has been taking on one of the most challenging sports she has tried since the amputation of her right foot.
Reid competed at four Paralympic Games starting with Beijing 2008 and announced her retirement in June 2022. She has three Paralympic medals – two silver medals in the women's long jump T44 and a bronze in the 200m T44.
"You can't long jump or sprint recreationally. It's not really an option. But with skating, I found something I could do for the rest of my life," Reid said.
Skating in the spotlight
Displayed next to her Paralympic medals, Reid has a small plastic medal she received from a local skating event she took part in December 2022. 
It was a low key "Spin Spiral Jump" competition, but the medal she got for finishing in second place there means as much as her Paralympic medals do, Reid said, because she "never had to work so hard for anything" in her life.
"One of the things I was most scared or nervous about retiring was I just couldn't imagine anything more fun than long jumping in front of the stadium," the 38-year-old said. "I thought, 'What if I never find anything else as fun as this, and what if I spend the rest of my life looking back and thinking that was the best part?'
"But then I went on Dancing on Ice, and it was this entire world. It was so fun. And I thought, 'Well, if this is fun, then there's probably other things in the world I haven't done yet that are fun as well'."
On the televised show she performed to pop songs like Madonna's "Material Girl" and Lady Gaga's "Bad Romance", together with her dance partner Andy Buchanan, When the pair skated to "(I've Had) The Time of My Life", Buchanan lifted Reid over his head to recreate the iconic scene from the Hollywood film Dirty Dancing.
"I genuinely had the time of my life. But it was scary, and it was hard because I wasn't picking it up as fast as everybody else," Reid said. "It was a world that I had never experienced or been in."
Blades to skates
Despite the dazzling performances that stole the hearts of skating fans across Great Britain, the transformation from an athletics star into a figure skater did not come easy for Reid. While she skated before the boating accident that led to the amputation of her foot, she had never been on ice since.
After getting a spot on the TV show, Reid asked her prosthetist to make a foot that would allow her to skate. Making the right adjustments to the prosthesis and getting used to it was one of the toughest challenges she faced.
"Any time you get a new leg, whether it's a walking leg or a new sprint blade, you hate it. I hate every single one because it's different," Reid said. "Your brain, it takes time. You almost have to form a relationship (with the new leg) because it's not quite a part of you.
"It takes time to trust that the foot is going to be there when you put it down, and it's going to act in the way that you're expecting."
Reid showed up to her first skating lessons with a helmet, anticipating that she would spend the majority of the time falling. But after creating the final prototype of the prosthesis, things slowly started to click.
While Reid was heartbroken when she was eliminated from the show in the eighth round, she also realised that there is no need for a national TV spotlight to fuel her passion for skating.
"I realised, 'Stefanie, you don't have to have a show to skate. The rink is still there, you can keep going'. So I just kept with it," the Paralympian said.
Jumping on ice
Since retiring from Para athletics six months ago, Reid has been re-thinking the role sports have in her life. It used to be a full-time job, but now she has a job outside of sports that she is committed to.
"I still want to do the best I can (as an athlete), but I don't have the same amount of time. So what does 'good' look like for me now? Before it was obvious with the World Championships and Paralympics, I knew exactly what (being) good (in sports) looks like," Reid said.
"Now it's up to me to decide. Where I've landed is that my level of effort wouldn't change. So when I go to the rink, I want to give the best that I can give in every single session."
In January 2023, she passed the Grade One Skills Test, the first of eight tests organised by British Ice Skating to assess skaters on their skills, such as steps and turns. She took the test with seven-year-old children.
In the longer term, Reid wants to learn more complex skating skills and elements and start competing in the sport. 
And there is another big goal that the former long jumper has in mind.
"I'd rather just do it than talk about it. But one thing that we're working on is, I want to land a jump, a single rotation, whether it's an axel or a toe loop," Reid said. "That would just be unbelievable."