IPC and WADA join forces to promote clean sport
07 Aug 2013
Imagen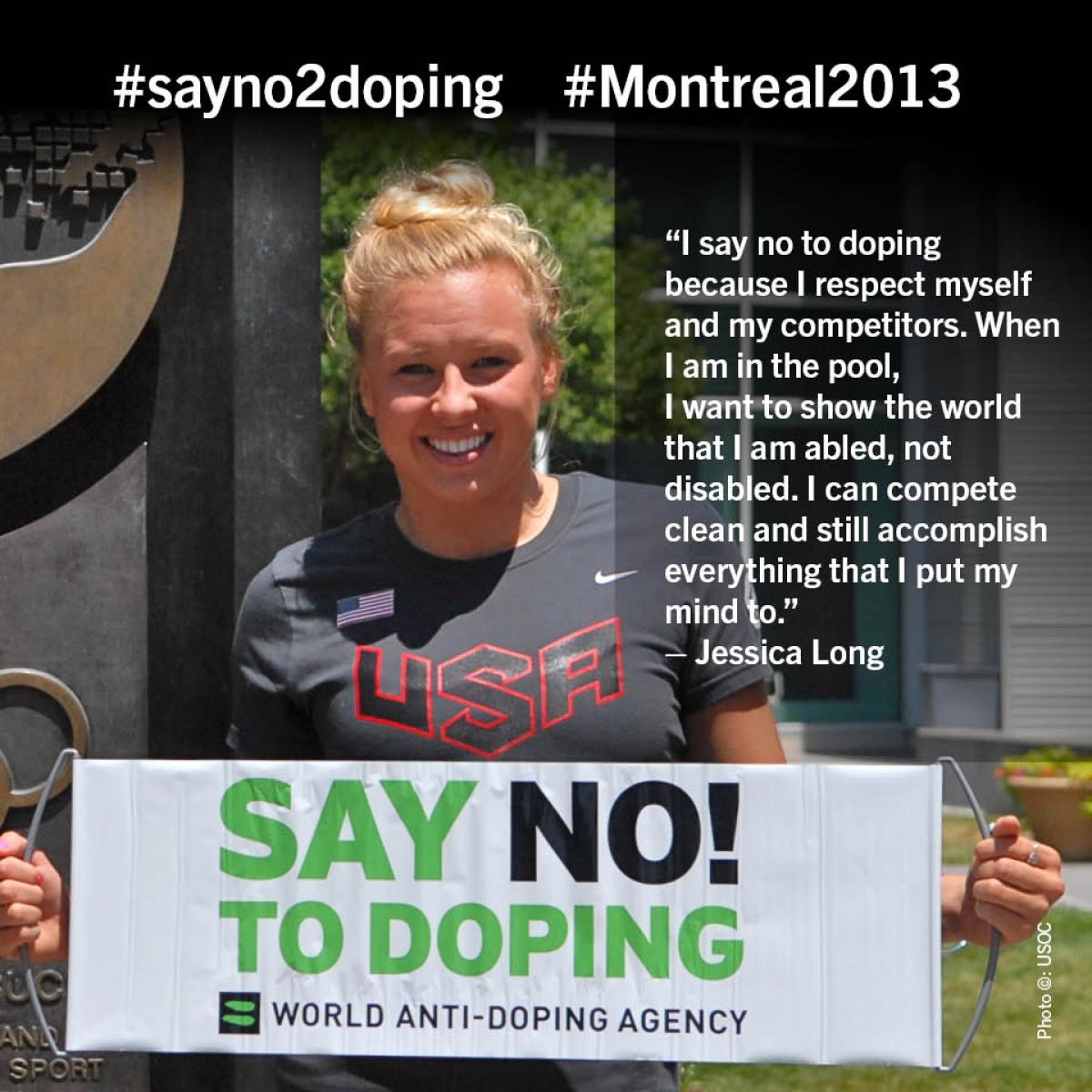 ⒸIPC
By IPC and WADA
But I'll always look back and see a clean and fair game, so I'll be able to be proud of myself"
As the build up to the 2013 IPC Swimming World Championships continues, the IPC, WADA, and some of the world's leading swimmers have announced they will host a day dedicated to promoting clean sport.
Say NO! to Doping Day, which takes place on day two of the Championships (Tuesday 13 August), aims to raise awareness of anti-doping with the goal that all athletes compete on a level playing field.
Athletes will be encouraged to demonstrate their commitment to clean, honest sport by wearing green Say NO! to Doping (SNTD) swimming caps and temporary tattoos displaying SNTD and International Paralympic Committee (IPC) logos. Leading para-swimmers competing in Montreal, including Canadians Valérie Grand'Maison and Benoît Huot, Great Britain's Josef Craig and Eleanor Simmonds, Andre Brasil of Brazil, and Jessica Long of the USA, have pledged their support to the cause.
Throughout the day at the Parc Jean Drapeau Aquatic Complex, athletes, volunteers and officials will wear SNTD t-shirts, while spectators will be given free handheld paper fans and temporary tattoos. There will also be a Twitter and Facebook competition providing spectators with the opportunity to win signed caps worn by world and Paralympic champions.
IPC President Sir Philip Craven said: "The IPC is delighted to partner with WADA to raise the profile of clean sport and to be able to provide education and support for athletes and teams at Montreal 2013.
"As an athlete myself I know how important it is for everyone to play fair."
WADA Director General David Howman, who will participate in a special Say NO! to Doping Press Conference at the Parc Jean Drapeau with IPC President Sir Philip Craven, said:
"Say NO! to Doping is an effective campaign that allows athletes and organizations to demonstrate that they are behind clean sport. I am glad so many leading names from the world of para-swimming have joined us in being vocal of sport that consists of fair play and respect."
Reigning Paralympic and world champion in the 100m butterfly S10, 50m & 100m freestyle S10 and world champion in the 400m freestyle and 100m backstroke S10, Andre Brasil said:
"I want to make my dreams come true not by crossing the lines, but with my willpower. If it has to hurt, let it hurt. If you have to cry, then cry. If you have to bleed, then bleed. But I'll always look back and see a clean and fair game, so I'll be able to be proud of myself"
The Canadian Centre for Ethics in Sport (CCES) will provide third-party anti-doping services for the World Championships, bringing more than 20 years of experience and the latest anti-doping techniques in urine and blood sample collection.
Doping control officers from the Canadian Anti-Doping Program will collect urine and blood samples before and during the World Championships. In addition, CCES staff will be on site to provide outreach services to athletes and access to helpful anti-doping information.
"The CCES is very pleased to be providing doping control services at the IPC Swimming World Championships," said Paul Melia, president and CEO of the CCES. "Say NO! to Doping Day helps prove what we've known for quite some time – athletes want clean sport and deserve to compete on a level playing field."
Say NO! to Doping was recently embraced by the sporting community at the World Games in Cali, Colombia which ran from 25 JulY – 4 August.
Featuring around 500 athletes from nearly 60 countries, the 2013 IPC Swimming World Championships will be the biggest gathering of international swimmers since London 2012.