Andy Barrow: From the Cardiff Super Series to the Canada Cup
Great Britain's Wheelchair Rugby player writes about finding out if he made the team, being drug tested and what he makes of his Canada Cup rivals.
21 Jun 2012
Imagen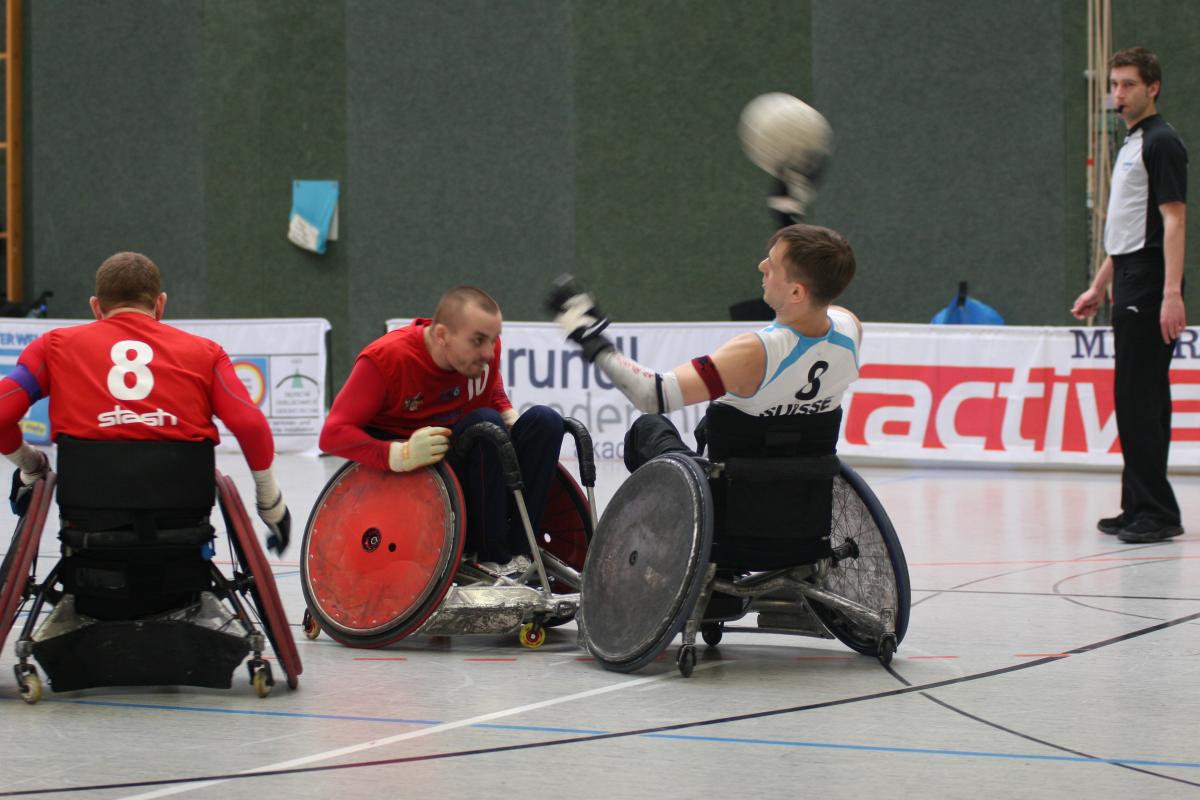 ⒸAndy Barrow
By Andy Barrow
Alison and myself were having breakfast together at the time and the look on my face told her everything she needed to know.
As I write this, I'm sat on a plane to Vancouver, where GB will be competing in the "Canada Cup", their final preparation tournament ahead of London. More on that in part three later, first I'll rewind six weeks to the beginning of May…
Part One; It's Official!
The club season was in full swing and Crusaders arrived at the Cardiff Super Series with a marginally stronger squad than they had at SS1. The return of Bulbul Hussain (1.0), would give us more all-round pace and a crucial outlet when we were under pressure. A puzzling schedule placed the top four seeded teams in the same pool, setting up a hell of a Saturday for everyone involved. We knew we had our work cut out in Wales!
The first game went to form as a full strength Storm team proved beyond the reach of our 6.5 points. However, game two gave us a chance to avenge our loss against the Marauders in March. A much-improved showing saw a comfortable victory and buoyed us for the day's final game against SS1 winners, West Coast Crash. Strong defense from Ayaz Bhuta (2.5) was key as the game ebbed and flowed. Crash always held the lead and despite a rally late on, they closed out the win and consigned us to the bottom half of the competition. Now, a fifth place finish was the best we could hope for.
On Sunday, we brushed aside the Warriors (the second half played exclusively by the low-pointers was a far closer affair) only to be faced with the Marauders again in the 5th/6th play-off. I'm happy to say that again, we executed our game plan well and produced a great team performance to take fifth and end the weekend well. Congratulations to London neighbours, Storm who defeated Crash in the final to take the SS2 title.
On a more sombre note, I'm extremely saddened to tell you that shortly after the SS2 weekend, Sean O'Driscoll, a player with the Gaelic Warriors passed away unexpectedly. Sean was a great guy who had many friends throughout the Wheelchair Rugby family, and we will all greatly miss him.
With SS2 over, one date loomed larger than any other on the calendar. On Monday the 14th of May we would all be privately told whether we had made the squad for the London 2012 Paralympic Games. As the phone rang, my heart was in my mouth. Luckily for me, anxiety turned to elation as the coach told me I had been successful.
Alison and myself were having breakfast together at the time and the look on my face told her everything she needed to know. It was great to share the moment with her because she has given up a great deal for me to follow my dream of going to London. We hugged for a long time after the call and the memories of recalling that moment make me smile as I write this. Any athlete will tell you that they simply wouldn't be able to do what they do without the support of their family and loved ones…
Part Two; A Week in PR!
While Monday was the important day for me, it was actually Tuesday the 15th May that the formal announcement would be made and we would officially become part of the Paralympics GB 2012 team.
The team met at Stoke Mandeville that morning to train and I was back down to earth with a bump as a UK Anti Doping team arrived and I was chosen for a random Drug Test.
A morning of "coffee" instead of "conditioning" proceeded as three other squad members and I did what we had to do.
The UKAD team was very professional, following procedure to the letter whilst being very accommodating as ever. I've said it before and I'll say it again; the inconvenience of testing is a small price to pay for a clean sport!
Training over, we headed to a hotel in central London for a press conference and interviews. It was great to hear the Chef de Mission of Paralympics GB list our names (Kylie Grimes 0.5, Jonathan Coggan 0.5, Bulbul Hussain 1.0, Mike Kerr 1.5, Myles Pearson 1.5, Andy Barrow 2.0, Steve Brown 2.0 Captain, David Anthony 2.5, Ross Morrison 2.5, Mandip Sehmi 2.5 and Aaron Phipps 3.5) and congratulate us on our inclusion.
An appearance on Channel 4 News came next, followed by a celebratory meal and individual media commitments. I fell into bed exhausted, knowing that tomorrow would be equally demanding as we were due to spend the day filming Channel 4's official Paralympic ad.
Crystal Palace was our destination the following morning. We all new this was going to be a big shoot, but nobody realized how big until we found ourselves in make-up before being thrust in front of a three-hundred strong rent-a-crowd!
Filming took all day with a huge crew and several seriously expensive SLR cameras. We've been sworn to secrecy on the exact content of the ad, but I'll be passing on the details of it's airing as soon as I'm allowed. All I can say now is… Don't miss this; it'll be epic!
By now it was Thursday and my crazy week of PR was still nowhere near over. I crammed in an early training session before joining my sponsors, Chaucer at the Lloyds 7's at Richmond Rugby Club.
After a crazy week full of amazing experiences, I was happy to put the DJ back in the wardrobe and get back into joggers and skins. The normal routine of training, eating and sleeping resumed and thoughts turned towards the next major tournament before London…
Part Three; Canada Cup
By now, just three weeks stood between us and the Canada Cup; our last chance of International competition before the Paralympic Games in September. The tournament would be a dress rehearsal for London with exactly the same pools and seedings. For GB, this would mean games against Japan, USA and France, while Australia, Canada, Sweden and Belgium would fight it out in the other pool.
A week before leaving for Vancouver, we came together for a training camp at Stoke Mandeville where we laid out our tactics for each of the teams we would be facing. Obviously I'm not about to go into details of our plans, but a can give you a rough idea of what to look out for in our opposition:
Japan took bronze at the World Championships in 2010 and bring good all round pace to the table, but do lack height as a team. They generally favour the 3.0, 2.5, 2.0, 0.5 line and 3.0 player, Daisuke Ikezaki or "Ike" as we know him is definitely one to watch.
The USA are the best team on paper. Their squad has great depth with a myriad of lines including their trademark four 2.0's. Although best known for fast even lines, they have developed a good hi-lo (3.0, 3.0, 1.5, 0.5) in recent years. Will Groulx, 2.0, is a potent attacking force, while Nick Springer (also 2.0) plays way above his points on defense.
France are the newest team on the International scene and took the 2011 Europeans by storm to claim a berth at London. Their main line is 3.5, 2.0, 2.0, 0.5, and it plays with a great deal of chemistry. Ryadh Sallem, 3.5, has great agility on court and works very well with 0.5, Adrien Chalmin, who was an extremely good Rugby Union player before he was injured.
As for us, if you read my blogs you'll know our strengths and players to look out for. I still think we're a bit of a surprise package, but only time will tell.
Related Images