Esther Vergeer: Wheelchair Tennis Gaining Popularity
Dutchwoman Esther Vergeer, the world's most well-known Wheelchair Tennis player, talks about how Paralympic Sport is entering the spotlight.
05 Jun 2012
Imagen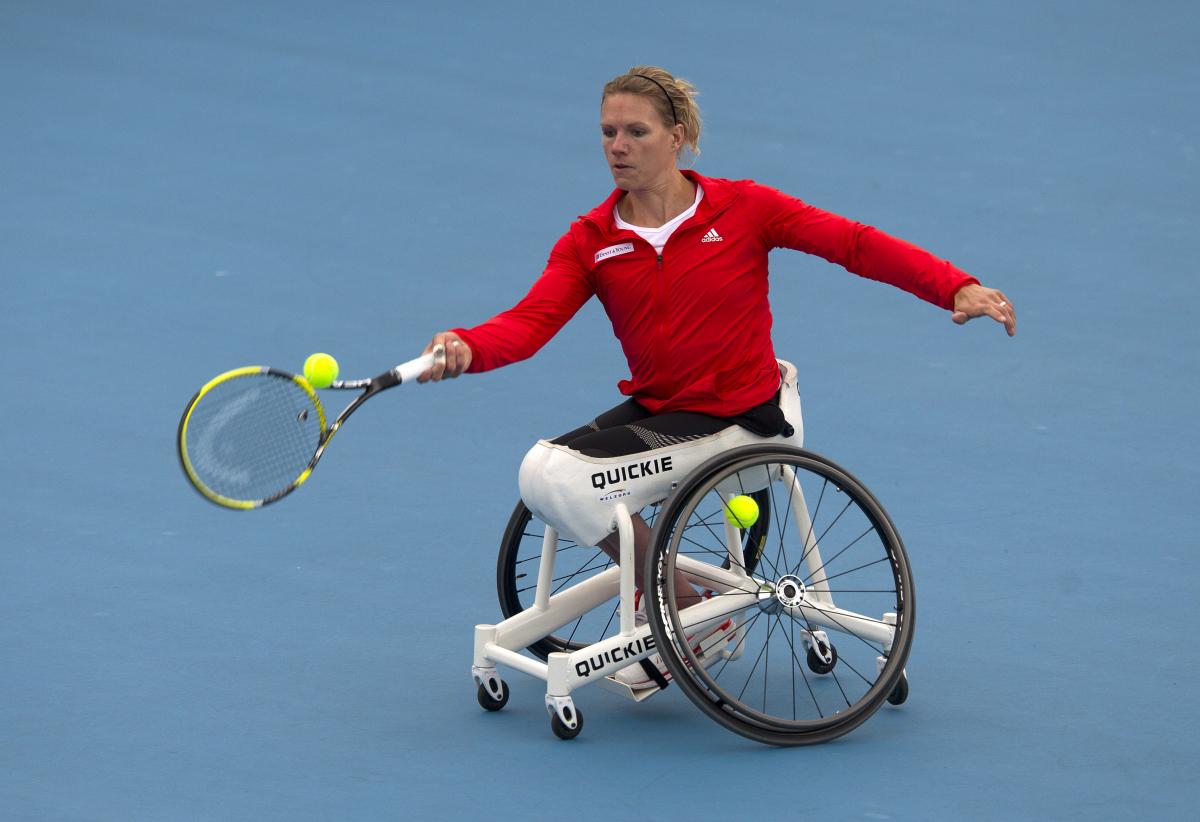 ⒸITF
By Esther Vergeer
"It is a no-brainer that we were talking about it, it is an event that is the object of your training for years."
It is getting more and more popular, the Paralympic Movement.
I am receiving a lot of positive reactions on the videos that I post together with my column on the site of Telesport.
The curious viewer is apparently interested to find out what Paralympic Sport is truly about. I use this blog as a stage to present my sport to the world, just like more Paralympic athletes.
The growing interest in Paralympic sports was something that was talked about during the first Team Parastars Fan day on 3 June in Club Trouw in Amsterdam.
This event was a kick-off to the last route to London 2012.
During this day, Dutch celebrities such as host Humberto Tan, former international swimming champion Pieter van den Hoogeband and comedian Jochem Meijer helped to create an entertaining event.
We, Team Parastars presented ourselves and shared with the public our views and ambitions. We showed special gratitude to our sponsors and to all the individuals that have supported us during the first year of Team Parastars.
After the Fan day, I had to prepare for my next goal: Roland Garros.
I chose to focus on Roland Garros and not on the World Team Cup in South Korea. All my Dutch colleagues are present at the WTC event but I decided to avoid jetlag and also the abrupt change from hard court to the gravel of Paris.
I had a bit of doubt about my choice when I noticed that the weather in South Korea was perfect and that the weather in Holland was very bad. It even impeded me from training on gravel. Fortunately, the weather has turned around.
This week I received the official news from the Dutch Paralympic Committee that I may participate in the Games.
I was happy to hear that despite the fact that my participation has not been a point of discussion, the announcement also means that another player cannot play at the Paralympics. It turned out that Sharon Walraven will not take part in the Paralympics. She is one of the best doubles players in the world but the other Dutch players (Aniek van Koot, Jitske Griffioen and Marjolein Buis) are all in the top five of the world rankings.
During a recent stay in Florida with all these players, we already spoke a lot about London – the road to the Paralympics and the Games themselves.
It is a no-brainer that we were talking about it, it is an event that is the object of your training for years.
Two of my other colleagues from Team Parastars, athlete Marije Smits and sailor Barend Kol are still looking to qualify for London, and I wish them all the best.
London 2012, we are all getting ready and excited for this event.
A good warm up recently was the centennial birthday of the Dutch Olympic Committee. All the medal winners of both Games, the Olympic and Paralympic were together, just as it should be.
Now, we have less than 100 days to go. I cannot wait.
Esther writes a column every three weeks, together with Eddy Veerman, editor at De Telegraaf.
Related Images