Hear my voice: UAE's Haifa Alnaqbi on coming back from the brink of despair
Powerlifter shares heartbreak of anti-doping violation, forfeiting her medals and how she tried to recover
06 Dec 2020
Imagen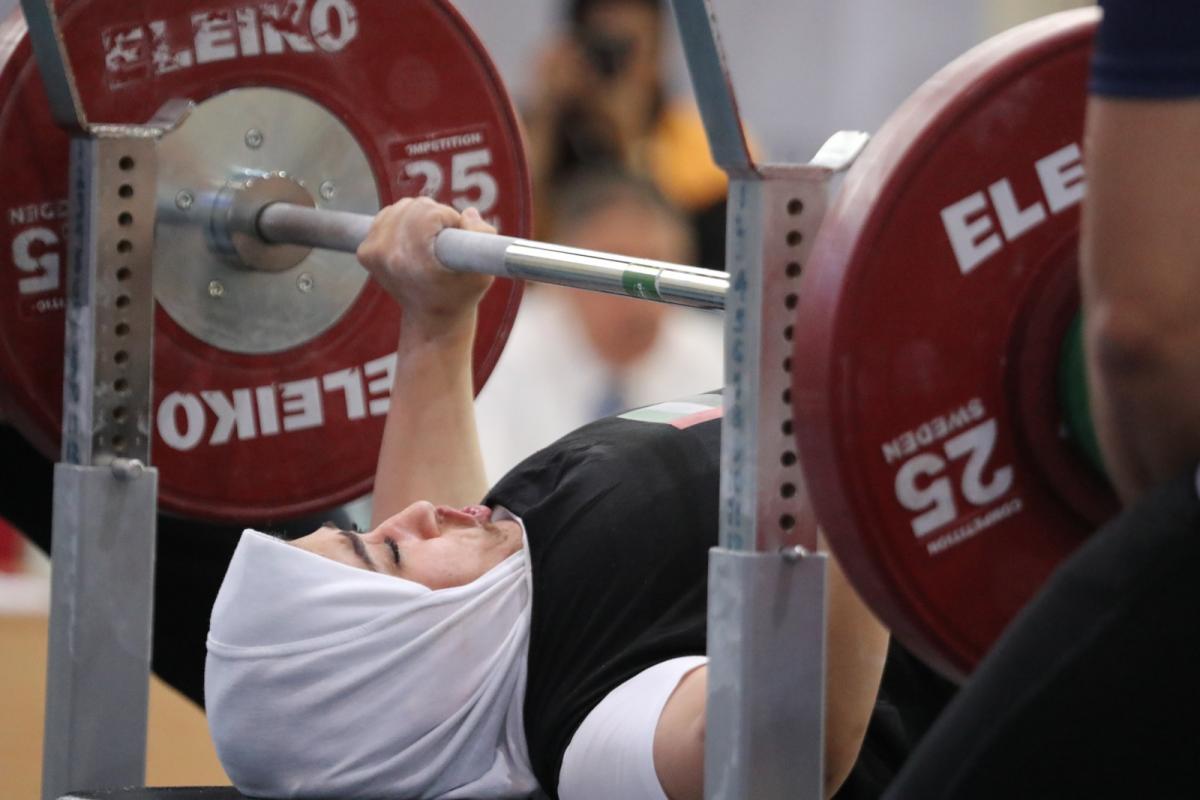 ⒸHiroki Nishioka
By Haifa Alnaqbi
Life teaches us many lessons. Some lessons are bitter, but they give our life a new direction. I too learnt my lesson following the doping ban last year. The most important lesson was 'never stop believing in oneself and continuing chasing one's goal'.
I came back stronger. I feel refreshed and clean. I now have renewed focus and integrity to the sport, fellow athletes, family and myself.
I am Haifa Alnaqbi, a 38-year-old Para powerlifter. I represent the United Arab Emirates' (UAE) national team in women's up to 73kg class weight category. I served a six-month suspension for an anti-doping violation for the period 11 September 2018 to 10 March 2019.
I look back on the fateful day when I heard the news that shattered my life. I was getting ready for my training at the Khorfakkan Club when I came to know my urine sample collected during the 2018 World Para Powerlifting Asia-Oceania Open Championships in Kitakyushu, Japan had tested positive.
The Fazza 2019 World Para Powerlifting World Cup was just around the corner and thus training was on full swing.
The news shattered me. How did this happen to me? Was this the end of my sports career? The news sullied my reputation and my clean record. Now there would be disbelief over my previous achievements too. I was an emotional wreck. 
Having spent 10 years in this sport, I had a performance sheet that built my reputation, integrity and brought me fame. My career highlights include bronze medals at the Asian Para Games (Incheon 2014 and Indonesia 2018), as well as at the Asia-Oceania Open Championships (Open and Regional) 2018 in Kitakyushu. 
All happy memories vanished in a blink because of one mistake. I forfeited my medals won at Indonesia 2018 and Kitakyushu 2018 following the ban.
The episode teaches one important lesson – athletes  must always check their medications and supplements.
I have a clear conscience about my case. Allah knows my heart is clean. There was no intent to cheat. Then how did the banned substances come in urine test? Sports fans should know I was under prescription medicines as I was undergoing treatment. My only mistake, I admit, was not telling club officials about the medicines. I took the medications without checking with the team doctor or the banned drugs list.
Doping rules are rigorous and clear. An athlete's body should not have banned substances. Mine had. I accept my mistake. Well, this is life.
Thanks to the support of my family, friends, colleagues, Khorfakkan Club and the UAE Disabled Federation I regained my confidence and self-esteem. They believed in my goal of raising the flag of my country with integrity and honour.
Finally, I could overcome this ordeal and learn my lesson. I learned that an athlete is different from an ordinary person. The stakes are high and so is responsibility. An athlete must be alert and listen to coaches and officials so he or she does not fall into such problems.
After serving the ban, I returned to training in early April 2019 before the Nur-Sultan 2019 World Para Powerlifting Championships. As it was a retrospective ban, I did not stay out of action for too long. I figured in the camp for Nur-Sultan 2019.
The setback did not kill my spirit. I continued my training. I never stopped believing in myself that I could win my 'pride and honour back' and win medals for UAE. I did this at the 2019 West Asian Para Games when I won the silver medal in Jordan.
My advice to Para athletes: 'Never stop believing in yourself. Keep training to achieve your goals. Keep your focus and be honest to the sport. Tell your team doctor and officials about your prescribed medicines.'
Now my goal is to compete at the Tokyo 2020 Paralympic Games and do well for my country. The UAE team has started training, but because of COVID-19 we continue to train at home under Coach Adel Al-Washa.