Hear my voice: Amy Marren talks limb difference and #NotAWitch
Paralympic swimming medallist talks about WarnerBros' latest movie 'The Witches' negative portrayal of limb deficiencies
The film's lead actress Anne Hathaway, the filmmakers and Warner Bros. Pictures apologise following criticism from the disability community
06 Nov 2020
Imagen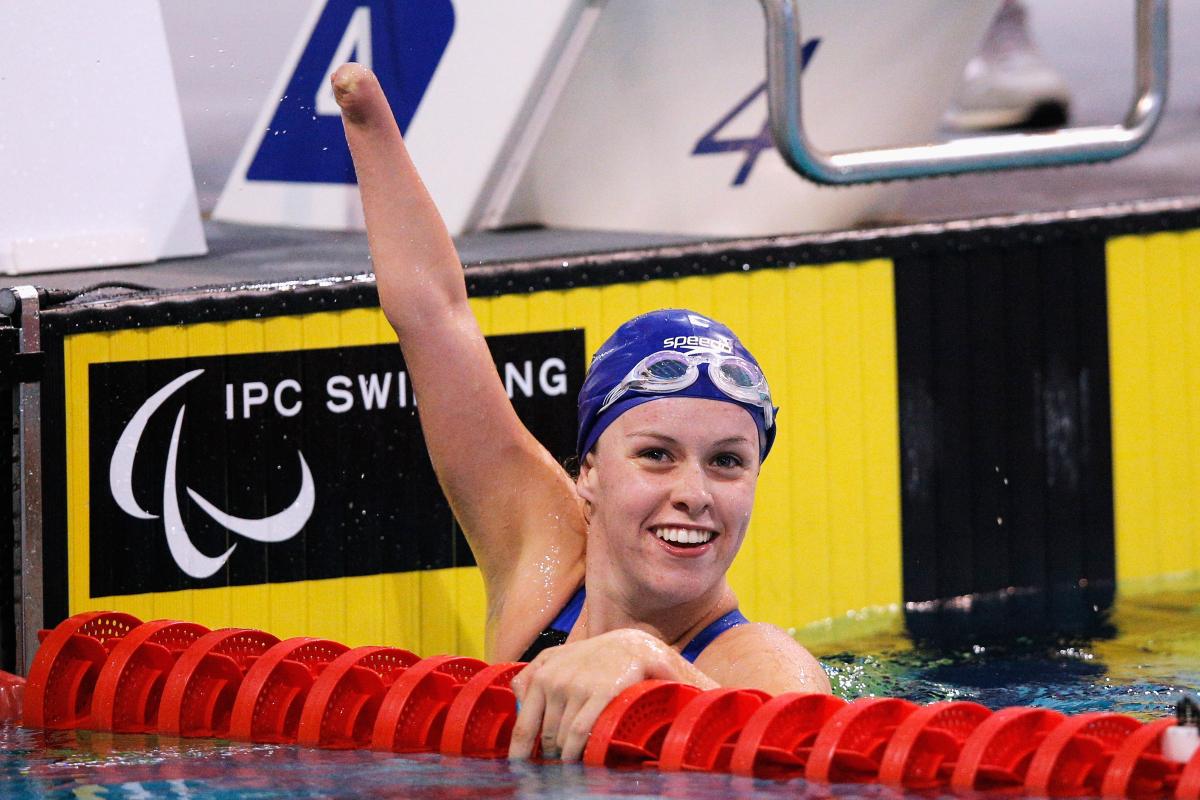 ⒸGetty Images
By Amy Marren | For the IPC
I am a double Paralympian, born with a missing right hand at the level of the wrist, but despite this I am determined to ensure that my difference is my strength. I often refer to my life in sport as a "previous lifetime" as I retired from swimming in February to pursue my career in Law.
Before voicing my thoughts and feeling towards the #NotAWitch movement which has been established following the release of The Witches [2020], I wanted to take the opportunity to share what inclusion means to me. By definition, inclusion is the action or state of including or of being included within a group or structure. But to me, inclusion means much more than that. It means accepting people as they are and seeing their differences as their strengths. By embracing others and ensuring that they are included, it also gives you the opportunity to learn about other people and how their difference can act as an asset, especially as part of a team, which benefits us all.
As Paralympians, we have found ourselves in unique positions and through that, we were able to see the importance in seeing past each other's disabilities and appreciate each other's talents. However, these opportunities to see beyond a person's difference can be found outside of the Paralympic Movement and I believe that every single one of us has endless opportunities to appreciate the differences in others around us. We can all learn to appreciate people despite their age, gender, ethnicity, religion, disability, sexual orientation, education, or national origin. 
The Paralympic Movement has also been instrumental in changing the world's perceptions of those with disabilities. To give you some figures, 15 per cent of the world's population are disabled, yet only 2.5 per cent of people with disabilities reach our screens in the form of sport, TV and film. By all logic, and as a community, we should be delighted to see limb differences highlighted in films such as The Witches.
However, what we did not anticipate is for limb differences to be associated with Warner Bros portrayal of a Witch ie, a scary, frightening creature. Representation is something that we are constantly fighting for and although it is promising to see a limb difference made so noticeable in a film, the approach and connotations are potentially wrong and hurtful.
Following the release of The Witches, I started to see the distress become more apparent among the limb difference community and although I myself am not easily offended by the scenes, I am concerned for the next generation of young adults and children with limb differences. On the one hand, I am fully aware that this is a fictional film that aims to share a story of hope and kindness which I am in full support of. However, I am not necessarily sure that people are aware of the fact that the 2020 release has deviated so far from the Roald Dahl original which identified Witches as those with claws on the tips of their fingers. What we see in the 2020 film is very different from the original and to the limb difference community, it was an unnecessary and significant change.
There are many people out there, athletes being some of them, that act as advocates for limb differences. Many of these same people have overcome their own fears in order to finally feel accepted in a world that already defines you by your difference. These people have their own horror stories of being different and face comments every day…"your arm is ugly", "what happened to your arm", "your arm makes me feel sick" and not everybody is able to relate to how much these comments can affect people. As well as this, those with limb differences now face a new wave of unsettling comments that compare us to Witches! What I am trying to say is that regardless of my own thoughts and feelings towards my little arm, it is still difficult for a number of people to see a limb difference associated with Witches and even more difficult to anticipate what conversations may follow as a result.
It has been inspiring to see the #NotAWitch campaign sweep across social media so very quickly. Within the space of three very short days we have made global news and reached the main star Anne Hathaway. I would personally like to join the rest of the limb difference community in thanking Anne for publishing such a sincere and personal statement on her social media platforms. I hope that because of Anne's step forward towards raising awareness of limb differences, this can open up much more casual conversations about limb differences and the wider community and also allow people to educate themselves. I also hope that others can follow Anne's advice about kindness and having a reasonable level of decency towards others.
Finally, I am in no way saying "Let's boycott the film!". Instead, I am saying by all means, do watch and enjoy this film but please, please make sure that if you choose to watch it, also choose to make the conscious effort to have an open conversation about limb differences and let it be known that it is more than ok to be different from everyone else! Let's all keep moving forwards, keep educating and continue to embrace each other's differences!
Anne Hathaway, the filmmakers and Warner Bros. Pictures issue apology
The film star wrote on Instagram that she is sorry "to kids with limb differences: now that I know better I promise I'll do better."
At the same time, Warner Bros. Pictures issued a statement which said: "We the filmmakers and Warner Bros. Pictures are deeply saddened to learn that our depiction of the fictional characters in The Witches could upset people with disabilities, and regret any offense caused."
"In adapting the original story, we worked with designers and artists to come up with a new interpretation of the cat-like claws that are described in the book. It was never the intention for viewers to feel that the fantastical, non-human creatures were meant to represent them. This film is about the power of kindness and friendship. It is our hope that families and children can enjoy the film and embrace this empowering, love-filled theme."