Per Kasperi: An introduction to me
Find out about the newest Paralympic.org blogger on the road to Sochi 2014 – a rising ice sledge hockey star from Sweden.
11 Dec 2013
Imagen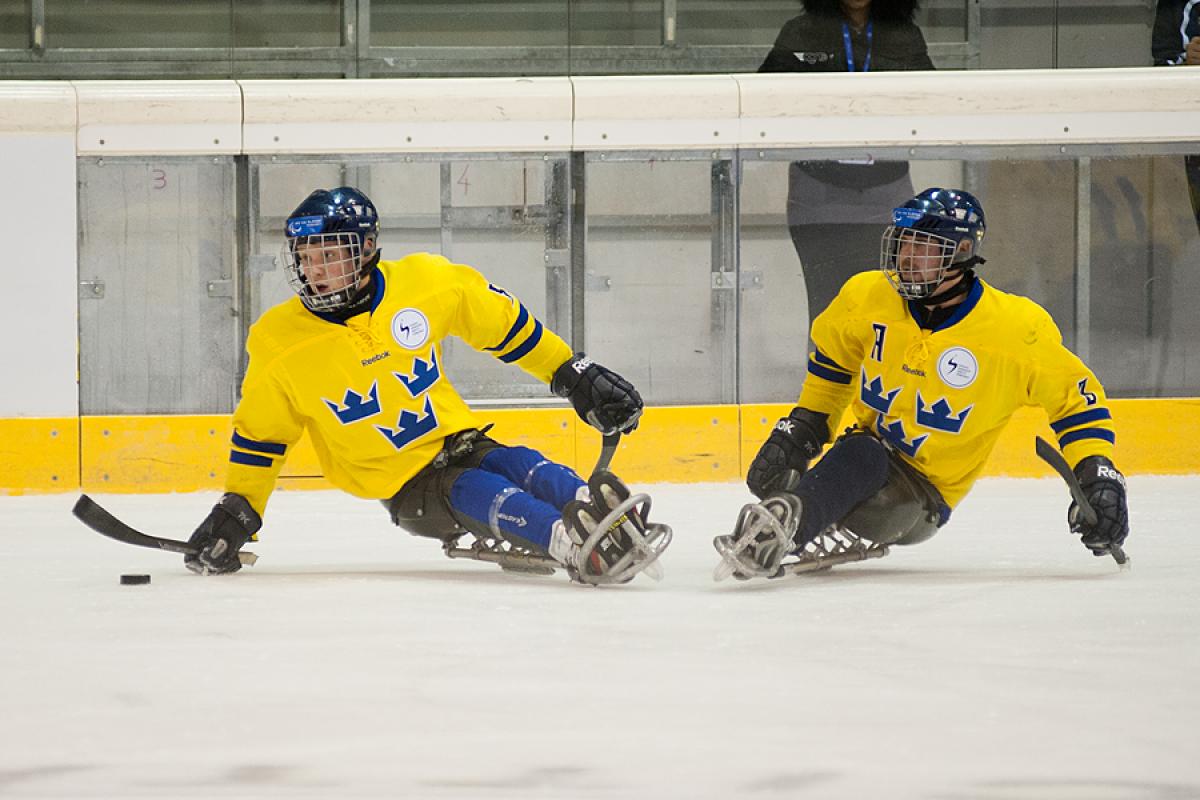 ⒸLuc Percival
By Per Kasperi
To track my journey to Sochi 2014 follow me on Twitter and become a fan of Sweden's ice sledge hockey page on Facebook.
My name is Per Kasperi and I am 20 years old. I play ice sledge hockey for the Swedish national team, and I'm going to be blogging regularly for you here on Paralympic.org on the road to the Sochi 2014 Paralympic Winter Games.
So, as a first blog post I thought, it would be fun if I interviewed myself with some questions that you might find interesting.
Where do you live?
I live in Stockholm, Sweden with my parents. I have two older brothers, Fredrik who is 24 and Johan who is 25. Both have been active in sports – in ice hockey and badminton, respectively.
What are your interests off the ice?
I like art in many forms, and one of my passions is drawing. I can sit for hours and sketch if I only have a pen and a paper. In particular, tattoos are one kind of art that has, for a long time, caught my interest. On my 18th birthday I got my first tattoo – a sentence that has been in my head since I was probably 15 years old. It says: "You can be different."
When did you start playing sledge hockey and why did you like it?
I was six years old when I first got into a sledge. Because my older brother played hockey, it also was a dream for me to be a hockey star like him. What I like about the sport is that it's fast and a tough game with full contact, and to achieve things as a team is just amazing.
Have you ever tried any other sports?
I have tried a lot of sports, including wheelchair basketball, wheelchair floor ball, wheelchair tennis and swimming. But one sport that really caught me was sit-skiing, which I tried for the first time when I was only four years old. When I got a little bit older I started competing, but right now it's just a hobby of mine, as I've been trying to perform some tricks on the ski.
How are you training for the Paralympics?
Of course, I spend a lot of time on the ice, both with my club team Nacka elks and with my teammates on the Swedish national team. I go to the gym a lot where I combine strength training with cardio training. I also have a personal trainer who has been helping me getting stronger and more explosive.
Tell me something people do not know about you?
One thing is that in Sweden there are a lot of different dialects, and I'm pretty good at imitating them all just by listening.
To track my journey to Sochi 2014 follow me on Twitter and become a fan of Sweden's ice sledge hockey page on Facebook.