Age-defying cyclist Keiko Sugiura looks toward Paris 2024 and beyond
At Tokyo 2020, the Japanese athlete captured two gold medals at age 50 and became the oldest-ever Paralympic gold medallist from the country
27 Aug 2022
Imagen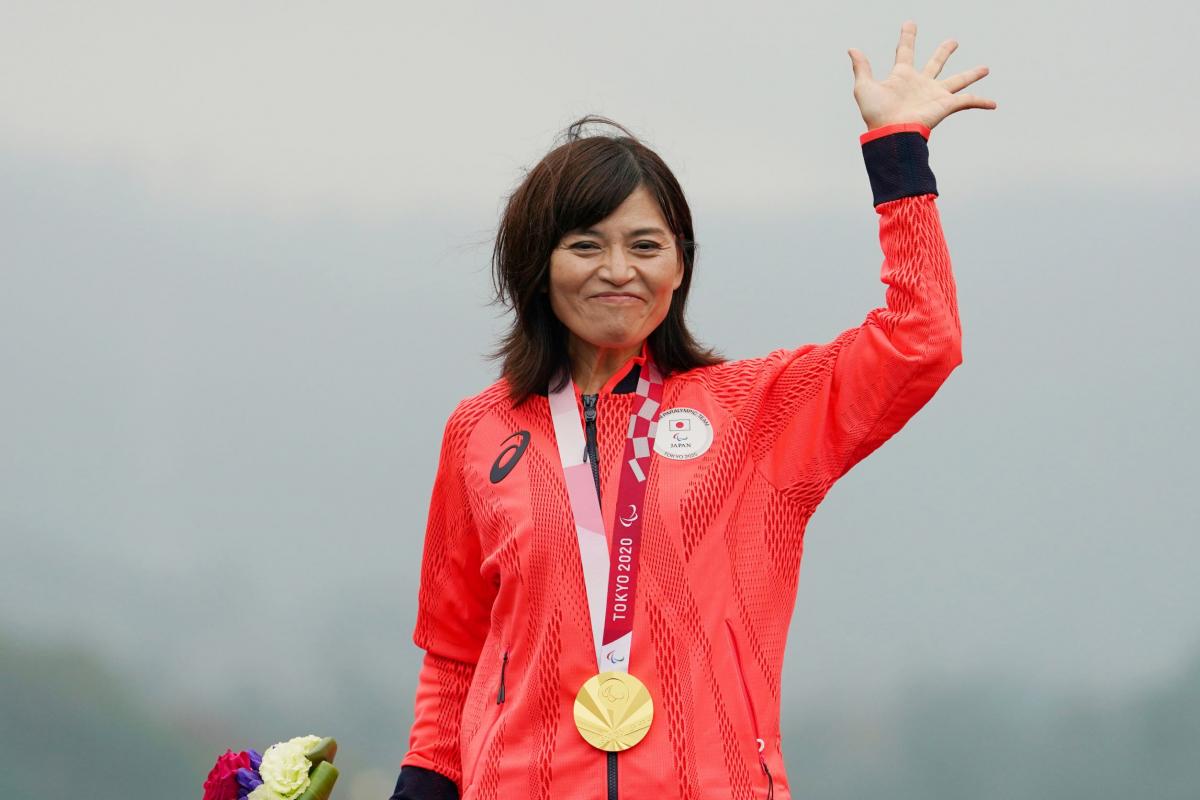 ⒸToru Hanai/Getty Images
By Ayano Shimizu | For the IPC
While Keiko Sugiura became Japan's oldest-ever gold medallist at the Tokyo 2020 Paralympic Games, the 51-year-old cyclist does not see herself close to putting an end to her storied career.
For Sugiura, winning the women's time trial and road race C1-5 at Tokyo 2020 feels like something she accomplished in the "past", she said, and there is room for improvement.
"I always want to be a better version of myself every day. I don't want to throw away my aspiration to become better," said Sugiura, who won the C3 road race at the 2022 Para Cycling Road World Championships in August 2022.
"What I am aiming for is to extend my record of becoming the oldest gold medallist at Paris. I know that's what everyone wants to hear from me."
Defying age
Sugiura won the time trial at the 2017 World Championships and the road race at the 2018 Worlds before claiming Worlds silver in both events the following year. 
Despite her success in cycling, Sugiura considered retiring from the sport after the Tokyo 2020 Games were postponed for one year because she did not think she had what it takes to compete against a field of much younger athletes.
"Young athletes from around the world really grew up in 2019. Seeing how much they had improved, I told myself that I need to keep my place for half a year," she said.
"But when I thought about the Games taking place in a year, I wondered what those young athletes would be like. I just thought I would lose."
But after she was reminded by her coaches that she still had many things to work on, Sugiura made up her mind to go the distance. She worked on her skills and trained on the cycling route in different weather conditions to prepare for what she could expect during the Games. 
As Japan did not win any gold medals at the Rio 2016 Paralympic Games, Sugiura was eager to capture the top prize for the people who had supported her along the journey.
Her efforts paid off during her Paralympic debut at Tokyo 2020.
In addition to becoming the oldest Japanese gold medallist, Sugiura made history on home soil by becoming the country's first double Paralympic champion in cycling.
Looking back, she said the best part about winning gold at home was being approached by many people and being thanked for giving them inspiration and courage.
"One thing that has changed since the Paralympic Games is how people have come up to me to thank me for what I did," Sugiura said. "I was so happy to receive those messages and I started to think that I want to do my best to receive more messages like that."
Riding to Paris
Sugiura says one of her strengths is how she can identify with the coaches the things she can improve on, which is also the reason she likes the sport.
With two years to go until the Paris 2024 Games, the Para cyclist's target is to improve one step at a time.
"Of course I wouldn't say that I'm aiming for the bronze medal. I'm aiming for the top spot," Sugiura said when asked about Paris 2024. 
At the same time, she understands that there will be a field of young athletes competing against her. Sugiura said she would even be glad if she can pave the way for such youngsters in Japan to reach the Paralympic Games.
"I am excited to see how young athletes in Japan grow and if I can help them, that will be great," she said. "Of course I am now training so I can go to Paris, but I will be able to accept myself if I can help young athletes reach the Paralympics."
Four more years?
While Paris 2024 is one of her goals, Sugiura's ultimate goal is to participate in the 2026 Asian Games in Nagoya.
She does not know yet if she will compete, but she hopes to contribute in any way that she can.
"Maybe I will be a supporter or a volunteer or a staff member, but I would like to aim for that," Sugiura said.
"Maybe people will see me try and fail, and think that it is OK to fail at something they work really hard at," she added. "I think I can embrace myself even more and grow as a person."