Aussie legend Louise Sauvage relives past with eye on future
The nine-time Paralympic gold medallist looks back on a career of glory and ahead to helping her team grab more medals as a coach
05 Aug 2021
Imagen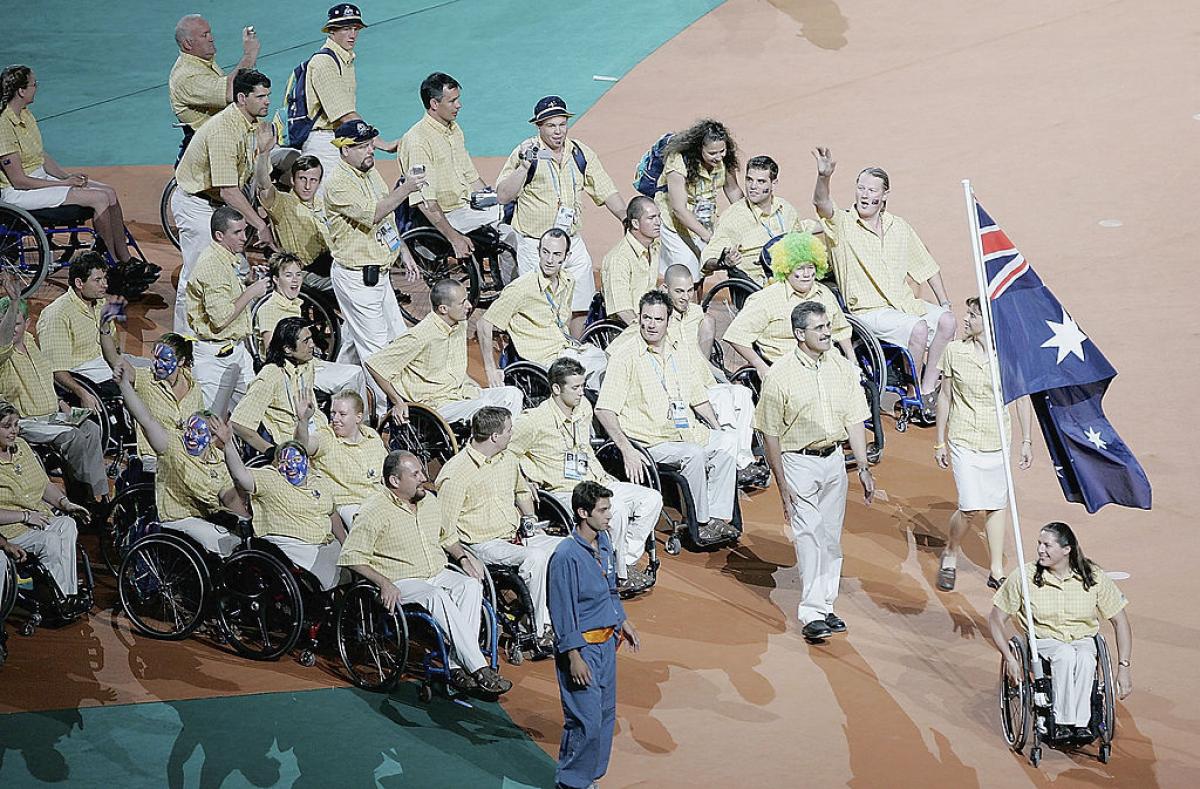 ⒸBrian Bahr/Getty Images
By AMP Media I For The IPC
Few athletes can have a better overall perspective of the Paralympic Games as Australian legend Louise Sauvage. The wheelchair racer is perhaps Australia's most renowned Para athlete.
She began her Paralympic journey at the tender age of 19 at Barcelona 1992 – and came away with three gold medals. Four golds followed at Atlanta 1996. Later on home turf at Sydney 2000 she clinched an emotional pair of golds.
Post-retirement too, Sauvage decided to give back to the sport. As a coach, she is deeply involved with Australia's current crop of track racers as they prepare to head out to Tokyo 2020. Sauvage has also been appointed as an ambassador of Disability Sports Australia to raise awareness of and promote physical disability sport in the country.
RISE OF THE PARALYMPIC MOVEMENT
The Paralympics have come a long way in that time.
"The Games have changed massively in terms of the recognition the athletes get, the opportunity for sponsorship and the marketability of the athletes – which is absolutely brilliant," Sauvage said. "The respect they have, and the way the sports have grown, has been fantastic."
Sauvage helped it happen, starting in 1992. "Going to my first Paralympics, I really got to see what my sport was all about, and I was hooked. Growing up, I had no clue what the Paralympics were," she said.
"I think lots of people find it difficult to find their place in life, so it was amazing to fall into this world and think 'I belong here.' Now, I wanted to be the best."
Her triple gold medal haul, in the 100m, 200m and 200m TW4, shocked the field. "At every Paralympics, you never know who is going to show up and surprise people. In 1992, it was me! I came out of the woodwork. But I knew before the Games that I had a bloody good chance."
Atlanta was different: Sauvage was expected to dominate, and dominate she did, winning the 400m, 800m, 1500m and 5000m. "It was mind blowing," she said. "I went to the longer distances, and I liked the challenge and the tactics of that. The 400m and 5000m finals were just a couple of hours apart, so that was insane. I remember trying to warm down, but not too much before I had to warm up again.
"But my main memory of Atlanta is the closing ceremony. A friend of mine carried the Paralympic torch, and I remember thinking, 'I would love to do that in Sydney'. And you know, I did get to do it."
SYDNEY - THE GAME CHANGER
Sydney remains a huge turning point in the Paralympic Movement, according to Sauvage. "I might be biased, but I do really think that Sydney was the best Olympics and the best Paralympics of all time," she said. "And for Paralympians, it was the Games that showed how athletes should be treated. It has gone from strength to strength since, and I'm really proud of what we did in Sydney.
"Personally, too, the Games were phenomenal. A home Games is the highlight of any athlete's career. I wanted to win in front of home crowd. And it was the first time that my family and friends got to come along and see what it was about. Athletes all over the world were suddenly headline news. The atmosphere was just fantastic."
Sauvage thinks there is more glory to come for the Aussies in 2020. "The wheelchair track and road team are looking very strong," she said. "I can't wait to get there and get on with it. We've got some great athletes who will stand out and be a threat, like Sam Carter, Luke Bailey, Angie Ballard, Madison de Rozario and Eliza Ault-Connell. They've worked so hard."
The former track star loves coaching as much as she did racing. "I get so much of a buzz out of it," she said. To be involved in someone else's journey is just priceless. I believe it's fantastic to try and help others to achieve their goals and dreams. It is a fantastic job."