Australia's Jaryd Clifford left it all on the track in Tokyo
'Aussies, past and present, have put their bodies on the line for this Movement, and so I don't have the right not to'
02 Nov 2021
Imagen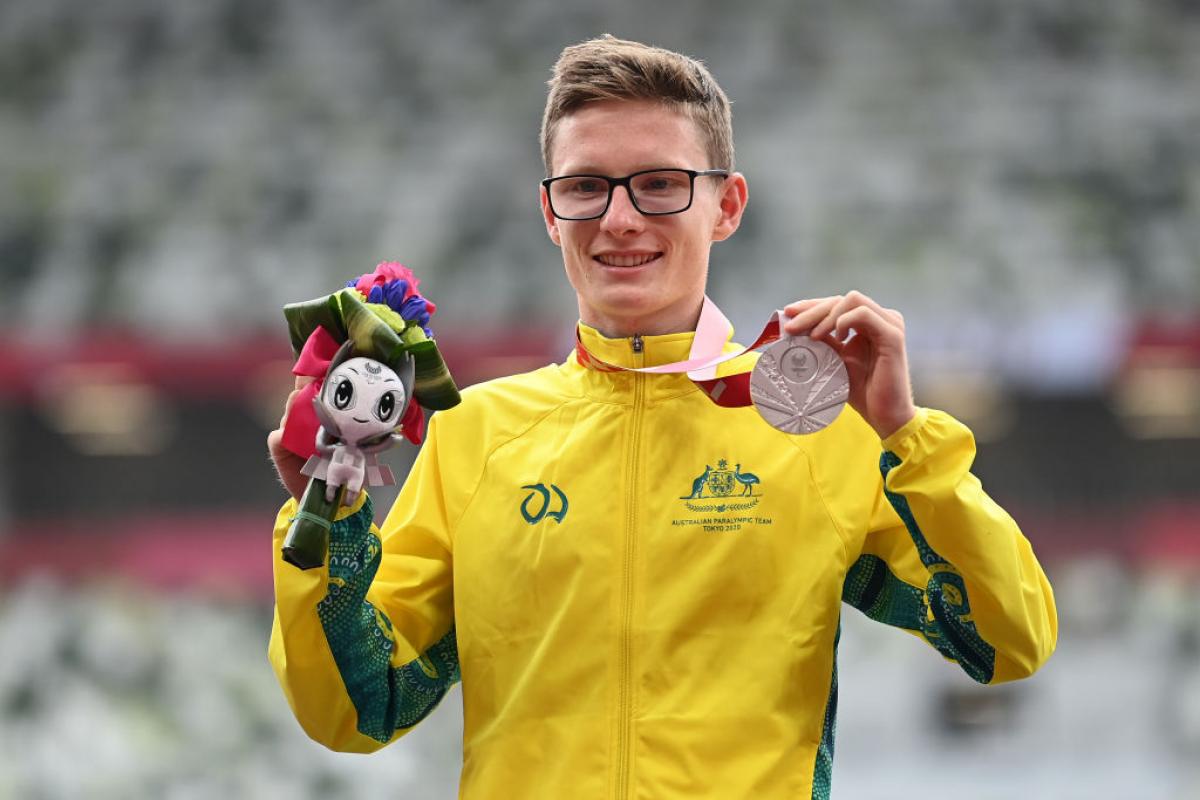 ⒸAlex Davidson/Getty Images
By Lauren Robertson | For the IPC
Every time Jaryd Clifford competes on the world stage, he is racing not only for himself, his teammates and his country, but also every Australian athlete who came before him. It is no wonder then, that he left so much of himself on the track in Tokyo.
After making his Paralympic debut in 2016, the five years between Games were a period of huge transformation for Clifford - once a boy, now a man, he had also emerged from the middle of the pack and arrived in the Japanese capital as a genuine gold medal contender.
As the reigning World champion in the men's 1500m and 5000m T13, and T12 World record holder in the 1500m and marathon, Clifford was in pole position to tick off the last remaining item on the bucket list he had set for himself when he was 13 - Paralympic gold.
Of course, with the Games now done and dusted, and planning for Paris 2024 well underway, we know that gold eluded Clifford in Tokyo - instead, he won two silver medals and a bronze. At the time, his devastation was palpable. What the 22-year-old has since come to realise, however, is that disappointment and pride can coexist.
"Every athlete in the medal hunt wants to win gold, and falling short, I was shattered," Clifford said. "But even if I had won gold, never in my wildest dreams did I imagine I would return home from Tokyo with three Paralympic medals. It's a massive achievement, and one that fills me with so much pride. Of course, I did everything I could to win, but on that day, in those conditions, I was beaten by the better athlete."
Pushing his body to its limit was a feature of Clifford's Tokyo campaign, and one that left a semi-permanent mark on the track of the National Stadium.
According to Clifford, who has an early-onset form of mascular dystrophy, there is a simple explanation: as he fatigues, so does his vision, causing him to become dizzy. That, together with the sheer intensity of racing in oppressive heat, leaves his breakfast little choice but to come up.
However, as Clifford's guide and best mate, Tim Logan, points out: "Not everyone vomits - not everyone will push their body to that extreme, and then dig as deep as Jaryd does to keep going."
"In the 5000m, my body wasn't handling the pace as well as it might usually," Clifford said. "The conditions were some of the hottest I have ever raced in, and so by the time we hit the home stretch, the race for gold … well, I was fighting just to finish. Watching it later, the way it looks on TV is essentially how it felt - like I was running in sand.
"But to represent your country at a Paralympic Games is a privilege, and one to which you owe your absolute all. Kurt Fearnley [five-time Australian Paralympian] once pushed a marathon with a tyre puncture … Aussies, past and present, have put their bodies on the line for this Movement, and so I don't have the right not to."