British swimmer Ellie Robinson wants to enjoy the moment
Paralympic champion focusses on the here and now while she prepares for second Games appearance
11 Apr 2021
Imagen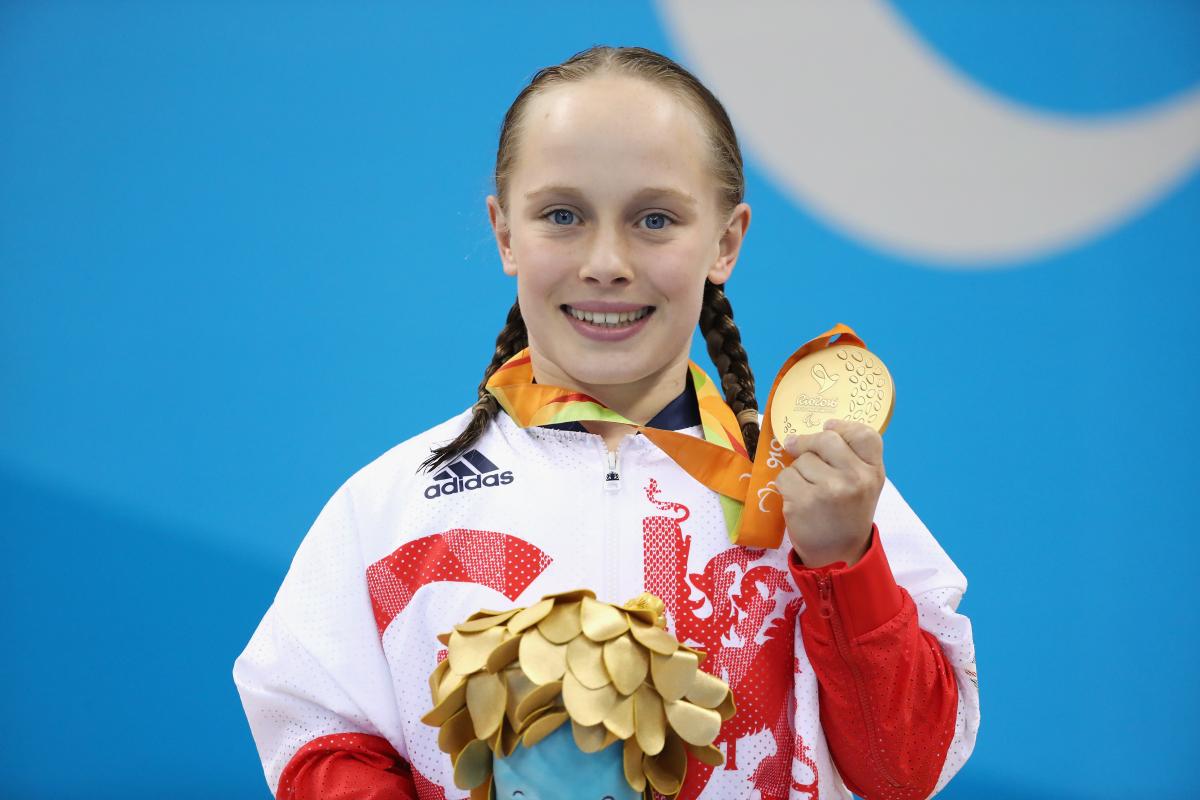 ⒸGetty Images
By Tokyo 2020
"It was nice to have a mission again," British Paralympic swimmer Ellie Robinson said a few weeks after returning to competition at the Manchester International Swim meet last February.
The Rio 2016 gold medallist and world champion showed she has not lost her form when she won the 50m butterfly to take the top step on the podium.
"It was really nice. I forgot how good it was to be racing again and obviously it's not the first thing we think of when we think of competition, but I really enjoyed the independence again. I really liked having that responsibility when I raced," Robinson said.
After swimming - and much of the sports world - took a backseat for most of 2020, British Olympians including Adam Peaty, James Wilby and Luke Greenback also participated in the meet along with Paralympic stars like Ellie Simmons and Robinson herself – who are all vying for glory in the upcoming Tokyo 2020 Games.
"It's just really nice because these are people I haven't seen in way over a year. It was really nice having people to race as well. It's great to get that kind of competitive edge back again. It's nice to have competitions," Robinson added.
What is next for the young British para swimmer in the lead up to Tokyo 2020 are the Paralympic trials in April and the European Championships the following month. But with the current climate and the COVID-19 pandemic, Robinson wants to play it all by ear.
"It's obviously very difficult to plan for the year because who knows what's happening in the next two months, never mind six months. It's obviously very difficult," the 19-year-old athlete said.
"It's something we've never done before but [the unpredictability of it] is quite nice because it really makes you focus on the here and the now. And that's something that as athletes we don't normally do. We're always thinking about an end goal at the end of the year or the biggest competition of the season so it's actually quite nice just to be living in the moment."
FROM A TEENAGE STAR TO A FORMIDABLE ATHLETE
Robinson was born with Cartilage-hair hypoplasia – a rare type of dwarfism – but had always been surrounded by sports in her family growing up. But it was after watching London 2012 that she decided to take sports seriously and carved a path for herself in swimming.
She has been a trailblazer in the sport since she was a young teen: she broke a world record at 13 and became a Paralympic champion at 15, winning two medals at Rio 2016.
Looking back, these are the triumphs that Robinson says helped her grow.

"It was something that not many 15-year-olds have to go through. I found that being an elite athlete at such a young age really forces you to grow up quickly. It forces you to take responsibility, take that ownership, find your independence, [and] find your feet. And even though I say it forces you to, it is actually something that I quite enjoyed," she reminisced.
Breaking into the world of sports at a young age, Robinson credits senior athletes in ParalympicsGB for guiding her through the path of success.
"It was nice knowing that you had so many older athletes and experienced athletes as well who'd done it before. And they have laid down their experiences and set the path for you as well. It was just a nice place to be. It was a really good environment to be on - it's quite empowering with them."
While she now holds a prominent place in her sport and still has the world record (100m butterfly S6) to boast of, Robinson has never been one to become complacent. 
When her world record in the 50m was broken by Chinese Jiang Yuhan at the 2019 World Championships, this inspired Robinson to regain her focus and to do much better.
"That really put a fire in me. I was really determined to get it back. And I think that's probably one of the best things to happen to me. I'm not saying that I needed it, but I think it gave me that extra grit." 
OVERCOMING ADVERSITY

Robinson has a quiet wisdom about her even in her young years. And now at 19 and aiming for her second Paralympic Games, she has learnt to strike the balance as an athlete and also as a person.
"I think the difference from being a little bit older is actually just knowing and understanding myself a little bit more and having a little bit more awareness of how to deal with what life throws at me. It's really given me some quite good coping mechanisms," she said.

Being in the limelight as a Paralympian, Robinson deals with the pressure and demands of her sports with grace.
"They always use the phrase overcoming adversity – but for me the adversity that I've overcome isn't necessarily my disability. It's actually the life of being an athlete. And just the day to day, life of being a swimmer."
SENSE OF IDENTITY

Now that she is into history, Robinson may write another chapter in the Paralympic record books in the rescheduled Tokyo 2020 Games. But Robinson is excited of not knowing what may be coming her way.
"What's so good about the Games is it's really going to be quite unpredictable because no one knows. I haven't seen many of our rivals [and] we don't know what they're doing in about a year. So I think everyone can go into the game saying, 'I want to do this, I want I want to win, I want to achieve kind of whatever time' because I think really no one knows what's going to happen.
"On one hand, that can be quite nerve wracking, but also it has an element of excitement about it."
While the reality of the pandemic is still there, Robinson knows that as a Para athlete, the Paralympic Movement is a force to be reckoned with, pandemic or not.
"[Paralympic Games have] given me a huge sense of identity. It's kind of what I'm known for and it's given me a platform to speak about things that I'm passionate about, about labels and categories in the progression of the Paralympic Games. It's given me a real voice."