Alejandra Aybar's journey to make her coach and her country proud
'I want acceptance and inclusion for people with disabilities in society and sport,' says athlete who aims to be first Dominican swimmer at the Paralympics
12 Mar 2021
Imagen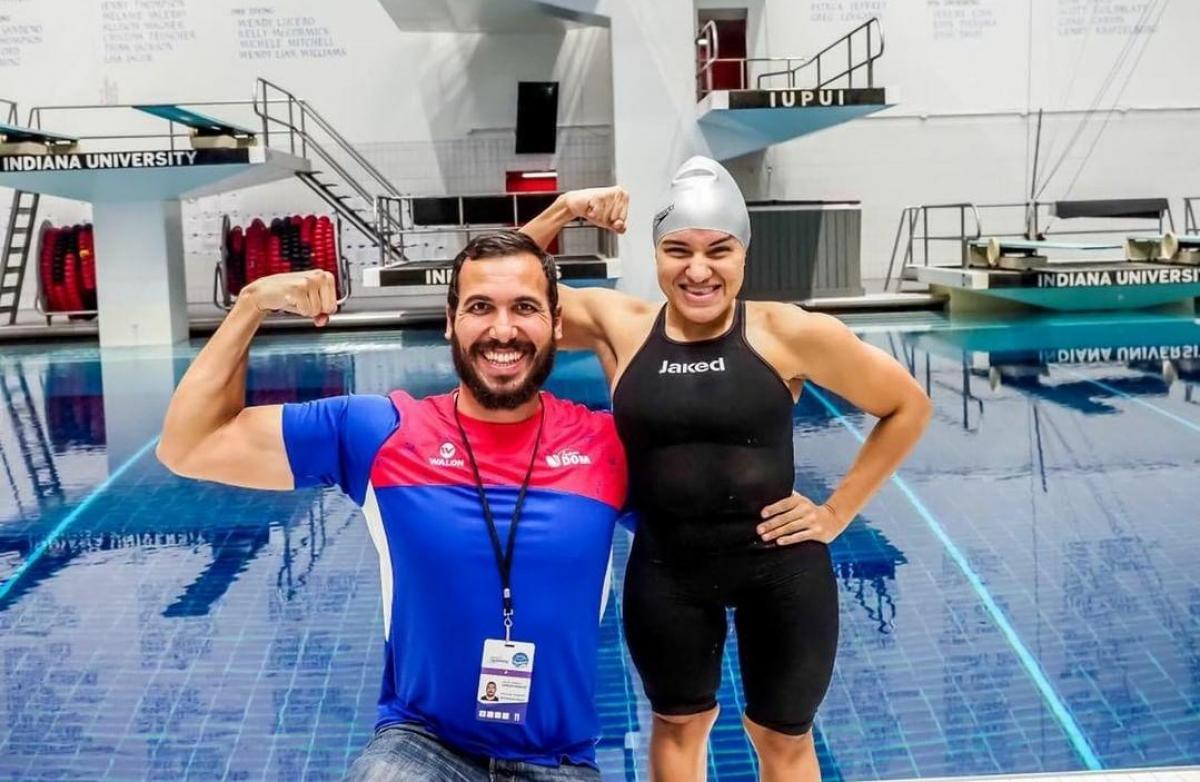 ⒸAlejandra Aybar
By Mary Barber| For World Para Swimming
Dominican Republic's Alejandra Aybar will wear her coach's swimming cap at the Paralympic Games in Tokyo as a sign of her gratitude to him and to make his dream come true.
"I do not have words to explain how important my coach Galvez Capriles is to me," she said.
Aybar credits Capriles for helping her to make history for the Caribbean nation in Para swimming. He coached her to a silver medal in the 100m breaststroke SB6 at the Lima 2019 Parapan American Games in Peru. 
She now hopes this will be repeated at the Paralympics in August. It will be a special moment for herself and her coach. Capriles is a former elite able-bodied swimmer who had hoped to qualify for the Olympics but lost out due to injury.
"Galvez told me that by qualifying for the Paralympics I am fulfilling his dream of going to the Games," said Aybar. "I will ask him if I can wear his swimming cap to compete in Tokyo. It will be a great pleasure to swim there knowing his dream has come true."
Aybar dreams of winning, too: "Athletes train every day to win gold, whether they win or not. I am determined to win gold." 
Going home with a medal would be an outstanding achievement. "It's very hard being an elite Para athlete in a country like mine, so I am extremely proud and grateful for everything we, my coach and I, have achieved," she said.
"I have an incredible sports psychologist, and I feel blessed to have him beside me, but we do not have doctors, nutritionists, physical therapists, people to analyse the mechanics of my races, or the big technology, or sponsors for everything we need. 
"Every little thing we [myself and Galvez] have achieved is through physical, emotional and economic sacrifice." 
Their successful partnership has also helped Aybar to raise awareness about disability as well as promote inclusion and access to Para sports in their country. At the Rio 2016 Paralympics there were just two Para athletes in the national squad: in athletics and cycling. 
"Para athletes used to live behind the scenes, and I am trying to change that," she explained. "I am now the most famous Para athlete in the Dominican Republic not only for my medal in Lima, but also for my fight against discrimination. 
"I want acceptance and inclusion for people with disabilities in society and sport." 

Discovering swimming
Aybar was born with the brittle bone disease, osteogenesis imperfecta (OI), which affected her mobility. During her childhood she suffered multiple fractures to her legs and hips, endured extreme pain and had countless surgeries with long recovery periods.
"I could not understand how God made me this way and why I had to endure so much pain. I hated the way I looked and thought many times I was ugly. I wanted to hide from everyone."
Home was her sanctuary. She grew up in a rural town, Azua, where she lived with her mother Bella, an accountant, older brother Alejandro, a government agency worker who also has OI, and younger sister Chabely, a sales executive. 
"Mum always looked at me as a hero, for her I am the most resilient and wonderful girl, and that helped me to overcome every challenge."
Life outside their home, though, was difficult. "Growing up in a small neighbourhood was hard because I was different," said Aybar, who is 1.3m tall. 
"Everybody stared and whispered in front of me. I felt terrible. I only had one friend. Despite this, I faced physical challenges with courage, but I felt empty inside, as if something were missing."
That void was filled when she discovered swimming. In 2014 her doctor advised her to take up the sport after she damaged her right knee. She was 26 and had never learnt to swim.
A visit to a pool in the capital Santo Domingo, where she moved for college, changed her life. "It was incredible. I didn't know how to swim, but I enjoyed the feeling of the water and I could move my legs. 
"I asked myself, how have I lived this long without knowing this heaven? I felt alive in the water."
She was initially denied swimming lessons for fear her disability would delay the class, but Aybar fought the discrimination and won. A coach later invited her to join the Delfines del Naco Masters team where she trained alongside able-bodied swimmers.
Her progression was swift. In 2016 she competed in her first national competition and a year later, at 28, she became the first Para swimmer from the Dominican Republic to compete in a World Championships final.
 
Aybar came sixth in the 50m butterfly and eight in the 100m freestyle at the Mexico City 2017 Worlds. She also competed at London 2019 World Championships and is still the only female Para swimmer training and competing for her country. 
"I am proud of my swimming career. It has made me feel empowered. I love that I can move fast in the water.
The psychological benefits have been profound, too: "Swimming has helped me to love myself. I now love every part of my body and wearing swimsuits. I feel beautiful. I also have friends who love me just as I am."

Engineer and leader
And the sport has shown other people what she can achieve. "I was always told, 'you can't do that', but if someone says that I do it anyway."
Aybar, now 32, surprised many when she chose to study industrial engineering.
She ignored the negative comments and was awarded outstanding graduate by the Technology Institute of Santo Domingo, and later got a job as a quality engineer for a medical devices company. 
Last November she returned to the college to give a speech to 500 graduates via YouTube. She was also invited to give a TEDx talk and was selected for the Future Leaders Programme for Latin America, Portugal and Spain.
Aybar's influence as a role model is now far-reaching: "A doctor recently contacted me when a patient gave birth to a girl with osteogenesis imperfecta also and she wanted to give hope to the family through my life example."
The Para swimmer is currently preparing for the postponed Paralympics this summer. Her training was disrupted by the COVID-19 pandemic, when pools and gyms were closed, but she is back on schedule. 
"Neither myself or my coach have been to Japan and we are so excited," she said. 
It is a trip that Aybar could never have envisaged as a child, but with the help of Capriles, dreaming big is now part of her life. "Let's live beyond our limits and allow ourselves to dream and achieve our dreams," she said.
"Obstacles and challenges will always be there, but as my coach says before each race, 'smile and enjoy it', because the result depends on how we face things that we cannot control."