Dai Tokairin: My notebook of positivity leads to success
'A gold medal is a life changer. That's why I'm in a quest to win it.'
05 Feb 2021
Imagen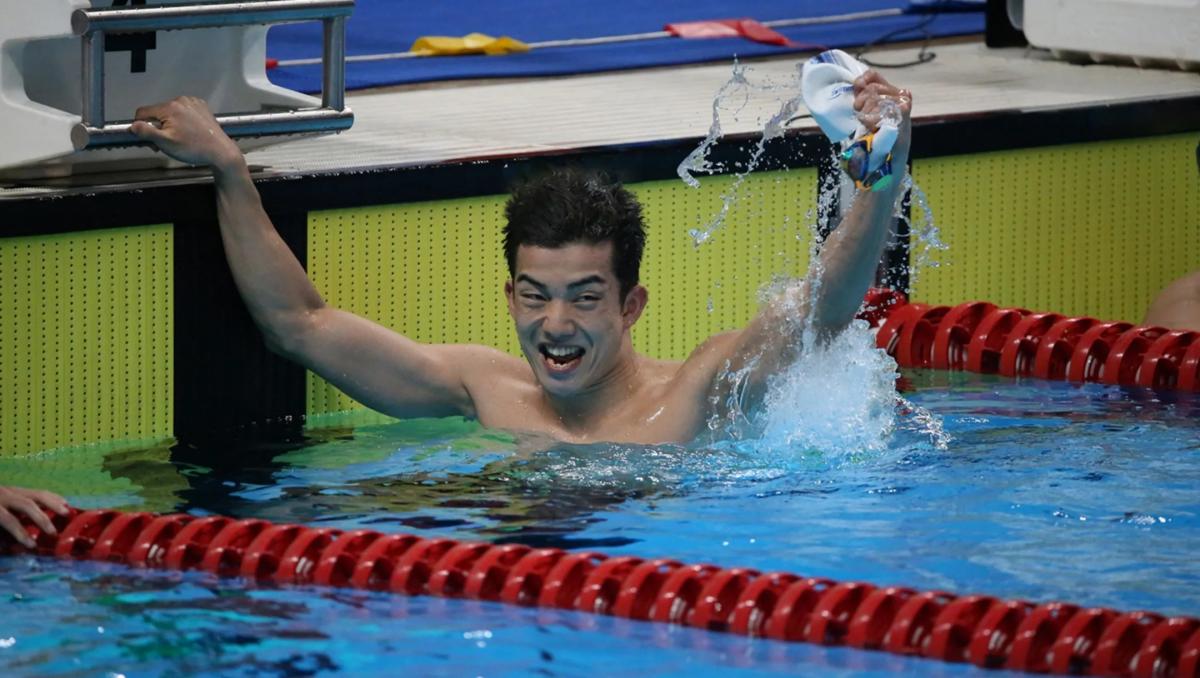 ⒸX-1
By Tokyo 2020
With just 200 days to go until the start of the Paralympic Games, Dai Tokairin – Para swimmer and world record holder - speaks on his preparations for his Paralympic debut at home.
At the Para swimming meet held on 7-8 November 2020, Tokairin finished the SM14 men's 200m individual medley in a time of 2:10.81.
It was the Japanese swimmer's first race in 10 months, and was nervous before diving off the blocks.
"I had been quite nervous before the race started, but I managed to stay calm. Maybe I wasn't at the world standard level, but I accepted it as I was too optimistic," he said, being over two seconds off his own world record pace.
However, 'maintaining a calm and normal state of mind' has been Tokairin's motto since he missed his chance to compete at Rio 2016 despite being dubbed a likely prospect to make Japan's Paralympic Team for those Games.
Learning from Rio 2016
Japan's swimming Rio 2016 qualification event was a one-off competition to select the team members for the Paralympic Games squad. All the swimmers were nervous, overwhelmed by the atmosphere because it was the only chance to make the team.
For Tokairin, who was diagnosed with a mild intellectual impairment (autism spectrum disorder) at the age of four, it was especially difficult to maintain a level of cool and calmness in the face of such a monumental occasion.
"The people of Yamagata, my home prefecture, had been rallying for me, but I felt that added to the pressure," the 21-year-old said, "It was a first-time venue for me and everything was new. I couldn't help but worry about injuries and diet restrictions."
Support from his parents
Tokairin has become a confident swimmer especially now that he has been able to find ways to achieve balance as an athlete.
"It was all about controlling my mind. If only I could have done that, I wouldn't have been defeated [in the qualification meet for Rio 2016]," he thought to himself, feeling disappointed to the point he wanted to quit swimming.
During this time of tribulation, it was his parents who helped him overcome his inhibitions.
His father advised him to write down in a notebook, whatever went well or whatever he felt happy about, not only in his swimming life but also in his everyday life.
"I followed his advice, thinking that writing down what went well may help me work hard again the next day," he explained.
"As I continued writing in the 'notebook of success', I became less and less negative and was eventually able to tackle tough training with a positive frame of mind, even when I was up against all odds."
Meanwhile, his mother had been a reassuring listener.
"I talked to her about all my worries until I felt better," he said.
"I'm grateful that they are always there for me and constantly backing me. I owe it to them for being able to work hard," expressing his gratitude to his parents before quietly adding, "I may have caused them trouble though."
A dream ticket at Tokyo 2020 and a world record
After three and a half years, in September 2019, a then 20-year-old Tokairin had the opportunity to put his mental skills to the test at his first World Championships, where many prospective Tokyo 2020 Paralympians gathered.
Despite being behind in the first half of his race, he went on to win the gold medal in his favourite event - the 200m medley, by keeping a balanced state of mind.
Touching the wall, not only had he clinched a ticket to the Tokyo 2020 Games - finally avenging his defeat at the qualifying meet for Rio 2016, but also clocked a world record time of 2:08.16. In that moment, Tokairin splashed the water with his hands and raised his arms in triumph.
"It's a fantastic feeling!" he shouted at the post-race interview.
"I had persevered through tough training, all the while holding in my heart the bitterness I had felt when I missed the Rio 2016 Paralympic Games, so at first, I couldn't believe that I really earned the dream ticket. With warm support from many people, I was able to forget all my worries and race with a high level of self-confidence.
"I had planned to say, 'It's a fantastic feeling!' if I achieved a world record. I always wanted to say this famous saying once made by a former champion."
Tokairin referred to the famous words that were echoed by Japan's legendary Kosuke Kitajima, who became the first Japanese swimmer to win consecutive Olympic Games golds - in the men's 100m and 200m breaststroke at Athens 2004 and Beijing 2008.
After Tokairin secured his spot on the national team, COVID-19 swept across the world, resulting in a one-year postponement of the Tokyo 2020 Games.
Athletes were requested to stop their training while the Japan Para Swimming Championships and other meets were cancelled. Despite such an unprecedented situation, Tokairin says he has been able to remain calm without losing his sense of purpose.
On the technique front, he has been working to build his muscular strength, enhance his backstroke, and improve his freestyle - the stroke he had always excelled in, both in speed and form.
"I have confidence about competing in the individual medley, but I'm often passed on the backstroke leg, so I'm working on it. I'm eager to improve my backstroke. However tough it may be, I have a fighting spirit against my shortcomings. I'm like, 'Bring it on!'" Tokairin said whilst laughing.
Grateful for the support he has received
The year of the Tokyo 2020 Paralympic Games is here. Set to compete in his first Paralympic Games, he hopes to remember to 'enjoy the races'.
"My greatest focus is to race in my own style to the maximum and give my all. I'd like to swim with appreciation in my heart for all the support I have received," Tokairin said.
"The beauty of the Paralympic Games is that each athlete, with their distinctive impairment and unique aspiration, do their very best and stretch their potential to the maximum. I have reaffirmed that the real value of an athlete is to reach their maximum potential," he added.
"A gold medal is a life changer. That's why I'm in a quest to win it."
However, being an athlete doesn't mean they are good at everything. Tokairin knows his weak points, revealing his worries, saying, "If I don't win the gold medal, people may not like me anymore, which is frightening."
Yet, he is rising to the challenge because he believes that, although the chance of winning a gold medal may only be 0.1 per cent, it has the power to change his life.
Tokairin wishes to convey to children with impairment the following message, which is a notion he has treasured for years:
"Be positive, smile and enjoy. Believe in your infinite possibilities and work hard." He himself is determined to "enjoy and swim in my own unique way" on the upcoming Paralympic stage.