Thank You Ellie Cole for inspiring us!
PS: Becks, Cole saw your message, but she was too overwhelmed to reply
21 Jan 2021
Imagen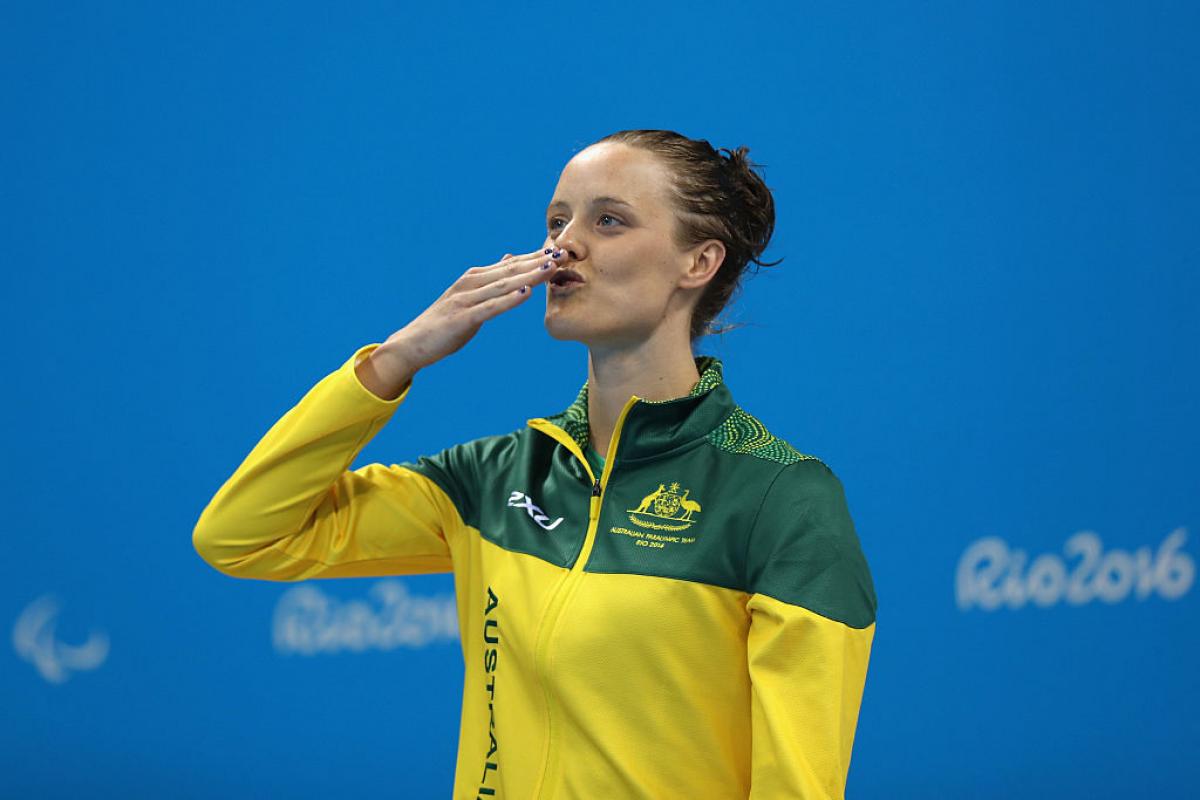 ⒸFriedemann Vogel / Getty Images
By ND Prashant | For the IPC
Waking up on a cold and gloomy day in Bonn, Germany, the International Paralympic Committee (IPC) staffers were looking forward to an hour-long virtual meeting.  
It has been our new norm for close to a year but an excellent way of keep the pack together – engaged and upbeat.
And on Wednesday, 20 January, we had an extra dose of inspiration with a special guest joining in from Sydney, Australia - star Para athlete Ellie Cole.
Roped in to share her experience with 130-odd IPC staff, the Rising Phoenix star was as captivating and engaging as she could get while competing for her country.
Truly inspiring! So much so that, one of the staff members messaged that her 10-year-old daughter sitting next to her was 'freaking out' on seeing Cole live. 
Only an athlete of her stature can make such an instant impact. She has epitomised that further with her journey in the Netflix documentary that has not only inspired millions but has also proved as a catalyst for the Paralympic Movement worldwide.
The documentary has also been instrumental in changing Cole's perspective towards fellow athletes.
"Rising Phoenix taught us a lot about the athletes. It was really nice hearing about the story behind the nine athletes on a personal level. Quite often, we walk around the Paralympic Athlete Village and you are surrounded by thousands and thousands of inspirational stories behind the athletes.
"For me, as an athlete, I never really looked towards the person; I'm more focussed on their success. But it (Rising Phoenix) really made me stop and think about their stories and it's like a modern day 'David and Goliath' story. It's really changed the way I thought, and I'll be definitely taking more time to know other athletes on even more personal level, this year."
The six-time Paralympic Champion believes that the Paralympic Movement was seeing a paradigm shift in recent times and Rising Phoenix has expedited it.
"I always wanted to play at sport with other kids but one of my PE (physical education) coaches saw me as more of an inconvenience and kind of took me at face value. I had the same experience with a lot of my development coaches.
"When I joined a swim club after the Beijing Paralympic Games, one of my coaches told me that 'if I needed to get out half an hour into the training session, I was more than welcome'," recollects Cole, adding that, most did not understand the level of push Para athletes could give to achieve their goals.
"Something like Rising Phoenix has really accelerated the information going out to the public. That's why we are seeing so many jumps and leaps in the Paralympic Movement, particularly, over the last three or four Games. It is going to be a generational shift and I'm happy to be a part of it."
Cole, who was flooded with congratulatory messages following the release of the documentary, recalls one DM (direct message) that she holds dear and was so overwhelmed that she was at loss of words and ended up not replying.
"Some British guy… I think David Beckham or something (laughs). He has seen the documentary and he loved it. I didn't know what to reply. I took a screen shot and never replied. I got a lot of flack from my friends, but it was two weeks too late to reply," admits Cole, sheepishly.
The Australian ace Para swimmer, who made her Paralympic debut in Beijing 2008, will be into her fourth Games at Tokyo 2020 and feels, if all goes well, it would be a cornerstone movement in the history of the Games, given the COVID-19 situation we are in.
"I would obviously like to see a safe Games go ahead where everyone can participate; the one that is successfully run. A Games that people can look back in 20 years' time when things are difficult and think 'if we can get through that, we can get through this'. I think people can draw a lot of inspiration from the (Tokyo 2020) Paralympics and Olympics for decades to come, where we all join our resilience."