Susana Veiga hopes for Cristiano Ronaldo's support at home Euros
'He is the most influential Portuguese in the world,' says Para swimmer who believes major events can change attitudes towards disabilities in the country
22 Nov 2020
Imagen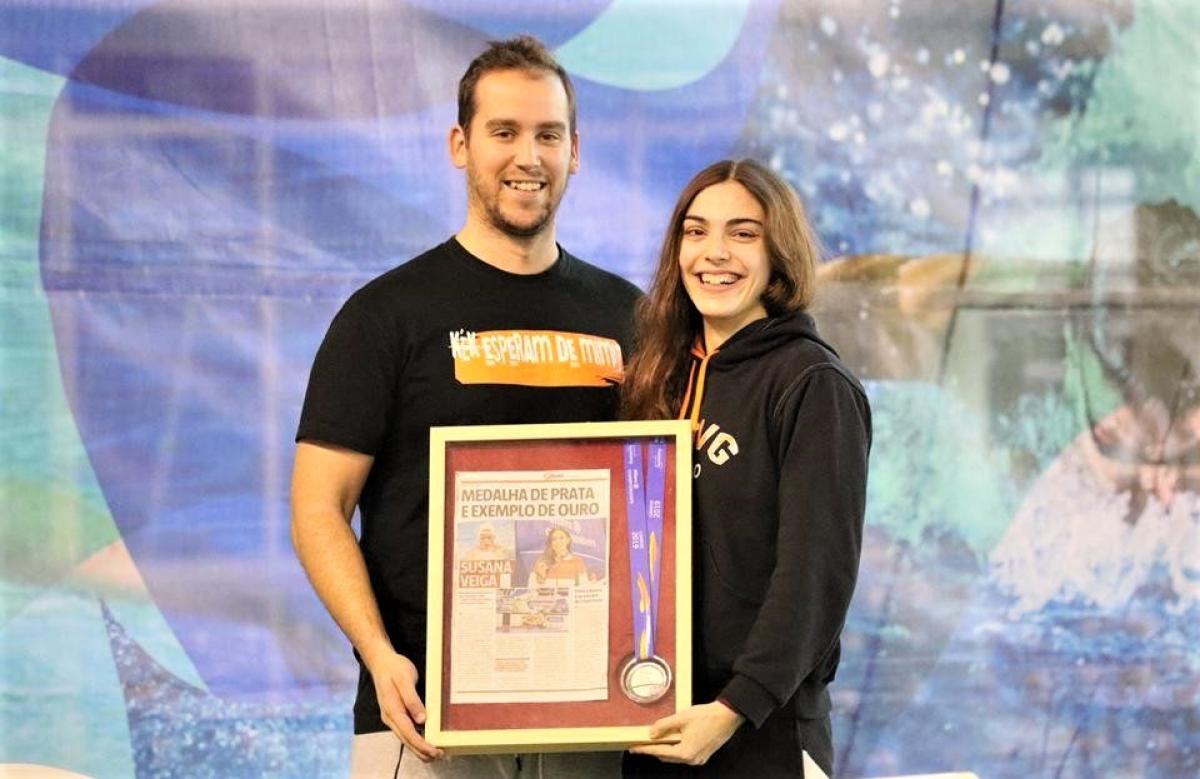 ⒸSusana Veiga
By Mary Barber| For World Para Swimming
Winning a silver medal at her first international competition was the start of a "beautiful journey" into Para swimming for Portugal's Susana Veiga.
"I started to see my disability as an open door to an amazing experience in sport," she said.
And she hopes many more people will be won over by Para swimming when two major events are held in Madeira. Among them the Portuguese island's most famous son, football superstar Cristiano Ronaldo.
"I would absolutely love to meet him in Madeira," said Veiga. "He is not just a well-known football player; he is the most influential Portuguese [person] in the world. When someone says they are from Portugal, the first thing a tourist will say is 'Cristiano Ronaldo'."
Around 500 elite swimmers will head to the capital Funchal to compete at the European Open Championships in May. The event at the Penteada Swimming Pool Complex was moved from this year due to the COVID-2019 pandemic.
Veiga is looking forward to the events on home ground: "I really want to compete in Portugal in a major international event. I would love to see the crowd cheering for me and my teammates," she said. 
"Hosting the events in Madeira will also be a huge opportunity for Para swimming to be seen. In general people do not know much about Para sports. We have influential athletes in Portugal, but the media only focuses on football."
Players like Ronaldo, who is the Portuguese national team captain and Juventus star, are rarely out of the news. 
That is why although she sets her eyes on a Paralympic debut in Tokyo next year, Veiga also has high expectations for the Euros in Madeira. She knows the championships have the potential to change perceptions towards persons with disabilities in her country. 
"Portugal has a lot of supportive campaigns, but I can't say that all attitudes that I see in society are inclusive," she said. "We need to accept each other no matter how different we are."
Better late than never
Veiga's love for the sport began two years ago when she came second in the women's 50m freestyle S9 at the European Championships in Dublin. She was 18 and a few months earlier had only ever competed against able-bodied athletes.
"That moment was the first step in a beautiful journey that I am trying to build in Para swimming," she said.
And it is one she regrets not starting sooner. "It's better late than never, but I now wish that I had been doing it for longer."
Veiga had struggled to come to terms with a leg impairment caused by polio as a baby: "I didn't accept myself in the way that I wanted to."
But life changed when she decided to try Para swimming. 
"I really enjoyed it because it gave me the chance to see other people with disabilities," she said. "Swimming gave me self-esteem and confidence".
And she quickly made up for lost time. Officials soon spotted her potential and she was invited to join the national squad. A few months later she was on the podium at the Euros. 
"It was a huge surprise. It was my first international race and I absolutely loved it. I had a great time doing what I love most.
"It was also amazing to represent my country. When you are wearing the Portuguese kit and go to the podium to receive a medal, you feel like everything that you have been through was worth it." 
She was later named Para Swimmer of the Year by the Portuguese Swimming Federation. 
Love for the sport
In 2019 she won silver again in the 50m freestyle S9 at the World Para Swimming Allianz Championships in London and broke a national record in 29.17. Sophie Pascoe from New Zealand won gold in 27.77.
This time Veiga gave her medal to her coach Nuno Quintanilha: "I like to think of medals only in a symbolic way. I think he was the person who deserved it the most, because we had a very long season with some obstacles along the way, but again it was worth it."
Coming from Sintra, near the capital Lisbon, the young athlete joined her swimming club at school, and has been at the Clube de Natacao do Colegio Vasco da Gama ever since. It is a close-knit team.
"People may think that swimming is an individual sport, but for me it is not. We train together, we compete together, and we make friendly connections with our teammates and rivals," Veiga said.
During the lockdown, the team was not able to train at the pool from March to May: "It was a very long two months," said Veiga, who is studying education at a college in Lisbon. She trained at home and had meetings on Zoom with her coach. 
"At the start of lockdown, I was really sad, and I didn't want to train alone, but then I started to think about why I needed to do this. Luckily, my house has a garden so I could exercise outdoors with my mother and sister."
She is now back in the pool training eight times a week and goes to the gym. It is a busy schedule, which she admits:
"Sometimes it is hard to be motivated but then I think of the reason why I'm doing this. I love the competitions and the people who are involved with Para swimming. They keep me motivated." 
And they are all part of her "beautiful journey" in the sport.