Canada's Mike Trauner on a mission in Tokyo
Paralympic canoe hopeful declared clinically dead twice as soldier in Afghanistan
27 Mar 2021
Imagen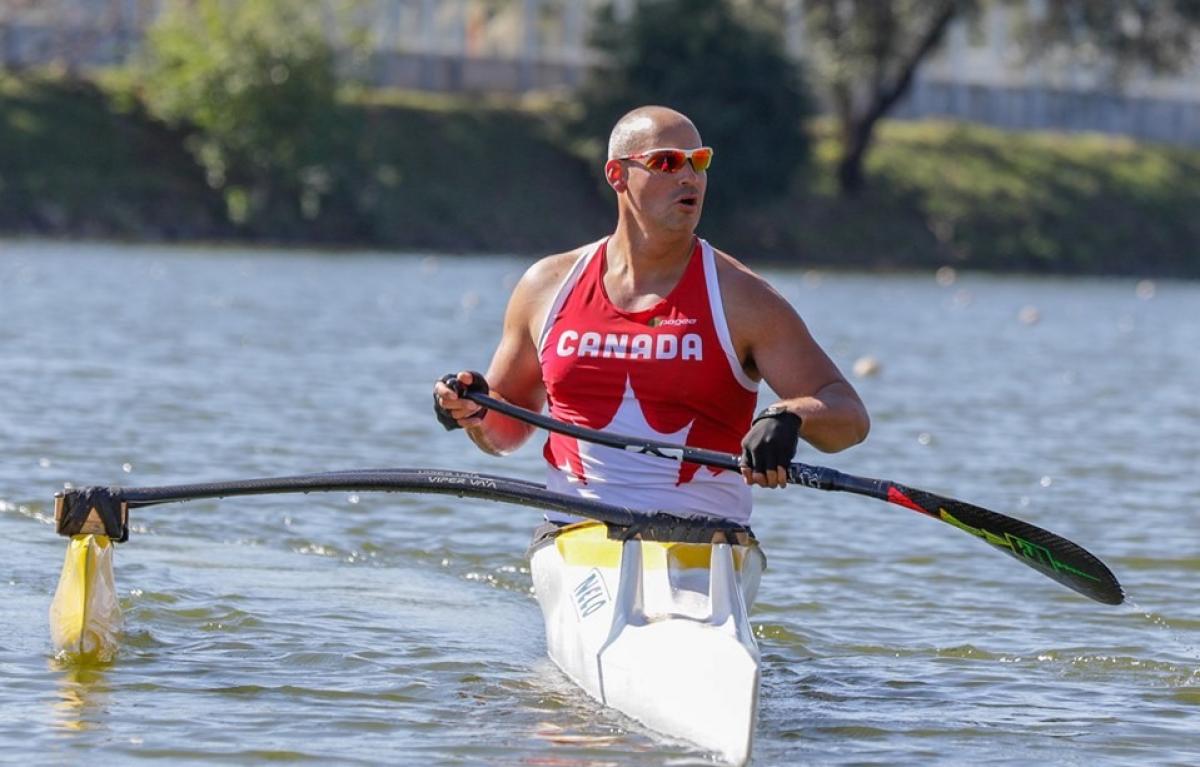 By Teddy Katz | For the IPC
Editor's note: This story contains graphic content that some readers might find disturbing. Discretion is advised.
Canada's Mike Trauner has never been to a Paralympics before, but he already has won a medal few can claim.
In 2009, the Canadian government awarded Trauner the Medal of Military Valour for when he was a solider serving in Afghanistan. On 18 September 2008, his vehicle was ambushed and hit three times by rocket propelled grenades, the last one just missing hitting him in the face. With his colleagues' lives in jeopardy, Trauner stood on top of his vehicle and fired off round after round.  The Medal of Valour noted his "selfless and tenacious actions" that day. 
But that was only the beginning of Trauner's remarkable journey to the Tokyo 2020 Paralympics.
Two months after that attack in 2008, Trauner was out on foot patrol when he stepped on an improvised explosive device.
"The blast actually picked me up and threw me straight in the air, you know a bomb trying to kill me actually somewhat saved me," Trauner recalled. 
Saved him because he was able to avoid huge chunks of metal among the debris.   But his whole body was smoking.  He was burnt from head to toe.  He says the other soldiers "were literally holding my arteries closed so I wouldn't bleed to death." 
He was declared clinically dead twice and had to be resuscitated, once in Afghanistan and once in a military hospital in Germany. Trauner ended up losing both of his legs in the blast.  
When he finally awoke in hospital, he remembers the first thing he said to his wife, Leah Cuffe:"I told her 'I love you', but I also said, 'I'm sorry' because in my mind, I had actually changed everything in our lives."

His wife said: "I didn't expect that from Mike.  But that's just Mike thinking about everybody else even in a time like that." 
The couple spent 14 months rehabilitating in a hospital in Ottawa. There were many difficult moments both physically and mentally as Trauner underwent 18 surgeries, 18 blood transfusions and faced issues with mental health and depression.
"He kind of felt like he had lost his purpose," Cuffe said especially after the blasts forced him to retire from the military.
NEW BEGINNINGS THROUGH SPORT

Trauner rediscovered his purpose again through the Invictus Games, an international multi-sport event for injured or wounded athletes founded by British Prince Harry.  
Trauner actually met Prince Harry at a media event before the Games that took place in Toronto in 2017.
"He (Prince Harry) offered me the chance to compete at the Invictus Games for my country.  You know, all I really wanted to do was wear the uniform again but after retiring (from the military), I didn't think that would be possible.  Joining Team Canada gave me that back."
Trauner won two gold medals in the rowing event at those Games. Two months later, there was a Paralympic search event for athletes in Toronto. Although Trauner was over the age limit, Cuffe encouraged him to go anyway.
THE PARALYMPIC PATH

One of the canoe coaches had watched him compete on television at the Invictus Games and thought Trauner would be perfect for his sport.
He is now training three times a day, six days a week.  During the COVID-19 pandemic, he trained in his basement with Cuffe serving as his coach.
"I was fully committed in the military. Now I've transferred that skill. I'm completely committed to my sport," Trauner said.
He hopes to compete in the VL3 va'a competition this summer in Tokyo, the first time the discipline will take place in the Paralympics. The va'a is an outrigger canoe which has a pontoon called the "AMA" that serves as a support float.  
Trauner still needs to secure a quota spot for Canada but has his sights set on the Paralympics in Tokyo and then Paris in 2024. He sometimes pinches himself to see if he is living a dream.
"It seems like a movie. It doesn't seem real. It's crazy the things that have happened over the years for me and Leah, the things we have gone through."
"I love kids running up to me and asking me questions about my prosthetics and asking me about being a soldier and now an athlete," he continued.
When asked how proud she is, his wife responded: "Endless. Proud doesn't even begin to describe it."