Carol Cooke turns 60 today, remains indomitable
With her message of hope, the Aussie veteran is going for more than Paralympic gold at Tokyo 2020
06 Aug 2021
Imagen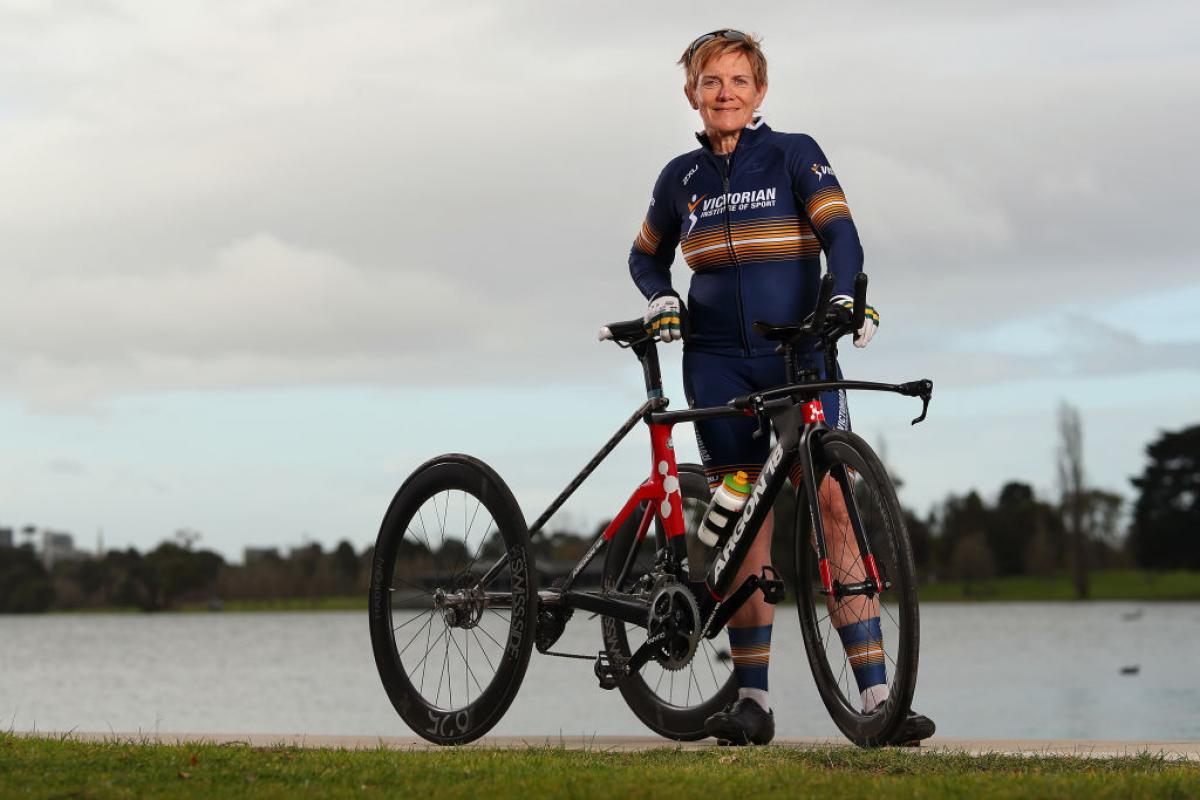 ⒸGetty
By AMP Media I For The IPC
To say that Carol Cooke is not yet finished would be a wild understatement. Australia's Para cycling queen, who turns 60 today, is aiming to grab gold at her third straight Paralympic Games at Tokyo 2020 and believes she has plenty left in the tank.
"When the 2032 Games got awarded to Brisbane, somebody said to me, 'How old will you be by then, Carol, and will you still be riding?'," Cooke said. "I said, 'Well … I'll be 71. But never say never'. Who knows. Maybe I'll give another sport a go. I might start doing archery for that one. Age is just a number. My mum is still incredibly fit at 85."
No one should be surprised if Cooke is still winning medals in a decade's time. Canadian born, she was a world-class swimmer as a youngster, and might have competed at Moscow 1980 had Canada not boycotted those Games. Diagnosed with multiple sclerosis (MS) at age 37, a few years after moving to Australia, she responded by taking up competitive rowing and then Para cycling. Gold in the mixed time trial T1-2 at London 2012, was followed by golds in the women's time trial and road race T1-2 four years later at Rio 2016. Now she is eyeing a historic treble.
"A great result for me is walking away with another time trial gold to make it a three-peat. A good result would be to just do the best I can. I've left no stone unturned, and we've worked on those little 1 percent things. But with my form and times at the moment, I'd be disappointed if I wasn't up near the top."
Cooke is contesting both the road race and time trial in Tokyo, but her focus is on the latter. "To me, it's a pure race, there's no playing around with tactics. I love it because it's just you against the clock."
At 60 during the pre-Games bubble, and has become an expert on fine-tuning her training.
"I love training and I love racing. It's my social outlet, and it keeps me walking. But I guess the one thing I've learned over the years is to trust my body, and to know when I need to rest. As a young athlete, it was always push, push, push. Invariably, I ended up in a hole.
"Now, I know that there's a fine line. I know when to have a day off and when to push it. But I'm actually doing harder stuff now than when I started. Yesterday, in the gym, I did my best ever single leg press. So my power hasn't dropped off. I was excited."
London 2012 remains her favourite memory. "I remember cooling down at Brands Hatch after racing and our media lady Jenny was saying, 'I think you've got this'. I kept saying, 'Stop, I don't want to hear it'.
"Eventually the GB head coach came in to congratulate me, and I said, 'For what?' He said, 'You won'. Jenny just said, 'I keep trying to tell you that you won the bloody thing, but you don't want to listen'. And I burst into tears.
"I suddenly went through every emotion, from being a swimmer in 1980 for Canada, and my mom driving me to training, all that effort she put in. That medal was a thank you to her, and she was there watching, wearing a Canada hat with an Australia flag hanging out. It was just a fabulous moment."
Fascinated by the city and culture, Cooke may be excited about Tokyo but is also aware she has a serious role at the Paralympics beyond her own experience. As a veteran public speaker, and someone who does a tremendous amount of work for others with disabilities, particularly MS, she can have a huge role in helping other Paralympians on to the right path.
"One of the things I tell people who are newly diagnosed, or newly injured, is that life isn't over," she said. "Life can be crap but it's all about finding a sliver of positiveness wherever you can. Tomorrow, there can be some more.
"When I was diagnosed, my doctor told me to put my affairs in order before I was incapacitated. But now I'm here talking to you, I'm a Paralympian, I'm writing my second book. It isn't what life throws at you that is important, it's how you deal with it. You can accomplish anything that you set your mind to."
Carol Cooke is living proof.