From chasing a dollar to pursuing Tokyo 2020, Corbin Hart finds new purpose
New Zealand's Hart qualifies boat to 2020 Paralympics after performance at World Cup in Szeged
02 Jun 2021
Imagen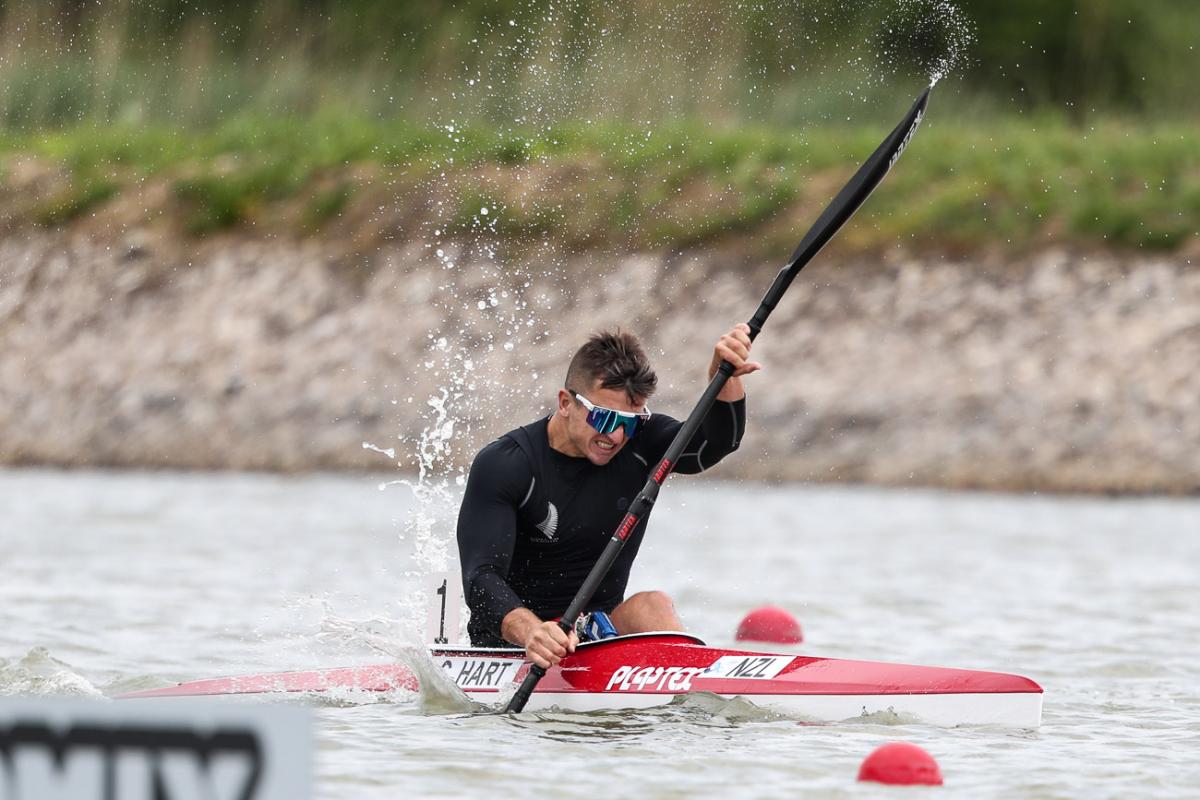 ⒸICF
By IPC and ICF
In 43 seconds, New Zealand's Corbin Hart learned he was going to the Tokyo 2020 Paralympics in canoe.
And it was a gruelling 43 seconds —43.78 to be exact.
Hart snatched one of the last three Paralympic spots with his finish at the 2021 World Cup in Szeged, Hungary. 
Reflecting on where he was in December 2019, Tokyo 2020 still feels like a dream.
"It's been quick, hard, fast—it's just like my life," said the KL3 athlete. 
Hart lost his right leg in a construction accident that December. His friends recommended he try kayaking, considering he did surf lifesaving as a teenager. But he was not fully convinced. 
"And then I was talking to my psychologist, and he said, 'What if you died that day?' Hart recalled. "So I messaged a friend who paddles for our women's team. She got in contact with the club coach. I went down and yeah, only started paddling in August last year."
Though fast, the journey has been rewarding. The 26-year-old has paddled alongside Rio 2016 Paralympian Scott Martlew, someone who Hart said let him try his boat, and that hooked him even more.
But he needed to get going quickly if he wanted to reach Tokyo, and the COVID-19 pandemic did not make the process any easier. Hart competed at two national events before his international debut in Szeged, where he had to travel and compete as the only Oceania athlete. 
"It's part of my journey," Hart responded. "You know the whole thing has been hard. Losing a leg is hard. So I might as well carry on with the things that I have, and it just makes for good character and resilience and it's the kind of person I am."
In Szeged, Hart raced with the top KL3 athlete Serhii Yemelianov of Ukraine in his semi-final. He managed to keep up and take third to advance to the final, and he is soaking in as much as he can. Knowing how quickly his turn around has been, Hart hopes to be stronger by Paris 2024. 
"I'm still learning and my starts could be a lot better but hey, it's what I'm going to work on when I get home," Hart said.
While the journey to the 2024 Paralympics is farther away, Hart does not take his new goal for granted.
"Like I get up with a purpose every day," Hart explained. "I don't even dwell that I lost my leg. I'm almost, in some respects, grateful that something like that happened to shine a new light on life and getting another chance and being able to succeed in something else other than just chasing a dollar."